Venture Capital Investors Down Under: A Deep Dive into Australia and New Zealand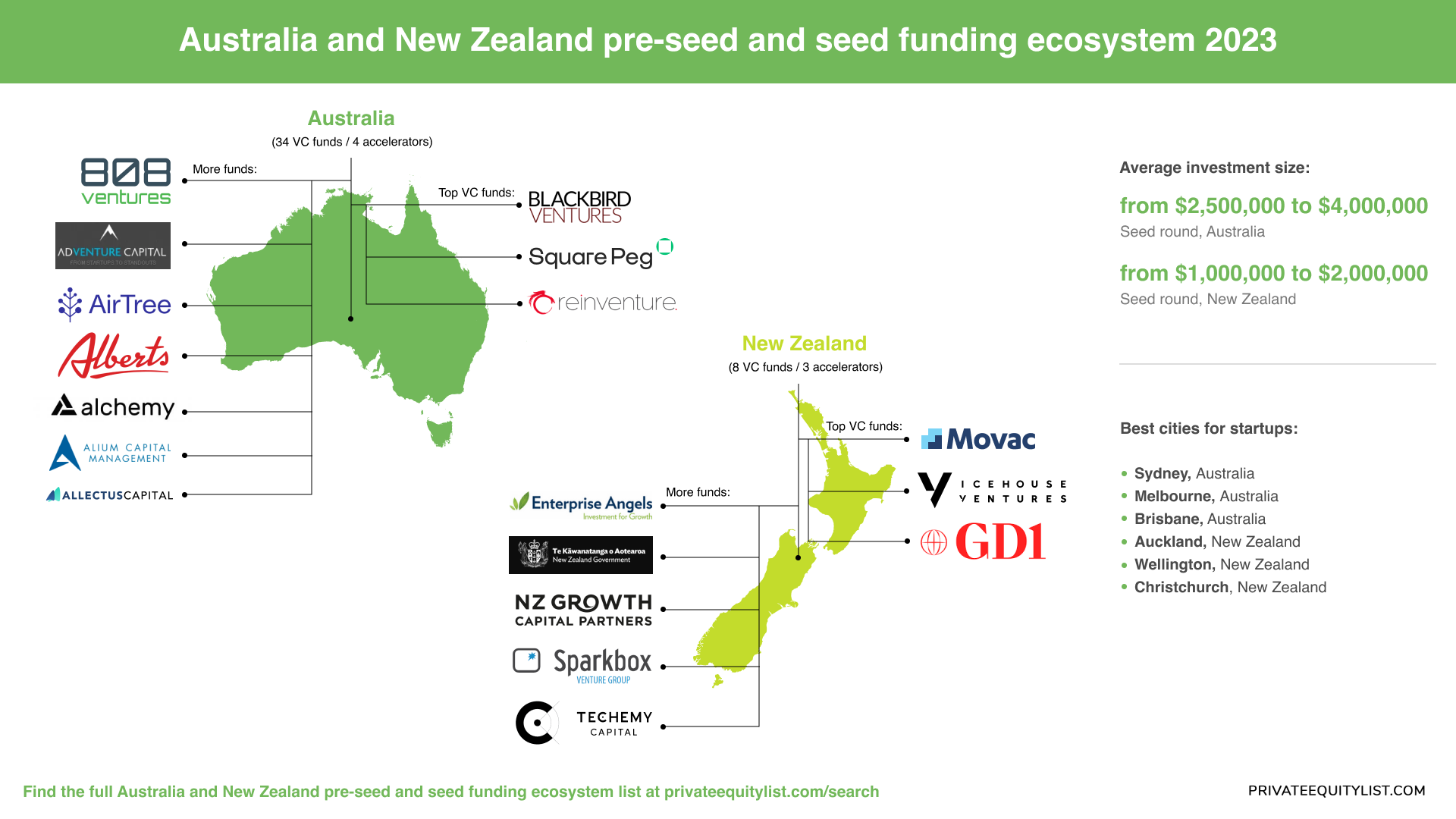 When it comes to startup ecosystems, Australia and New Zealand have been quietly making waves in the world of venture capital. These two Oceanic nations have been steadily attracting investment, fostering innovation, and nurturing entrepreneurial talent. In this comprehensive guide, we'll delve into the funding statistics, average investment sizes, and key investment sectors in these countries. We'll also introduce you to some of the prominent pre-seed and seed venture capital (VC) funds, accelerators, and the best cities for startups in both Australia and New Zealand.
Funding Statistics
Before we dive into the specifics, let's take a look at the general funding landscape in Australia and New Zealand.
As reported in the Cut Through newsletter, the average size of Seed rounds in Australia remained consistent throughout 2021, typically ranging between $2.5 million to $4 million.
According to Caffeine Daily, in New Zealand, it's customary for startups to secure funding in the range of $1 million to $2 million during a seed round.
Now, let's explore these countries individually, starting with Australia.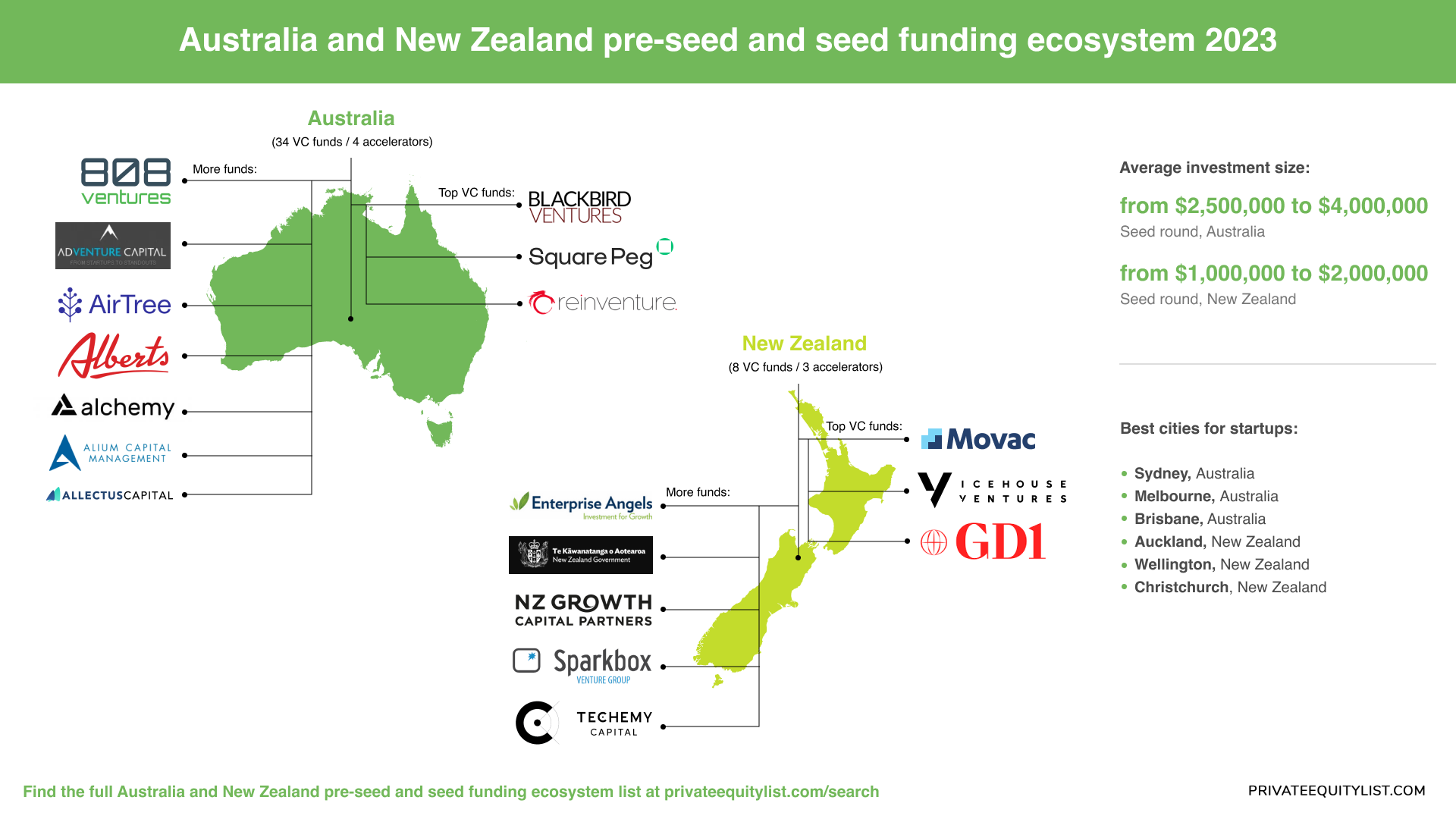 🇦🇺Australia (86 VC funds / 33 accelerators)
Australia boasts a robust and rapidly evolving startup ecosystem, making it an attractive destination for entrepreneurs and investors.
Top VC funds:
Blackbird Ventures: Renowned for its early-stage investments, Blackbird Ventures is a prominent name in the Australian VC landscape. They have invested in startups like Canva and SafetyCulture.
Square Peg Capital: Square Peg Capital focuses on backing promising technology startups. Their investments include companies like Airwallex and Deputy.
Reinventure Group: Specializing in fintech and insurtech, Reinventure Group has supported startups like Zip Co and Up Banking.
More funds:
Search for more funds here. Local accelerators are: Regional Angels Inc, Haymarket HQ and KILN incubator.
Best Cities for Startups in Australia:
Sydney: Sydney's dynamic ecosystem, access to talent, and international connectivity make it a top choice for startups.
Melbourne: Melbourne offers a vibrant tech community, access to leading universities, and a high quality of life.
Brisbane: Brisbane is emerging as a thriving startup hub with a strong focus on innovation and collaboration.
Key Trends in Australian VC
Growing interest in clean energy and sustainability startups.
Increased investment in biotech and health tech companies.
Expansion of angel investor networks to support early-stage startups.
Now, let's shift our focus to New Zealand.
🇳🇿New Zealand (8 VC funds / 3 accelerators)
New Zealand might be smaller in size, but it has a dynamic and innovative startup scene.
Top funds:
Movac: Movac is a leading VC firm in New Zealand with a focus on technology and software startups. Their portfolio includes companies like Xero and Vend.
Icehouse Ventures: Icehouse Ventures invests in startups across various sectors. They have been instrumental in supporting New Zealand's entrepreneurial ecosystem.
Global from Day One: This fund specializes in early-stage investments, particularly in deep tech and SaaS startups.
More funds:
Look for more funds here. Such accelerators as Creative HQ, AFT Members Programme and Vodafone xone - New Zealand are working here.
Best Cities for Startups in New Zealand
Auckland: New Zealand's largest city, Auckland, offers access to international markets and a growing tech community.
Wellington: Wellington's compact size and supportive ecosystem make it a hub for creative and tech startups.
Christchurch: With a focus on agritech and cleantech, Christchurch is gaining prominence in the startup landscape.
Key Trends in New Zealand VC
Strong emphasis on sustainable and regenerative agriculture technology.
Growing investment in Maori-led startups and social enterprises.
Increased government support for the tech sector.
As we've explored the thriving VC scenes in Australia and New Zealand, it's evident that both countries offer incredible opportunities for startups and investors alike. With growing funding, diverse investment sectors, and a network of accelerators, the future of the startup ecosystem in this region looks promising.
Whether you're an aspiring entrepreneur or an investor seeking the next big opportunity, Australia and New Zealand have a lot to offer. Keep an eye on these countries as they continue to innovate and redefine the landscape of venture capital in the Asia-Pacific region.