Unveiling Pre-Seed and Seed Funding Landscape in Sub-Saharan Africa 🌍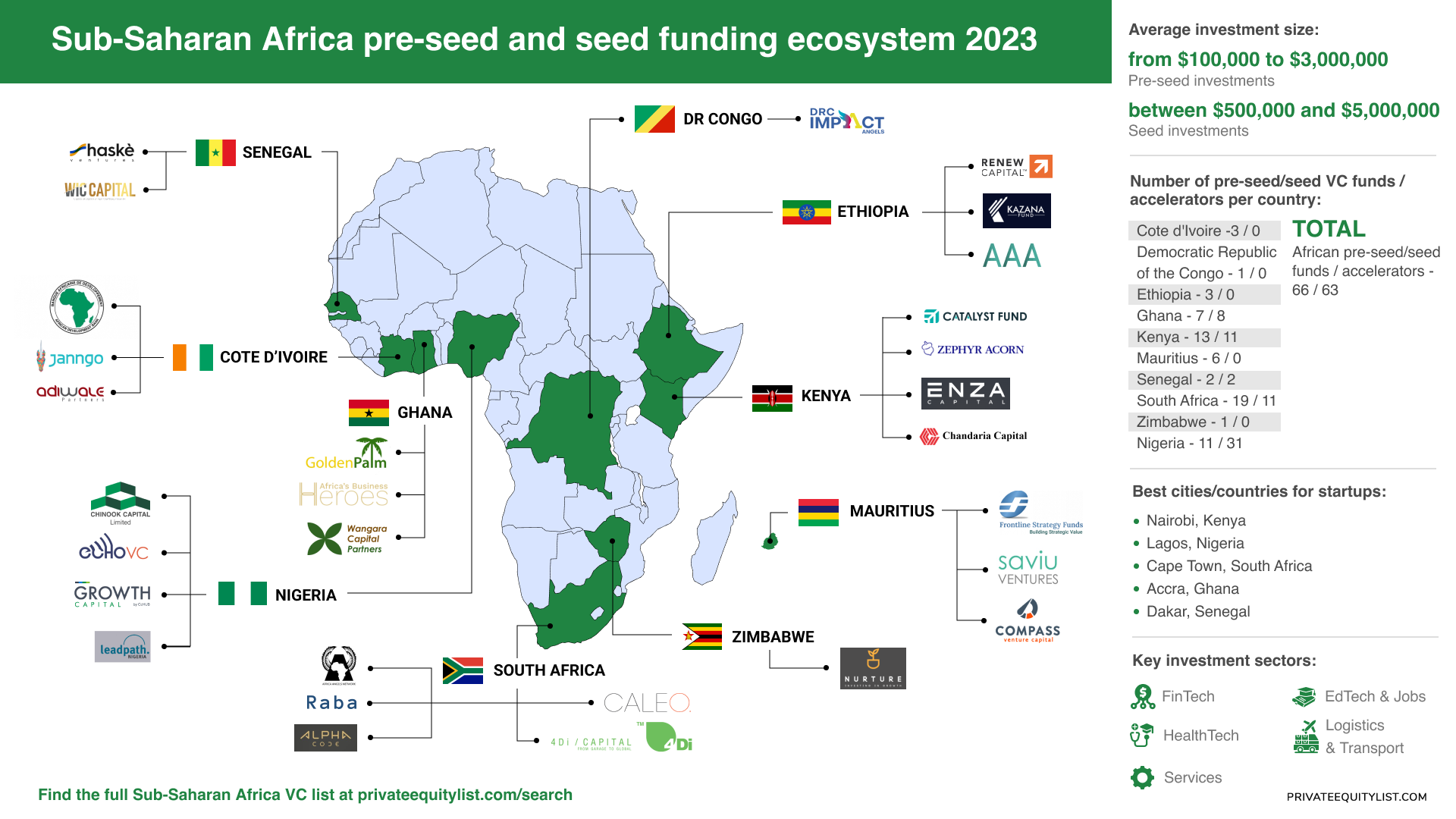 The Sub-Saharan African region is experiencing a remarkable transformation in its startup ecosystem, marked by a surge in innovation and entrepreneurial fervor. One of the critical catalysts driving this growth is the influx of pre-seed and seed funding, fueling the aspirations of young entrepreneurs across the continent. In this comprehensive blog post, we embark on a journey through Sub-Saharan Africa, exploring the funding statistics, key investment sectors, local and international venture capital (VC) funds, accelerators, and the overarching trends shaping the landscape.
Funding Statistics and Investment Size
Before delving into the unique entrepreneurial landscapes of each country, let's set the stage with a glimpse of funding statistics across Sub-Saharan Africa.
Pre-seed funding rounds: from $100,000 to $3,000,000
Seed funding rounds: between $500,000 and $5,000,000.
These numbers provide a general overview, with variations across different countries and sectors.
Key Investment Sectors
The innovation landscape in Sub-Saharan Africa is as diverse as the continent itself, with startups across various sectors driving change and addressing local challenges. Some key investment sectors include:
FinTech: Financial technology startups are revolutionizing access to banking, payment systems, and financial services for the unbanked population.
HealthTech: Startups are leveraging technology to enhance healthcare delivery, telemedicine, and diagnostics, particularly in underserved areas.
Logistics & Transport: The logistics and transport sector in Sub-Saharan Africa involves the management and movement of goods, people, and services across the region. It encompasses a range of services such as transportation, warehousing, distribution, and supply chain management, aiming to improve connectivity and efficiency within the continent's diverse and growing economies.
Services: Urbanization and a burgeoning middle class create investment prospects in modernizing and expanding service offerings, with technology-driven solutions like mobile banking and e-commerce holding particular promise.
EdTech & Jobs: Education technology startups are addressing challenges in education delivery, particularly in remote areas with limited infrastructure.
With this foundation laid, let's embark on a country-by-country exploration of the vibrant startup ecosystems in Sub-Saharan Africa.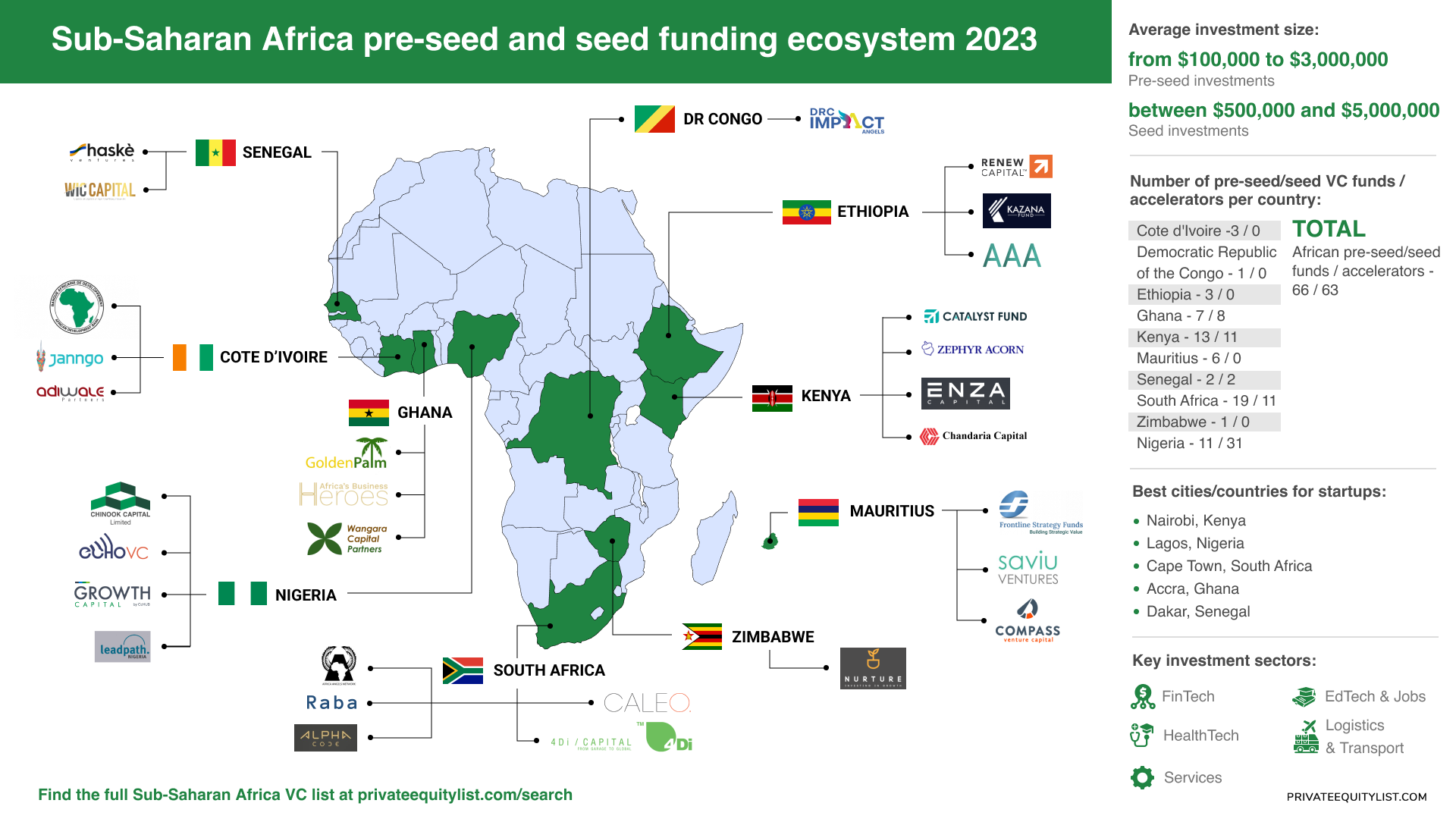 🇨🇮Cote d'Ivoire (3 VC funds / 0 accelerators )
🇨🇩Democratic Republic of the Congo (1 VC fund / 0 accelerators)
🇪🇹Ethiopia (3 VC fund / 0 accelerators)
🇬🇭Ghana (7 VC funds / 8 accelerators)
You can find more funds in Ghana here.
There are also accelerators in Ghana such as EntreprevolutionServiceProviders, Zaacoal, Developers In Vogue Volunteering.
🇰🇪Kenya (13 VC funds / 11 accelerators)
Find more funds in Kenya via the link.
TechBridge Accelerator 2023, FoundersBoost 2023 Fall Kenya and TechBridge Incubation Plus Program are among the accelerators you can apply for in Kenya.
🇲🇺Mauritius (6 VC funds / 0 accelerators)
More funds are presented here.
🇸🇳Senegal (2 VC funds / 2 accelerators)
OST Program Senegal 2023 - Startups Form and Next Health Accelerator are available in this region.
🇿🇦South Africa (19 VC funds / 11 accelerators)
Accelerators such as KPMG Matchi, Crowdseed Incubator and Seed Institute Johannesburg are waiting for your application.
🇿🇼Zimbabwe (1 VC fund / 0 accelerators)
🇳🇬Nigeria 11 VC funds / 31 accelerators
Look for more funds here.
Such accelerators as DIASPORA HUB, Moolu Venture Capital Funding and Start-Up SouthWest Incubation Program are open in Nigeria.
Best cities for startups in Sub-Saharan Africa
Several cities in Sub-Saharan Africa have gained recognition as vibrant hubs for startups and innovation, offering conducive environments for entrepreneurial growth:
Nairobi, Kenya: Known as "Silicon Savannah," Nairobi boasts a thriving tech ecosystem with a high concentration of startups, tech hubs, and venture capital firms. Its dynamic environment is fueled by a tech-savvy population, supportive government policies, and access to funding and mentorship.
Lagos, Nigeria: As the economic hub of Nigeria, Lagos has a bustling startup scene driven by a youthful population and a growing middle class. The city's creative energy, coupled with co-working spaces and accelerators, contributes to its reputation as a hotbed for tech innovation.
Cape Town, South Africa: With a well-developed tech ecosystem, Cape Town attracts startups and investors alike. The city's skilled workforce, quality of life, and strong infrastructure have positioned it as a leading destination for tech ventures, particularly in fields like fintech and healthtech.
Accra, Ghana: Accra's startup scene benefits from a supportive entrepreneurial community, affordable living costs, and a government eager to promote innovation. The city's diverse economy and emerging tech clusters contribute to its appeal for startups.
Dakar, Senegal: Dakar has become a regional hub for innovation in West Africa. With a burgeoning tech ecosystem, government-backed initiatives, and a strong emphasis on digital inclusion, the city provides an environment conducive to startup growth.
Key Trends Shaping the Landscape
Pan-African Collaborations: Cross-border collaborations among startups and ecosystems foster knowledge exchange and growth.
Impact Investment: Investors are increasingly focusing on startups that generate positive social and environmental impact alongside financial returns.
Tech Hubs and Incubators: Tech hubs and incubators are nurturing and accelerating startups, providing them with mentorship and resources.
Government Support: Governments across the region are recognizing the potential of startups and implementing policies to support entrepreneurship.
Digital Transformation: Rapid digitalization is driving innovation in various sectors, providing opportunities for tech-enabled solutions.
Rise of AgTech: Agriculture-focused startups are leveraging technology to enhance productivity, sustainability, and access to markets.
In Conclusion
The Sub-Saharan African startup ecosystem is teeming with promise and innovation, powered by pre-seed and seed funding that is redefining the continent's economic landscape. As local and international investors come together to fuel the dreams of young entrepreneurs, Sub-Saharan Africa is poised to become a global innovation hub.
With collaborative efforts, strategic investments, and a focus on sustainable growth, the continent's startup journey is not only reshaping economies but also changing lives for the better. The journey is just beginning, and the destination is boundless. 🚀