Unlocking Opportunities: Pre-Seed and Seed Funding in Japan and South Korea
Securing pre-seed and seed funding is a pivotal moment for startups across the globe. It provides the initial capital necessary to build a solid foundation, scale operations, and achieve product-market fit. In this article, we delve into the thriving startup ecosystems of Japan and South Korea, exploring funding statistics, average investment sizes, key sectors, prominent local VC funds, accelerators, and the best cities for startups in these countries.
Funding Statistics and Average Investment Sizes
Before we dive into each country's specifics, let's glance at the general funding landscape in Japan and South Korea.
Pre-seed and seed funding rounds in Japan typically fall between $260,000 to $750,000.
According to the White Star Capital report, the median deal value in the seed stage in South Korea was $900,000 in 2022.
Key investment sectors
Japan:
Technology
E-commerce
Healthcare
Fintech
South Korea:
Technology
Gaming
Entertainment
Biotech
Now, let's explore each country's startup ecosystem in more detail.
🇯🇵Japan (23 VC funds / 3 accelerators)
Japan boasts a mature and dynamic startup ecosystem that offers a myriad of opportunities for pre-seed and seed-stage startups.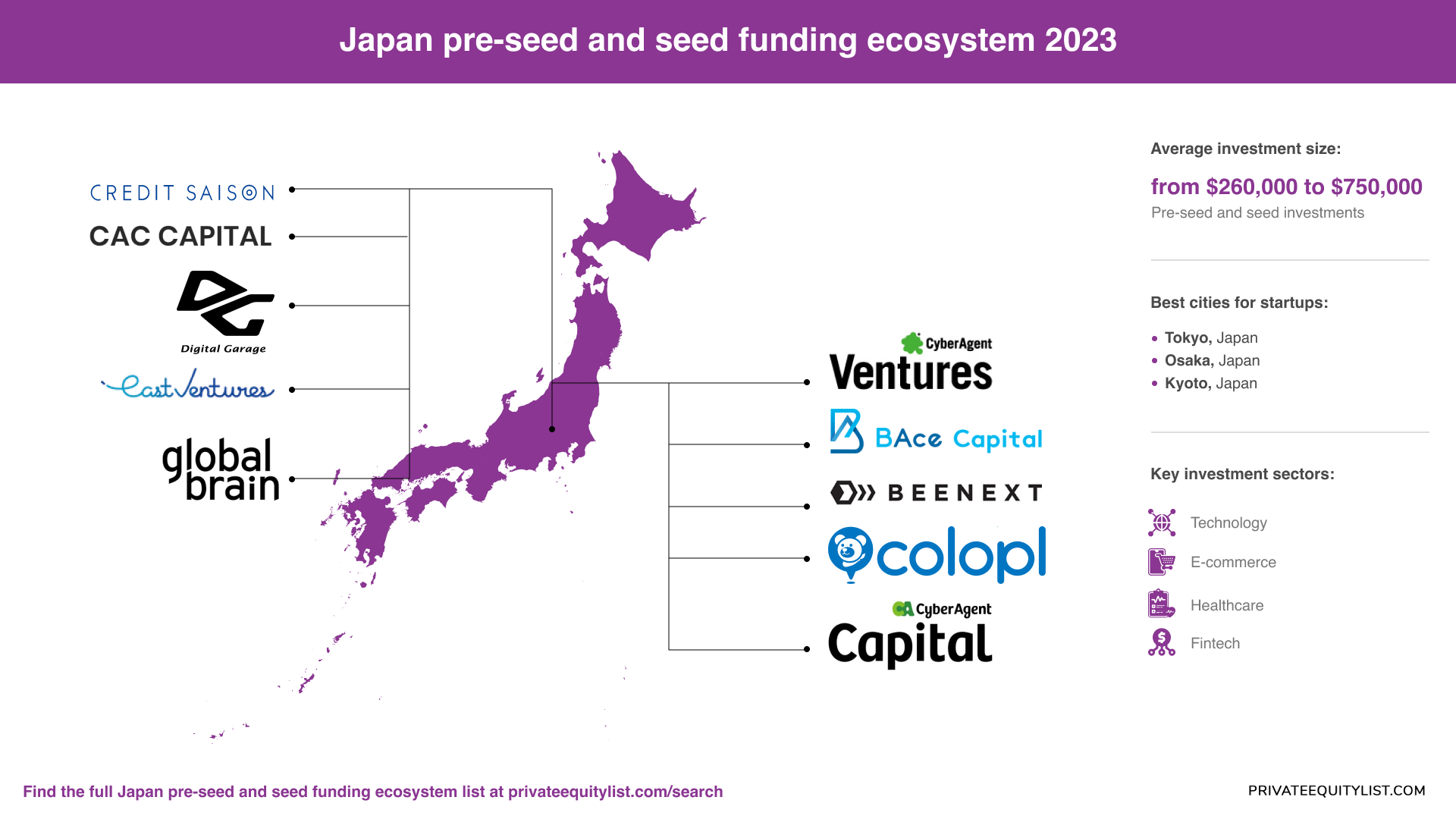 You can find the full list of funds here. Such accelerators as SBC Scale Osaka 2021 and Osakan Space are working in the country.
🇰🇷South Korea (26 VC funds / 7 accelerators)
South Korea's startup scene is rapidly evolving, driven by its strong technology sector and government support.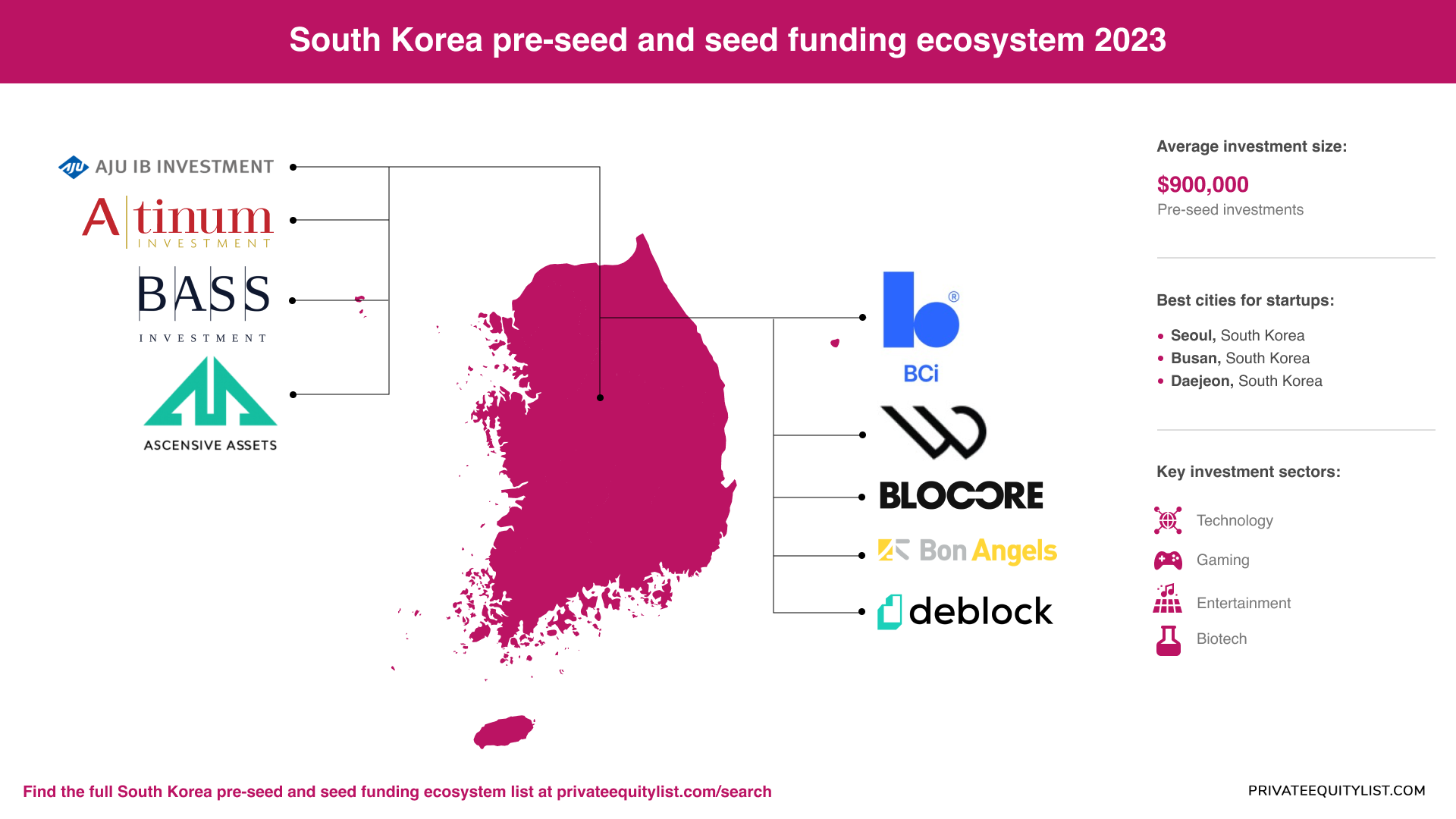 Find more funds via the link. Local accelerators are SparkLabs, Inmaginator and Creative Business Cup South Korea 22.
Best Cities for Startups
Tokyo, Japan: As the capital and economic hub of Japan, Tokyo is a natural choice for startups. It offers access to a vast talent pool, investors, and a thriving tech ecosystem.
Osaka, Japan: Known for its strong manufacturing and innovation culture, Osaka is gaining popularity as a startup destination.
Kyoto, Japan: With a rich history of innovation and tech companies, Kyoto is attracting startups in industries like robotics and AI.
Seoul, South Korea: As the capital and economic heart of South Korea, Seoul offers a vibrant ecosystem with access to investors, top-notch universities, and a robust tech scene.
Busan, South Korea: Known as the "Silicon Valley of South Korea," Busan has been making strides in fostering a thriving startup culture.
Daejeon, South Korea: With a growing focus on research and development, Daejeon is becoming a hotspot for biotech and technology startups.
Key Trends
Both Japan and South Korea are experiencing exciting trends in their startup ecosystems:
Japan:
Increased interest in sustainability and clean energy startups.
Growing adoption of AI and IoT technologies in various sectors.
A rise in female entrepreneurship and gender diversity in startups.
South Korea:
A surge in gaming and esports startups.
Strong government support for biotech and healthcare innovations.
Cross-border collaborations with neighbouring Asian countries.
In conclusion, Japan and South Korea offer fertile ground for startups seeking pre-seed and seed funding. The key to success lies in understanding the local ecosystems, leveraging the support of accelerators and VC funds, and choosing the best city that aligns with your startup's goals. As these two nations continue to foster innovation, the opportunities for entrepreneurs are boundless.
Whether you're drawn to the bustling streets of Tokyo or the tech-savvy atmosphere of Seoul, these countries are sure to provide a launchpad for your entrepreneurial dreams.