Unlocking IoT Investment Landscapes: VC Investors Across the Globe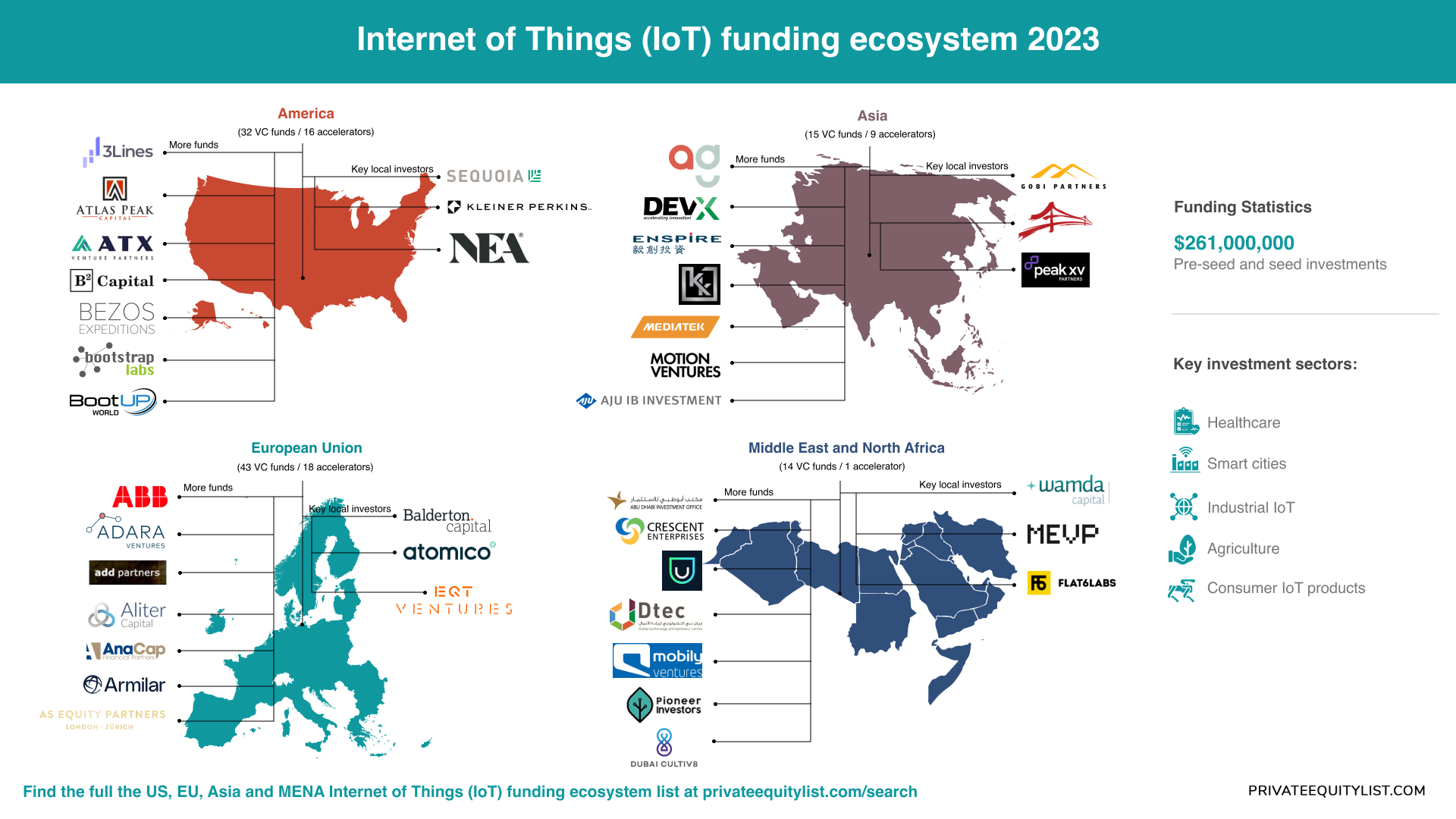 The Internet of Things (IoT) has swiftly become a transformative force across industries. As a result, VC investors worldwide are eagerly backing startups and companies that are shaping the IoT landscape. In this blog post, we will explore the IoT venture capital (VC) investment scene in America, Europe, Asia, and the Middle East and North Africa (MENA) regions. We will delve into funding statistics, average investment sizes, and key investment sectors, and provide you with a comprehensive overview of VC funds, accelerators, and emerging trends in the IoT space.
Funding Statistics
Before we dive into specific regions, let's examine some key global trends and statistics surrounding IoT investments.
Although the global funding for IoT startups witnessed a decline from $5.6 billion in 2021 to $4.3 billion in 2022, there was a notable upswing in investments made in early-stage startups.
According to IoT Business News, investments in early-stage IoT startups, specifically those seeking funding in venture rounds A and B, reached an all-time high in the previous year, surging to $2.45 billion. This marked a remarkable 12% increase from the $2.19 billion invested in the preceding year.
$261 million was invested in IoT in the pre-seed and seed stages in 2022.
Key investment sectors
In IoT, the main investment sectors include:
Healthcare
Smart cities
Industrial IoT
Agriculture
Consumer IoT products.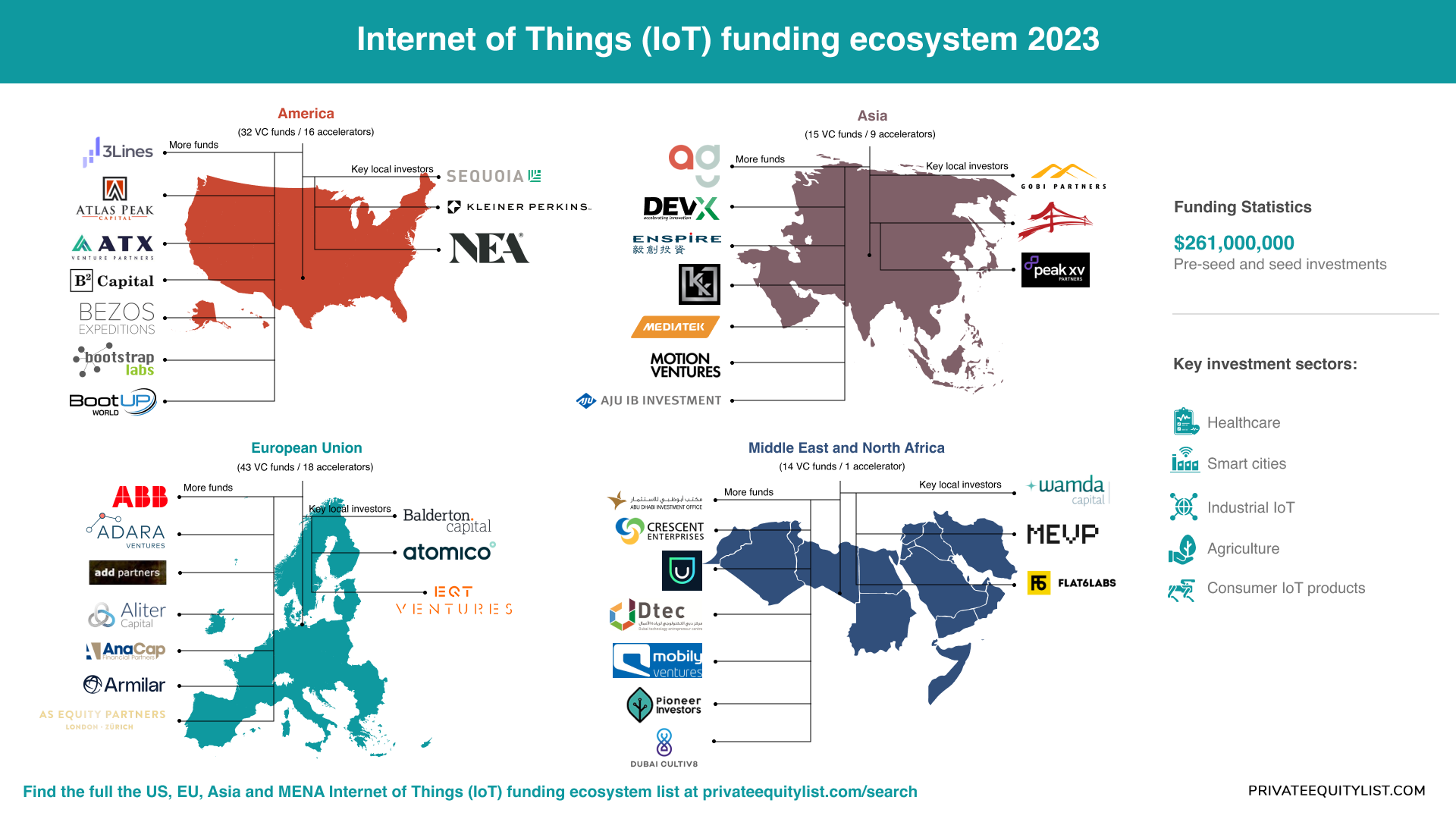 America (32 VC funds / 16 accelerators)
America is undoubtedly one of the IoT investment powerhouses, with Silicon Valley leading the way. In the U.S., you can find a plethora of VC funds and accelerators eager to support IoT innovations.
Key local investors:
More funds:
Find the full list here. Such accelerators as StartupCrafters IoT & AI Cohort, Nerds & Herds AgTech IOT Accelerator and RAP - RIoT Accelerator Program are working in the country.
Europe (43 VC funds / 18 accelerators)
Europe is another thriving hub for IoT investments, with a growing number of startups attracting substantial funding.
Key local investors:
More funds:
You can search for more IoT investors in Europe here. Local accelerators are KNX IoT Startup Incubator, IoT Tribe and NEMO 1st Open Call.
Asia (15 VC funds / 9 accelerators)
Asia, with its vast and diverse markets, is becoming a major player in the IoT sector. Investors are increasingly looking to tap into the region's growth potential.
Key local VC funds:
More funds:
Find the full list via the link. Accelerators that operating in the region are I2D Incubating IoT Dreams, EthAum Venture Partners- Accelerator and NetApp Excellerator Cohort #11 .
MENA (14 VC funds / 1 accelerator)
The MENA region is swiftly emerging as a promising IoT investment destination, with several countries taking a keen interest in IoT innovations.
Key local funds:
More funds:
Search for the full list using the link. Such an accelerator as Tatwir Startup is working here.
Key Trends in IoT Investment
As the IoT landscape continues to evolve, several key trends are emerging across the globe:
Edge Computing: The shift towards processing data at the edge, rather than in centralized data centres, is gaining momentum as it enhances real-time data analysis and reduces latency.
AI Integration: IoT devices are increasingly leveraging artificial intelligence to provide smarter and more predictive solutions.
Sustainability: Eco-friendly IoT solutions that monitor and optimize resource usage are on the rise, in line with global environmental concerns.
Security: IoT security is a growing concern, leading to increased investments in cybersecurity solutions for connected devices.
5G Connectivity: The rollout of 5G networks is set to revolutionize IoT, offering faster and more reliable connections, and enabling new use cases.
The IoT sector is booming, and VC investors are flocking to support innovative startups worldwide. With funding statistics, average investment sizes, and key investment sectors in mind, you can now explore the local VC funds and accelerators in America, Europe, Asia, and MENA. Keep an eye on the evolving trends in the IoT space as they shape the future of technology and connectivity.
Whether you're an entrepreneur seeking investment or an investor looking to diversify your portfolio, the IoT ecosystem offers ample opportunities for growth and innovation. Stay tuned for more updates as the IoT world continues to expand and thrive!