Unlocking Investment Potential: A Deep Dive into Pre-Seed and Seed Funding in CEE Countries💡🚀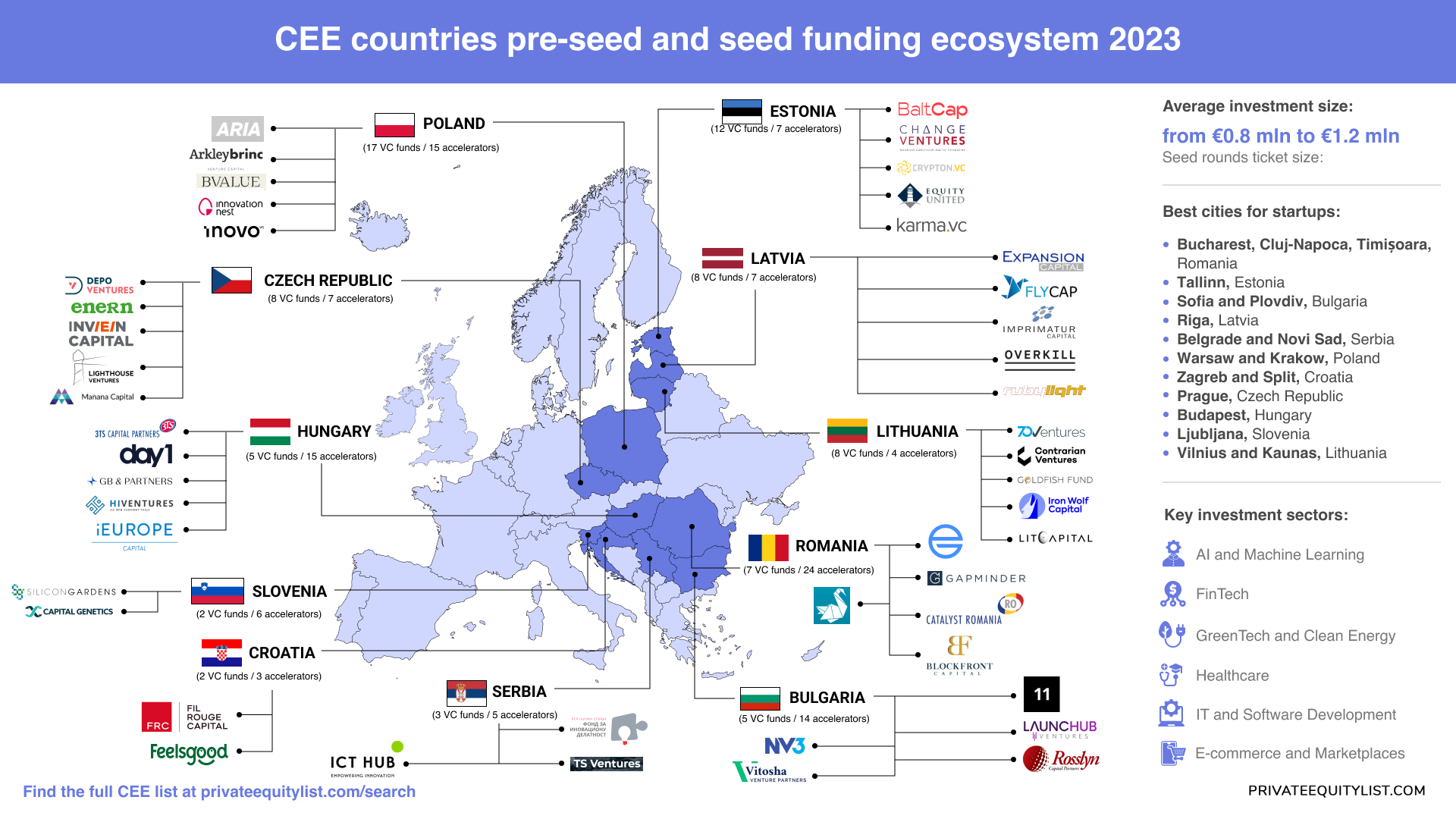 Central and Eastern Europe (CEE) is an emerging hub for startups and innovation, with countries like Romania, Estonia, Bulgaria, Latvia, Serbia, Poland, Croatia, Czech Republic, Hungary, Slovenia, and Lithuania making significant strides in the tech ecosystem. As the region continues to grow, the availability of pre-seed and seed funding has become crucial for nurturing early-stage startups. In this comprehensive guide, we'll delve into the pre-seed and seed funding landscape in these CEE countries, exploring statistics, investment trends, key players, best cities for startups, and emerging trends.
💡
The analysis is made by Private Equity List team, find the investors you need on https://privateequitylist.com/search
Funding Statistics
Let's kick off by taking a look at some funding statistics for the CEE region. While these numbers can fluctuate, they offer valuable insights into the investment landscape.
According to the Level2 Ventures report, the average funding rounds primarily involving regional investors have seen an uptick compared to the previous year:
Seed rounds ticket size: from €0.8 million to €1.2 million
Key Investment Sectors
Startups in the CEE region are gaining traction in various sectors, including but not limited to:
IT and Software Development
Fintech
E-commerce
Healthtech
GreenTech and Clean Energy
AI and Machine Learning
Now, let's explore each CEE country's pre-seed and seed funding ecosystem, including local VC funds and accelerators.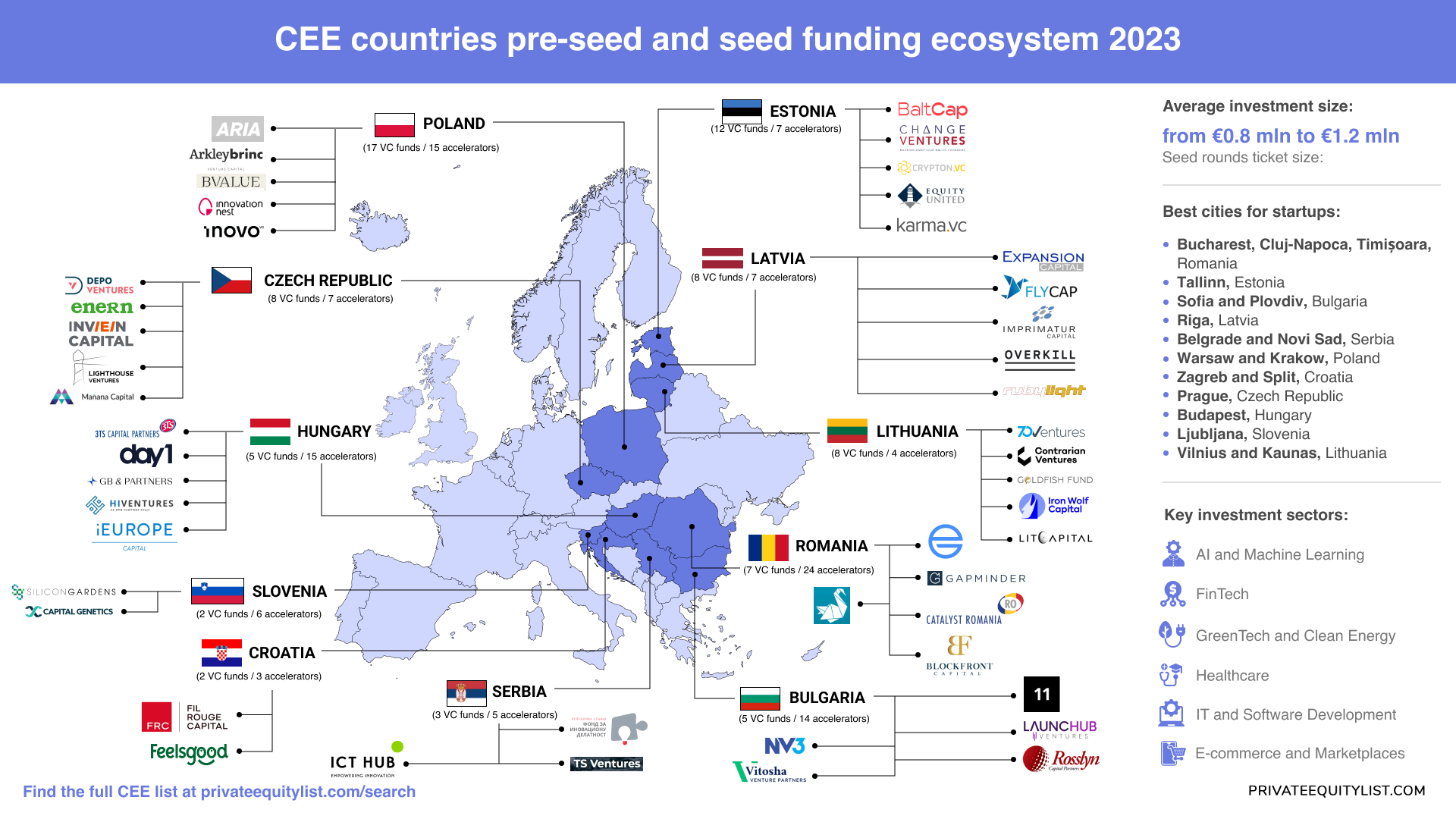 🇷🇴 Romania (7 VC funds / 24 accelerators)
Notable VC funds in Romania include:
You can find more funds in Romania here.
Accelerators such as StepFWD Together 2023, Advancing AI #4 and Pitch Decks 1.0 are working in the region.
Best Cities for Startups: Bucharest, Cluj-Napoca, and Timișoara are the top cities for startups in Romania, offering a vibrant tech community, talent pool, and access to funding.
🇪🇪 Estonia (12 VC funds / 7 accelerators)
Estonia boasts several VC firms, including:
For more funds follow the link.
There are accelerators you can apply here, for example, Estonia - Online Company Registration, Sparkup Incubator and CapOne Research Ltd.
Best Cities for Startups: Tallinn, the capital, is a thriving startup hub known for its digital infrastructure and supportive ecosystem.
🇧🇬 Bulgaria (5 VC funds / 14 accelerators)
Bulgarian VC funds include:
For the full list follow the link.
Elevate Accelerator Program, HackBulgaria and Equinox Partners Accelerator and more are working here.
Best Cities for Startups: Sofia and Plovdiv are prominent startup cities, offering affordable living and access to talent.
🇱🇻 Latvia (8 VC funds / 7 accelerators)
You can find more funds via the link.
The accelerators in Latvia are Buildit Accelerator Batch #17, eegloo business lab and Commercialization Reactor.
Best Cities for Startups: Riga stands out for its growing tech scene and infrastructure.
🇷🇸 Serbia (3 VC funds / 5 accelerators)
More funds in Serbia are here.
Such accelerators as Business Incubator Novi Sad, Vinca Inkubator, Institut "Vinča" and Program Inkubacije Vinca TECH/NAUKA are working in Serbia.
Best Cities for Startups: Belgrade and Novi Sad are leading the Serbian startup ecosystem, with affordable living costs.
🇵🇱 Poland (17 VC funds / 15 accelerators)
VC funds in this region include:
Find the full list of funds via the link.
Starter, Arkley_VC and CreativeArt Fund are working in Poland.
Best Cities for Startups: Warsaw and Krakow are vibrant startup hubs, known for their tech talent and innovative spirit.
🇭🇷 Croatia (2 VC funds / 3 accelerators)
Croatia's startup scene is supported by investors like:
Find more funds here.
FRCM Accelerator and NEXT-IS Platform are working in Croatia.
Best Cities for Startups: Zagreb and Split are the go-to cities, known for their beautiful surroundings and entrepreneurial communities.
🇨🇿 Czech Republic (8 VC funds / 7 accelerators)
The leading venture capital funds are:
The full funds list is available here.
JIC StarCube, South Moravian Innovation Center and Delta Accelerator are working in the region.
Best Cities for Startups: Prague is the primary hub, offering a thriving tech ecosystem and cultural attractions.
🇭🇺 Hungary (5 VC funds / 15 accelerators)
You can find more Hungarian funds here.
There are such accelerators as Health Venture Lab, SC Global Network - Mentors and P&G Motion Central Europe.
Best Cities for Startups: Budapest is the epicentre of Hungary's startup activity, boasting a rich history and vibrant community.
🇸🇮 Slovenia (2 VC funds / 6 accelerators)
Slovenia's startup scene benefits from funds like:
More funds in Slovenia are available via the link.
DIH AGRIFOOD, ABC Accelerator and DsgnFwd™ Design Accelerator are local accelerators.
Best Cities for Startups: Ljubljana, the capital, is the heart of Slovenia's startup ecosystem, known for its green initiatives and innovation.
🇱🇹 Lithuania (8 VC funds / 4 accelerators)
Lithuania's VC landscape includes:
The full list of the funds is here.
AcceleratorOne, KTU Startup Space and Hub Vilnius are working in the region.
Best Cities for Startups: Vilnius and Kaunas are Lithuania's startup hotspots, offering a tech-friendly environment and access to markets.
Key Trends
As the CEE startup ecosystem continues to evolve, several key trends are emerging:
Fintech Dominance: Fintech startups are on the rise, with digital banking, payments, and lending gaining momentum.
Sustainability: GreenTech and Clean Energy startups are addressing environmental challenges.
Remote Work Solutions: The pandemic has fueled the growth of startups focused on remote work tools and solutions.
Cross-Border Collaboration: Collaborative efforts between CEE countries are fostering innovation and access to larger markets.
In conclusion, the CEE region is a dynamic and promising destination for startups seeking pre-seed and seed funding. With a diverse range of industries gaining traction and supportive ecosystems, these countries offer numerous opportunities for entrepreneurs to thrive. As the startup landscape continues to evolve, keeping an eye on emerging trends and staying connected to local accelerators and VC funds can be the key to success in this burgeoning tech hub.