Turkey private equity and venture capital (PE & VC) market map
We compiled an extensive Turkey private equity (PE) and venture capital (VC) market map that shows key Turkey investors and investment funds. We hope this is useful for your startup fundraising. Find below the list of investors from the market map and links to their websites.
Turkey is an important economic hub and has strong ties with Europe and the Middle East. Its large domestic market makes it an attractive investment base. Due to the recent economic downturn and political tensions international investors tend to reduce their exposure. However, investment appetite seems to be picking up again. Startups received $59,2 million from angels and venture capital funds. Top 3 funded startups were online marketing management platform Insider, online accounting services provider Foriba and online furniture store Vivense. Trendyol, OpsGenie, and Gram Games made the biggest exits in 2018 Earlybird, Hummingbird, and 3TS have Turkey dedicated funds. Revo Capital, Bogazici Ventures and ACT Capital Partners are among the most active local venture capital firms. Aslanoba is the country's first super angel with $60 million seed and early-stage investments in startups. Galata Business Angels also established the first angel network. European Investment Fund, European Bank of Reconstruction and Development and International Finance Corporation have a strong presence in Turkey and invest in startups directly or indirectly. Turkey's most active private equity firms Turkven and Actera are both seeking to raise new funds of over $1 billion each.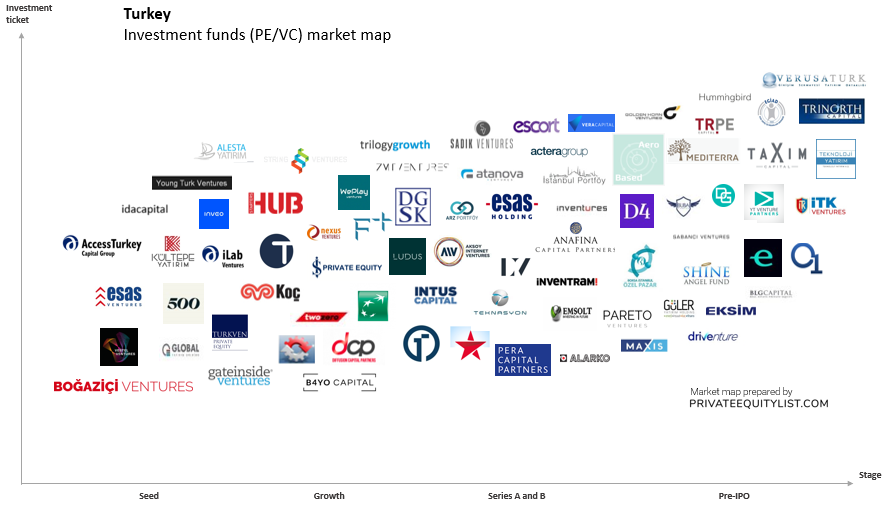 The funds present on the market maps are:
For more information on investment funds (their investment criteria, funds sizes, region preferences and etc.) in Turkey go to Turkey PE/VC funds database on privateequitylist.com
If you are raising capital, we would love to hear about you and help you find the right investors! If you want to be featured on our website as a startup looking for investments or if you want to add a PE/VC to this list, please email at privateequitylist@gmail.com.
We hope our platform will help you find the right investors for your startups!
Regards,
Private Equity List team