Top 30 Fintech Venture Capital Firms in Saudi Arabia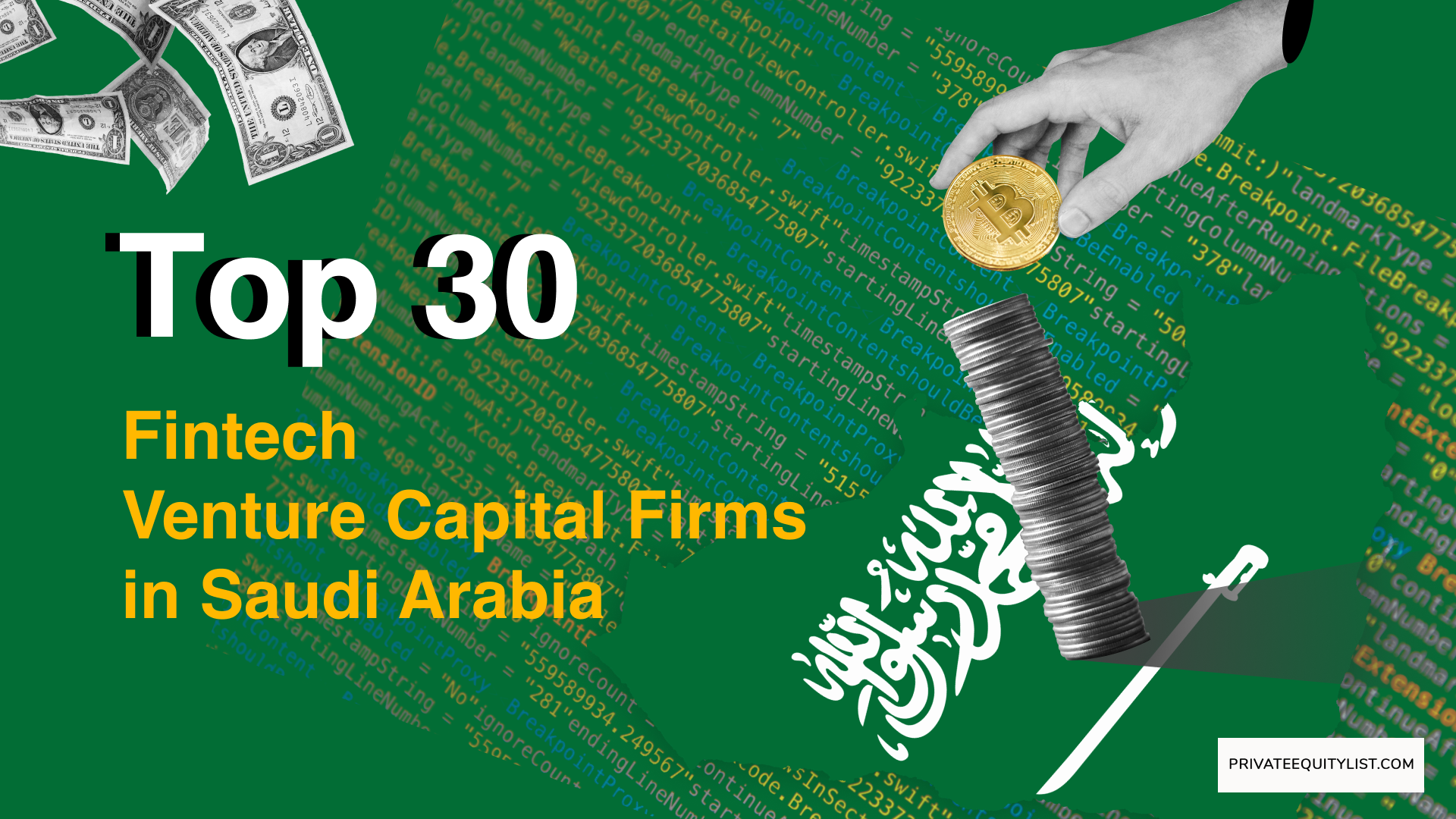 The analysis is presented by PrivateEquityList.com, a PE/VC freemium investor database platform that focuses on African, Asian, and Latin American investors as well as small/mid-cap funds and financing opportunities so startups have better chances of getting funded.
2022 saw Saudi Arabia's fintech industry escalating at a skyrocketing pace. Last year, the kingdom attracted an astounding $1.8 billion in fintech investments, representing a 120% growth from the previous year. The average investment size in pre-seed rounds was approximately $500,000, while seed rounds saw an average capital infusion of $1.2 million. These impressive figures mirror the kingdom's transformation as a burgeoning fintech hub.
Key investment sectors that are the primary recipients of these massive capital infusions include digital payments, personal finance, lending, insurance, and blockchain. Saudi Arabia's top 30 fintech venture capital firms play a significant role in fueling this evolution, and here, we take a close look at them.
As an arm of the Kingdom's Public Investment Fund, SVC offers financial backing to the small and medium-sized enterprises sector, focusing on emerging technological advancements.
A venture capital firm with $120 million in committed capital, RTF invests in early and growth-stage technology companies focusing on fintech and software.
STV is a $500 million venture capital fund backed by Saudi Telecom Company, primarily investing in the digital and software sector.
Wa'ed Ventures offers debt and equity funding to innovative startups aligning with Saudi Aramco's strategic goals.
Vision Ventures is a Saudi-based VC firm specializing in early and growth-stage investments in innovative tech startups.
Focusing on seed and early-stage investments, Raed Ventures supports entrepreneurs with disruptive ideas that can shape the new digital economy.
7. Osool & Bakheet Investment Company
This firm provides venture capital financing for startups in the technology sector, particularly fintech and IT.
Aiming to empower entrepreneurship in MENA, Nama Ventures offers pre-seed and seed-stage funding to fintech startups.
AlTouq Group provides venture capital for tech companies, emphasizing fintech, software, and digital transformation projects.
10. Business Incubators and Accelerators Company (BIAC)
BIAC invests in early-stage startups, offering them a unique blend of financial support and business mentoring.
11. Qotuf AlRiyadah
Qotuf AlRiyadah provides seed funding and mentorship to entrepreneurs in the digital and fintech sectors.
Gobi Partners has a strong presence in Saudi Arabia and offers seed and early-stage investment to promising tech startups.
Malaz Capital focuses on innovative startups in the technology sector, offering seed and early-stage investment.
CedarBridge invests in tech startups that have the potential to impact the Arab world positively.
TAQNIA fosters innovation in Saudi Arabia by investing in technology-driven startups in various fields, including fintech.
16. MUFG Bank
MUFG Bank extends its venture capital services in Saudi Arabia, investing heavily in fintech.
Alkhabeer Capital invests in technology and fintech startups that promise high returns.
18. Jada Fund of Funds
Jada aims to stimulate the entrepreneurial ecosystem by investing in venture capital funds that target Saudi-based startups.
19. SEDCO Capital
SEDCO offers venture capital investments with a focus on fintech and e-commerce.
Derayah VC invests in early-stage tech startups, particularly in the fintech, e-commerce, and software sectors.
21. Falcom Financial Services
Falcom extends its venture capital services to invest in technology-driven startups.
22. The National Investor
TNI offers venture capital services, focusing mainly on fintech, e-commerce, and digital transformation startups.
23. Jadeer
Jadeer offers venture capital services to tech startups, emphasizing e-commerce, fintech, and digital transformation.
24. Phenomenal
Phenomenal focuses on early-stage investments in tech and fintech startups.
Spearhead invests in innovative tech startups that have the potential to bring about significant change.
26. Abdul Latif Jameel Fintech Fund
This fund invests in fintech startups, focusing on digital payments, insurance, and blockchain.
27. Glowfish Capital
Glowfish Capital offers seed and early-stage investments to promising tech startups.
28. SVC Angel Fund
SVC Angel Fund is dedicated to early-stage investments in the technology sector, especially fintech.
29. Tharawat
Tharawat invests in innovative startups that have the potential to bring about change in the technology sector.
KBW Ventures supports entrepreneurs with a strong focus on sustainability, including in the fintech sector.
The significant uptick in fintech investment in Saudi Arabia can be attributed to critical trends:
Rapid Digital Transformation: The drive towards a digital economy under Vision 2030 stimulates investments in digital payments, lending, insurance, and personal finance.
Growing Entrepreneurial Culture: The surge in local entrepreneurial activities generates attractive investment opportunities for VC firms.
Government Support: The Saudi government's initiatives to encourage fintech growth, like the Fintech Saudi initiative and Sandbox environment, provide an ideal ground for fintech startups to flourish.
Blockchain Adoption: The rapid adoption of blockchain technology across various sectors is driving the growth of blockchain-based fintech startups.
Navigating the investment landscape of Saudi Arabia's thriving fintech ecosystem, these top 30 venture capital firms are fueling ambitious startups to innovate and redefine the financial services industry. As we move forward, these firms and the startups they support will undoubtedly play a crucial role in shaping the future of finance in Saudi Arabia and beyond.