The Global Rise of LGBTQ VC Investors: A Comprehensive Look at America, EU and Asia🌈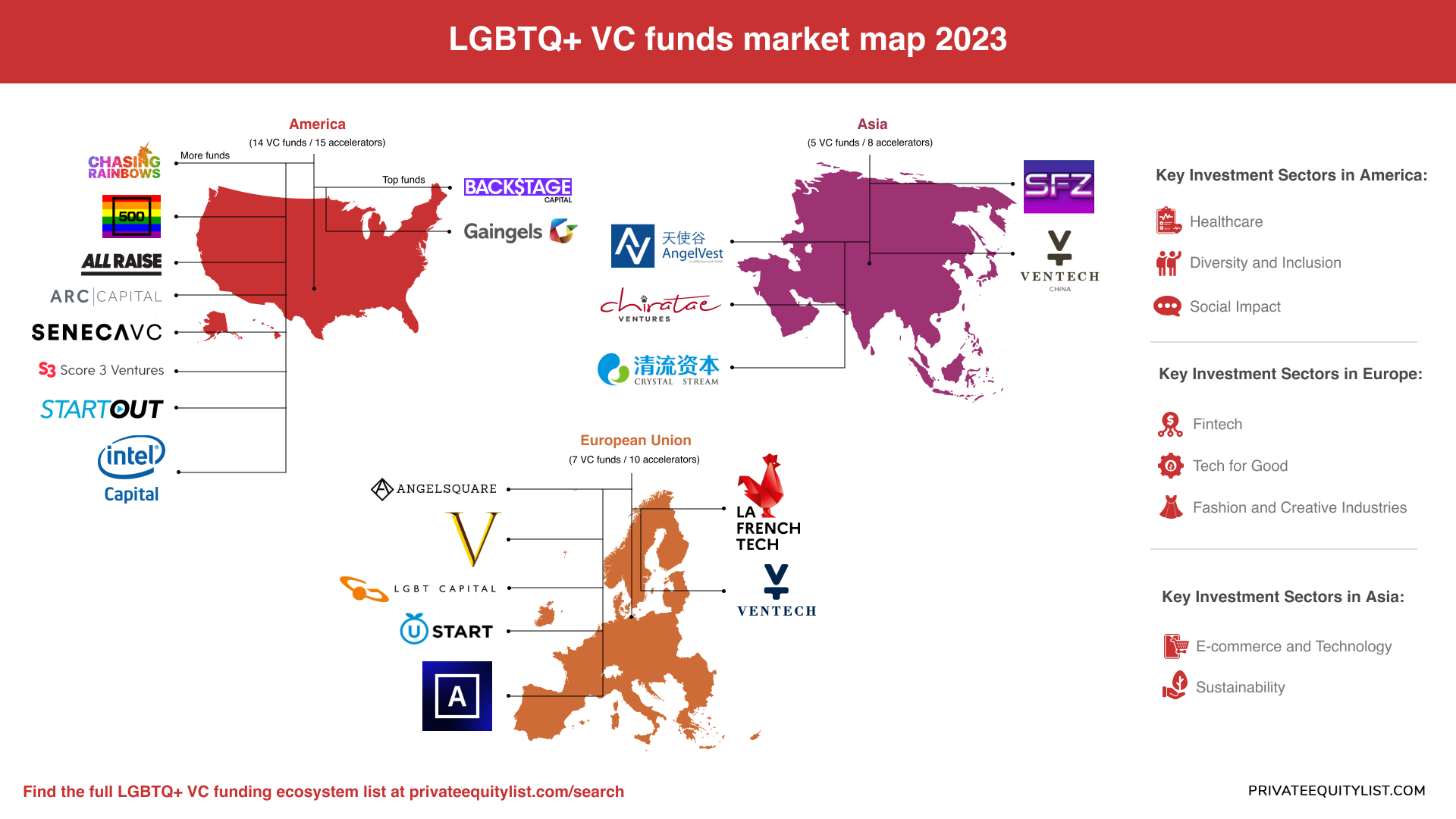 In recent years, the landscape of venture capital (VC) investing has been undergoing a remarkable transformation, with a growing presence of LGBTQ investors who are not just making waves but also reshaping the startup ecosystem. In this blog post, we'll delve into the world of LGBTQ VC investors in America, the European Union (EU) and Asia. We'll explore funding statistics and key investment sectors, and examine each region's local VC funds and accelerators. Let's uncover the exciting trends in LGBTQ venture capital, celebrate diversity, and promote inclusivity.
Funding statistics
Research conducted by the LGBTQ+ entrepreneurs' non-profit organization StartOut reveals that LGBTQ+ founders in the United States have secured less than 1 percent of venture capital funding. However, it appears that there is a noticeable increase in the presence of specialized funds focusing on the LGBTQ+ sector in the investment landscape.
However, "according to Fierce Healthcare Report + StartOut, LGBTQ+ founders outperform: they create 36% more jobs, 114% more patents, 44% more exits than their straight counterparts" - says Ben Stokes, Founding Partner at Chasing Rainbows.
Let's now dive deep into each region.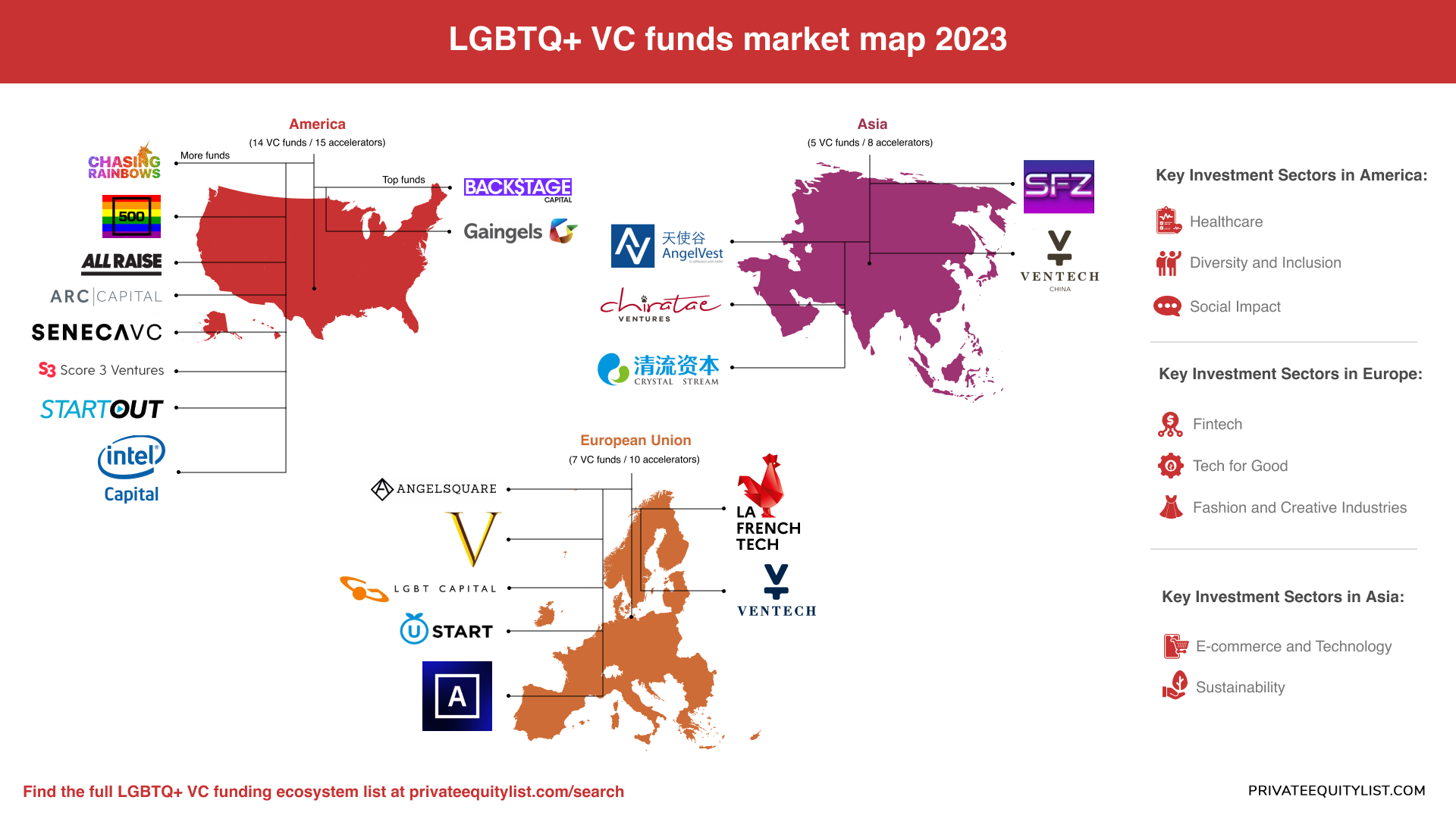 America (14 VC funds / 15 accelerators)
Top funds:
Backstage Capital: A black and LGBTQ-founded VC fund that focuses on underrepresented founders.
Gaingels: A leading LGBTQ-focused investment syndicate, investing in LGBTQ and ally-founded startups.
More funds:
Find the full list here.
Key accelerators:
Y Combinator: Known for its inclusivity, Y Combinator provides seed funding and mentorship to early-stage startups, irrespective of founder identity.
500 Startups: 500 Startups has a strong commitment to diversity and inclusion, offering valuable resources to LGBTQ entrepreneurs.
Techstars: This accelerator provides funding and mentorship to startups globally, fostering a diverse and inclusive startup ecosystem.
Key Investment Sectors in America
LGBTQ VC investors in America exhibit a broad range of interests. However, they often focus on sectors such as:
Healthcare: LGBTQ investors are actively supporting startups addressing LGBTQ-specific health concerns, mental health, and telemedicine services.
Diversity and Inclusion: Investing in companies promoting diversity and inclusion in the workplace is a major focus, with an emphasis on LGBTQ+ representation.
Social Impact: Many LGBTQ VCs prioritize startups working towards positive social change, ranging from education and environmental sustainability to human rights.
Europe (7 VC funds / 10 accelerators)
Find the list with the full information about the funds via the link.
Key Accelerators
Startupbootcamp: With a global presence, Startupbootcamp runs accelerator programs across Europe, nurturing startups from various backgrounds, including LGBTQ founders.
The Family: A European accelerator that supports innovative startups, including LGBTQ-led businesses, through mentorship and funding.
Seedcamp: Seedcamp is a diverse and inclusive accelerator that has supported a wide array of startups across Europe.
Key Investment Sectors
LGBTQ VC investors in the EU invest in a variety of sectors, including:
Fintech: Europe's fintech industry has attracted significant LGBTQ investment, with a focus on innovation in financial services.
Tech for Good: Startups addressing social and environmental issues receive considerable support from LGBTQ VCs.
Fashion and Creative Industries: The EU is known for its thriving LGBTQ fashion and design scene, and LGBTQ investors often back startups in this sector.
Asia (5 VC funds / 8 accelerators)
Find the list here.
Key Accelerators
Asia Accelerator: With a strong presence in the region, Asia Accelerator supports startups from diverse backgrounds, providing mentorship and funding opportunities.
The VC Factory: An accelerator that welcomes LGBTQ founders and supports startups in various industries across Asia.
SparkLabs: A global accelerator network with a footprint in Asia, SparkLabs promotes diversity and inclusion in its programs.
Key Investment Sectors
LGBTQ VC investors in Asia are actively investing in:
E-commerce and Technology: Asia's booming e-commerce industry and technology sector attract LGBTQ investors looking for innovation and growth potential.
Sustainability: Startups focused on sustainability, clean energy, and environmental protection are gaining traction in the region.
LGBTQ Rights and Services: Given the unique challenges faced by LGBTQ individuals in some Asian countries, there's a strong focus on supporting startups that offer LGBTQ-friendly services and products.
Key Trends in LGBTQ VC Investing
The world of LGBTQ venture capital is evolving rapidly, and several trends are worth noting:
Increased Diversity: There's a growing emphasis on diversity within the LGBTQ VC community itself, with more LGBTQ investors from underrepresented backgrounds entering the space.
Global Networking: LGBTQ entrepreneurs and investors are connecting across borders, sharing experiences, and forming international support networks.
Advocacy and Inclusion: LGBTQ VC investors often support startups that actively promote LGBTQ inclusion, creating a positive feedback loop.
Impact Investment: There's a strong interest in supporting ventures that address social, environmental, and LGBTQ-specific issues.
Tech and Innovation: Technology-focused startups continue to receive significant backing, reflecting the growing digital landscape.
Ben Stokes, Founding Partner at Chasing Rainbows, tells about a couple more trends:
"We have seen four pillars emerge regarding focus areas for LGBTQ+ companies. These are companies which focus on creating:
access to healthcare
access to education
the environment and sustainability
financial inclusion and equity
The main reason we believe these pillars have emerged is because they solve problems many of the founders have personally experienced themselves. They intimately understand the disparity that people within our community face, as they've seen it first-hand. So, they're creating companies that solve it.
Trend 2: Less than 0.5% of all venture funding goes to founders who identify as part of the community - but in addition to that, more than 75% of founders go back into the closet whilst fundraising because they feel being part of the LGBTQ+ community will be a bad mark against their name. We've heard countless stories where General Partners have used Limited Partner Agreements to openly discriminate against LGBTQ+ founders if the GP has different religious or political views."
In summary, the rise of LGBTQ VC investors in America, the EU, Asia, and MENA is an exciting and transformative development in the venture capital world. This diverse group of investors is not only fostering innovation but also actively promoting LGBTQ inclusion and advocacy. With a growing number of local VC funds and accelerators, LGBTQ entrepreneurship is set to flourish even further, making the startup ecosystem more inclusive and representative of the diverse world we live in. The rainbow flag is indeed painting a brighter future for the world of venture capital!