The Evolution of Pre-Seed and Seed Funding in Northern Africa: An In-Depth Analysis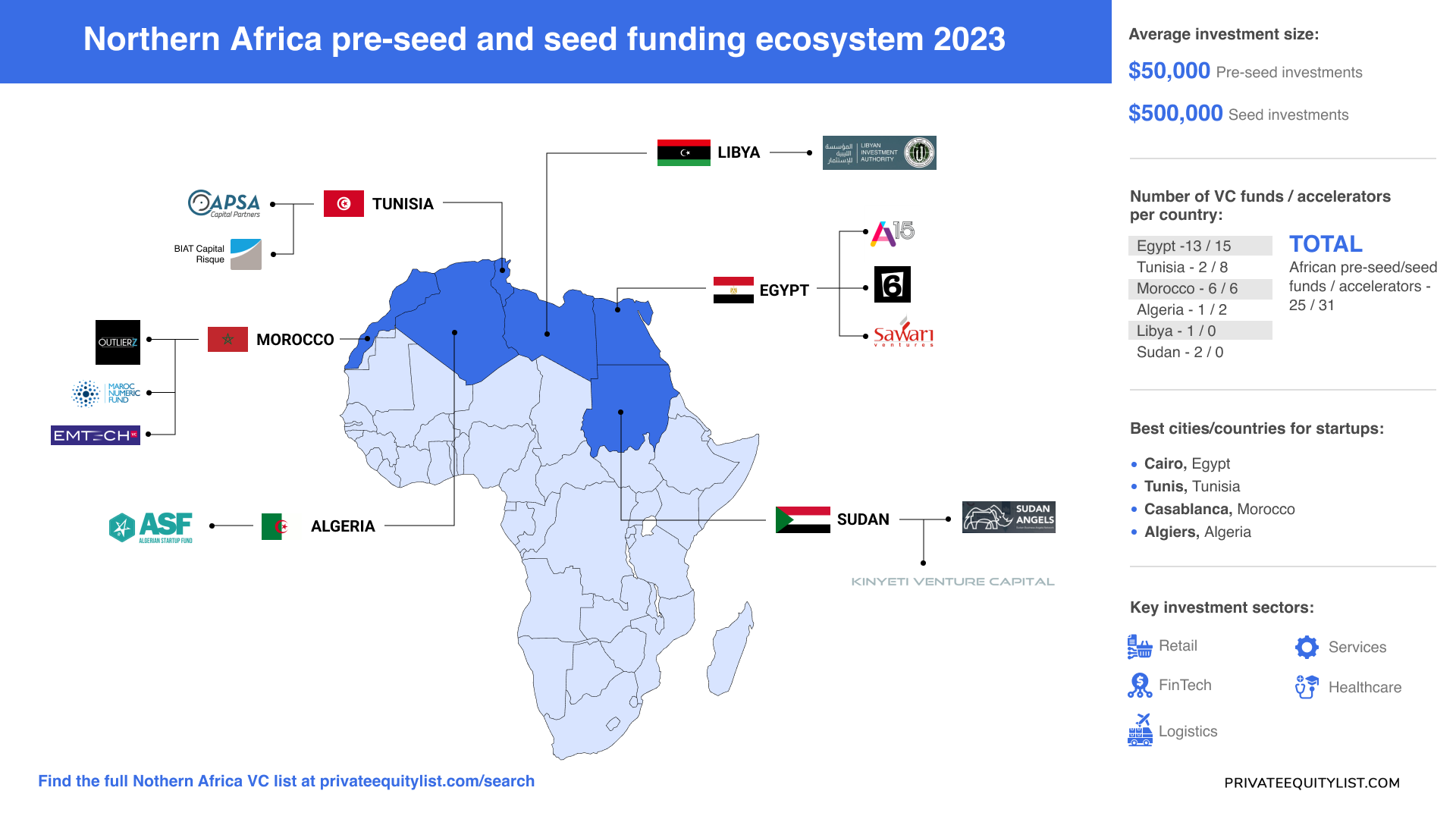 Northern Africa has emerged as a breeding ground for startups, cultivating an ecosystem fueled by a rising wave of pre-seed and seed funding. This blog post dives into the key statistics and funding sizes that highlight this growth before exploring the specifics of each country's unique startup landscape. The piece concludes with an examination of the prevailing trends that make Northern Africa a compelling region for entrepreneurial activities.
The analysis is presented by PrivateEquityList.com, a PE/VC freemium investor database platform that focuses on African, Asian, and Latin American investors as well as small/mid-cap funds and financing opportunities so startups have better chances of getting funded.
Funding Statistics and Average Investment Size
Northern Africa has been on an upward trajectory in terms of pre-seed and seed funding. Over the last five years, the volume of deals has surged, with the number of startups securing funding growing significantly.
As of 2023, North Africa has experienced a significant surge in startup investments.
Average investment size:
- Pre-seed funding rounds: $50,000
- Seed funding rounds: $500,000
Northern Africa's primary investment sectors for pre-seed and seed include:
🛒 Retail: according to Africa: The Big Deal report, retail dominates the scene in Northern Africa.
💶 Fintech: Northern Africa's burgeoning fintech sector offers a dynamic investment landscape, capitalizing on the region's increasing digital connectivity and the demand for innovative financial solutions, spanning mobile payments, digital banking, and financial inclusion initiatives.
🚛 Logistics: The logistics sector in Northern Africa presents a compelling investment opportunity, fueled by the region's strategic geographic location, growing trade volumes, and the need for efficient supply chain solutions.
🪄 Services: this sector emerges as a promising investment avenue, driven by the rising demand for technology-driven solutions transforming the way businesses and consumers interact.
💊 Healthcare: driven by a growing population, increasing healthcare awareness, and the need for innovative solutions to enhance medical services, accessibility, and patient care, the industry grows.
Now let's deep dive into the unique startup landscape of each country in the region.
💡
The funds below are mostly local African funds and you can find them on the
main website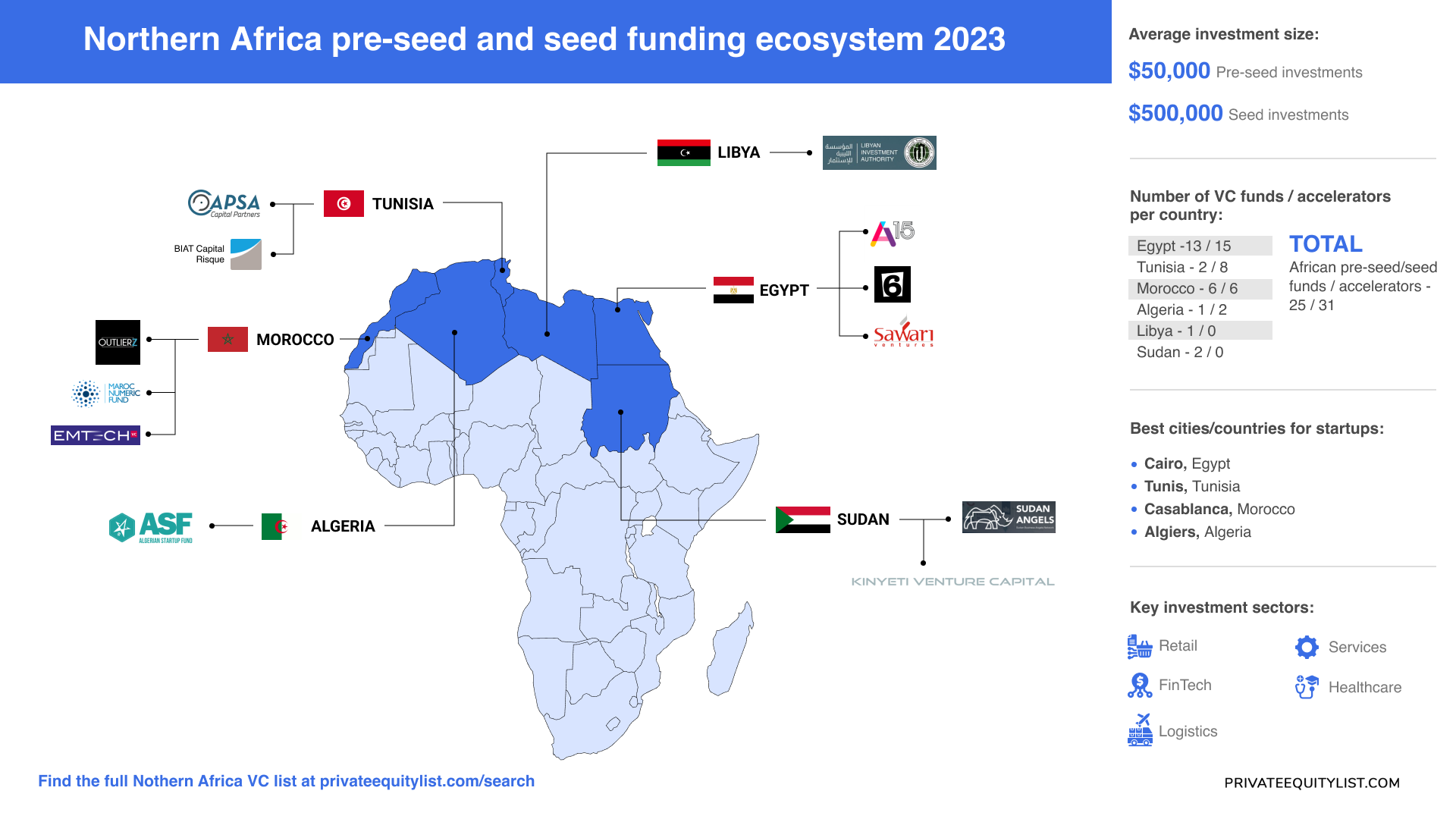 🇪🇬 Egypt: The Startup Powerhouse
With a thriving entrepreneurial scene, Egypt is a hotbed of innovative startups making significant strides.
Venture Capital Funds / Accelerators (approximately 13 / 15):
Egypt, being the powerhouse of Northern Africa, is home to around 13 active VC funds such as:
You can find more funds in Egypt here.
There are also about 15 accelerators including Flat6Labs - General Interest, Whelpr Development Accelerator - 2020 and Startup Weekend Alexandria Group.
🇹🇳Tunisia: An Emerging Startup Hub
Tunisia's commitment to building a vibrant startup ecosystem, bolstered by progressive governmental policies and international partnerships, is notable.
Venture Capital Funds / Accelerators (approximately 2 / 8)
Tunisia's dynamic startup scene is backed by around 2 VC funds including:
Search for more here.
There are approximately 8 accelerators in Tunisia, such as Flat6Labs Tunis - Cycle 3, Platforms for Tomorrow 2022 and Wiki Startup 2021.
🇲🇦 Morocco: A Strategic Startup Destination
Morocco's strategic location and progressive startup environment make it an attractive hub for entrepreneurs.
Venture Capital Funds / Accelerators (approximately 6 / 6)
The Moroccan ecosystem consists of approximately 6 active VC funds, with notable entities like:
You can find more here.
There are around 6 accelerators, including Launchpad 2ème édition and business startup for youth fostering entrepreneurial growth in Morocco.
🇩🇿 Algeria, Libya, Sudan: On the Rise
Despite challenges, the startup ecosystem of these countries shows remarkable potential, spurred by a youthful population and a government committed to fostering a digital economy.
Venture Capital Funds / Accelerators (approximately 4 / 2)
VC funds:
Accelerators:
📊 Key Trends in Northern Africa's Startup Ecosystem
As we conclude our exploration, here are a few notable trends shaping the region:
Increased Foreign Investment: Northern Africa is increasingly attracting foreign capital, with Egypt, Morocco, and Tunisia being the primary recipients.
Governmental Support: Governments across the region are implementing startup-friendly policies, driving the entrepreneurial wave.
Diversity in the Ecosystem: A rise in women-led startups is adding diversity to the startup ecosystem.
Pandemic Resilience: The COVID-19 crisis has highlighted the agility and resilience of startups in the region, with many pivoting to meet new market demands.
Best Cities for Startups in Northern Africa:
Cairo, Egypt: Known as the "Silicon Valley" of the Middle East, Cairo has a robust tech and startup scene, with numerous accelerators and incubators. The government also supports innovation, and there's a high availability of tech talent.
Tunis, Tunisia: Tunisia has a young and highly educated population, with many tech-savvy graduates. The government has launched initiatives to support startups, including tax incentives.
Casablanca, Morocco: As the economic hub of Morocco, Casablanca hosts several multinational companies, startups, and international events. The government supports entrepreneurship with numerous grants and programs.
Algiers, Algeria: While not as well-developed as some of the other cities on this list, Algiers has an emerging startup ecosystem with a number of notable success stories. The government has also implemented policies to support entrepreneurship.
In conclusion, the pre-seed and seed funding landscape in North Africa is flourishing, driven by robust local VC funds, accelerators, and an influx of international investment. The region's enabling environment for startups, coupled with its ongoing digital transformation, makes North Africa a significant player in the global entrepreneurial scene.
_________
If we missed some funds, please add them using the link https://privateequitylist.com/investors/create
Thank you!