Cannabis private equity and venture capital (PE & VC) Funds market map with focus on small/mid cap funds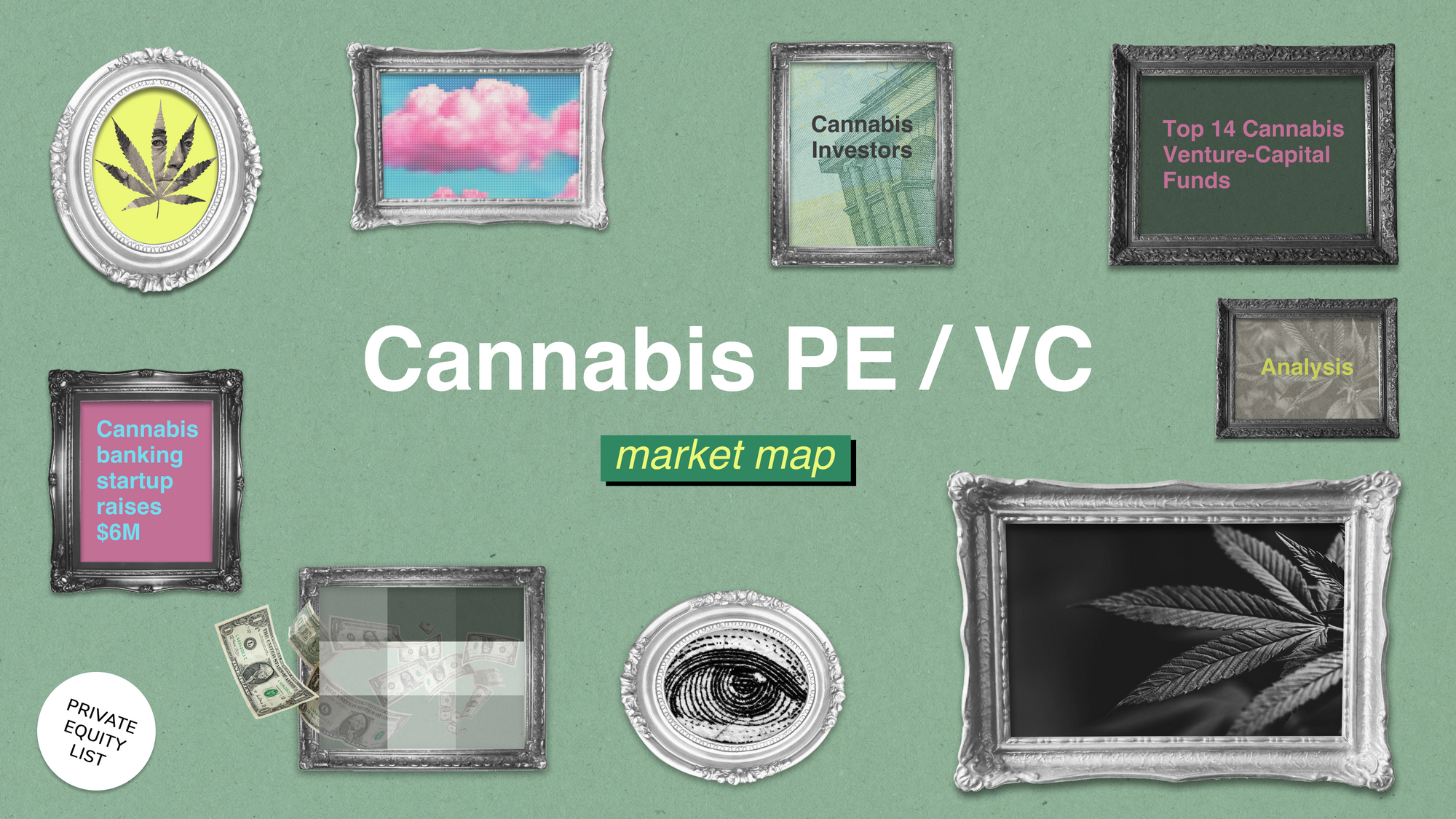 We compiled an extensive Cannabis private equity (PE) and venture capital (VC) market map that shows key Cannabis investors and investment funds. We hope this is useful for your startup fundraising. Find below the list of investors from the market map and links to their websites.
Thanks for reading us! Get 50% off your first month of Pro subscription - use PRO50 for Pro Tariff promocode at Pricing page. For more information on all PE/VC investment funds (their investment criteria, funds sizes, region preferences and etc.) go to https://privateequitylist.com/search
Cannabis market overview (market map is below it):
Cannabis has emerged as a promising sector for investors, with numerous private equity (PE) and venture capital (VC) funds focusing on the industry. As legalization spreads worldwide, startups in the cannabis space are witnessing significant growth opportunities. In this blog post, we'll delve into the key market trends of Cannabis PE/VC funds across different regions, shedding light on valuation, startups, Series A and B rounds, and the role of accelerators.
North America:
Valuation Surge: The North American cannabis market has experienced a substantial increase in valuation, driven by regulatory changes and expanding consumer demand.
Thriving Startup Ecosystem: Numerous startups are cropping up, ranging from cannabis cultivation and processing to technology platforms, offering diverse investment opportunities.
Series A Funding: Cannabis startups in North America are increasingly securing Series A funding rounds, enabling them to scale their operations, expand their market reach, and invest in research and development.
Accelerator Programs: Accelerators specialized in cannabis, such as CanopyBoulder and Gateway, are nurturing early-stage startups, providing mentorship, networking opportunities, and funding.
Europe:
Regulatory Advancements: Europe has witnessed progressive regulatory changes, opening up new markets and investment avenues for cannabis-focused funds.
Series B Investments: With the maturing of the European cannabis market, Series B funding rounds are becoming more prevalent, allowing companies to enhance their production capabilities and expand across borders.
Medical Cannabis Dominance: Medical cannabis has emerged as a dominant segment in Europe, with several countries legalizing its use for therapeutic purposes. Investors are eyeing opportunities in pharmaceutical-grade cannabis production and distribution.
Rising Interest from Traditional Investors: Traditional VC firms and PE funds are increasingly recognizing the potential of the European cannabis market, leading to an influx of institutional capital.
Asia-Pacific:
Regulatory Challenges: While some Asian countries have started exploring medical cannabis legalization, the region as a whole faces regulatory hurdles, resulting in a slower pace of market growth.
Seed Funding and Early-Stage Startups: The Asian cannabis ecosystem is still in its nascent stage, with seed funding being a primary source of investment. Early-stage startups focusing on research, technology, and cultivation techniques are attracting attention.
Series A Opportunities: As regulatory barriers gradually loosen, Series A funding rounds are expected to pick up, providing startups with the necessary capital to scale operations and build regional market presence.
Social Acceptance: Changing attitudes towards cannabis and the growing recognition of its potential health benefits are paving the way for a shift in social acceptance across the region, indicating future growth prospects.
In conclusion, the global cannabis industry is evolving rapidly, and Cannabis PE/VC funds are at the forefront of investment opportunities. While North America leads the way with robust valuations and a thriving startup ecosystem, Europe offers diverse prospects in medical cannabis and attracts traditional investors. Asia-Pacific is witnessing slow but steady progress, with seed funding and regulatory changes being the key focus. Keeping an eye on these regional market trends will enable investors to navigate the cannabis landscape strategically and seize the emerging opportunities at each stage of startup growth, be it Series A, Series B, or accelerator-backed ventures.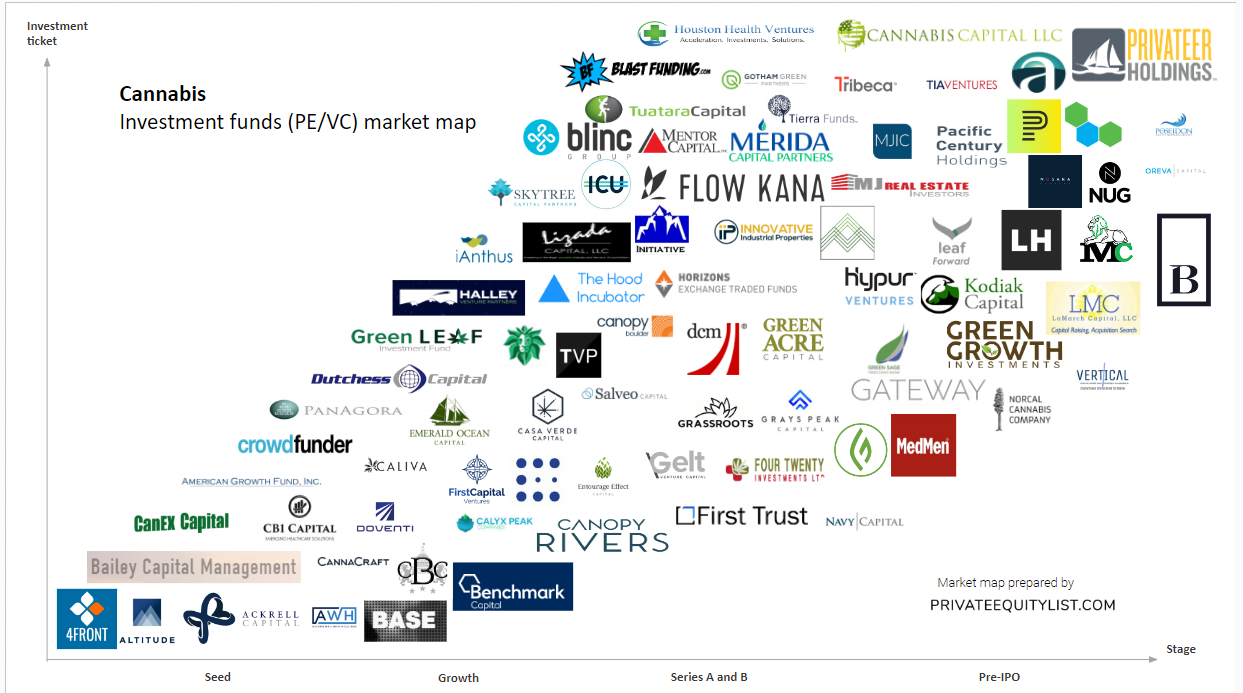 The funds present on the market maps are:
For more information on Cannabis  investment funds (their investment criteria, funds sizes, region preferences and etc.) go to PE/VC Cannabis funds database on privateequitylist.com
If you are raising capital, we would love to hear about you and help you find the right investors! If you want to be featured on our website as a startup looking for investments or if you want to add a PE/VC to this list, please email at privateequitylist@gmail.com
We hope our platform will help you find the right investors for your startups!
Regards,
Private Equity List team