☀️Navigating Pre-Seed and Seed Funding Landscapes: India, Bangladesh and Pakistan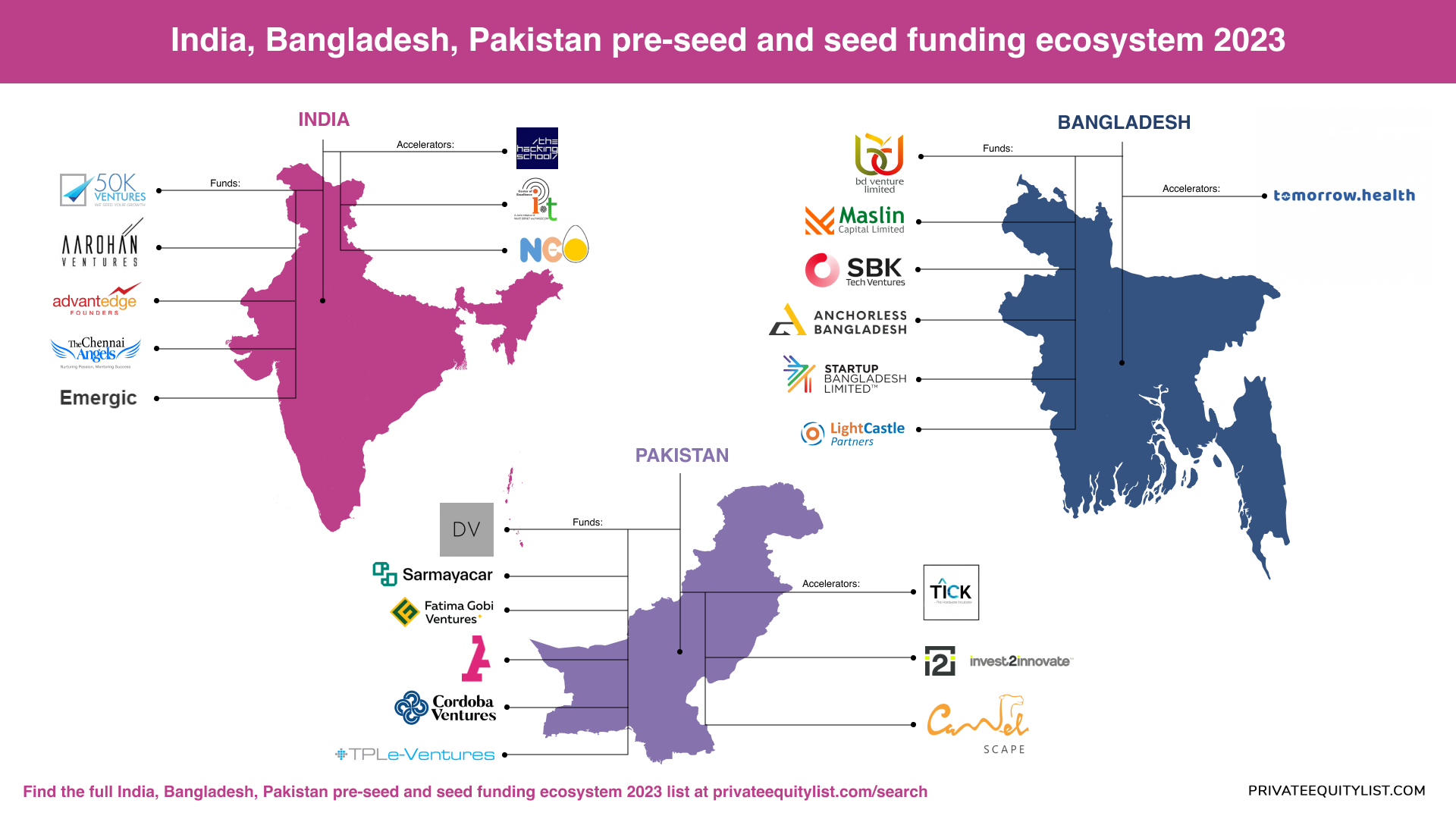 In the dynamic realms of entrepreneurship, funding plays a pivotal role in turning innovative ideas into reality. Pre-seed and seed funding stages are crucial milestones for startups, providing the initial financial backing needed to take their first steps towards growth. Let's dive into the funding landscapes of three South Asian countries - India, Bangladesh, and Pakistan - and explore their funding statistics, investment trends, prominent VC funds, accelerators, startup-friendly cities, and key emerging trends.
Funding Statistics and Investment Trends
Let's begin by looking at the funding statistics, average investment sizes of pre-seed and seed rounds, and key investment sectors in these three countries.
India 🇮🇳
Funding Statistics: According to data from Venture Intelligence, in the early-stage segment, funding value declined by 65 per cent to $624 million, compared with $1.8 billion in 2022.

Average Investment Size:

Pre-seed funding round in India is less than $500,000
Seed rounds are up to $2.1 million.


Key Investment Sectors:

E-commerce
Fintech
Edtech
Healthtech
SaaS (Software as a Service)
Bangladesh 🇧🇩
Funding Statistics: The data reveals a sharp decline in startup funding, with total funding falling from USD 50 million in 2021 to only USD 22 million in 2022.

Average Investment Size:

Pre-seed funding rounds in Bangladesh typically range from $45,000 to $600,000
Seed rounds are up to $2.6mln in 2022.

According to the LightCastle report, the average early-stage deal size is $523,000 (Seed, Pre-Seed and Series A).
Key Investment Sectors:

Fintech
Logistics and Mobility
E-commerce and Retail
Healthcare
Consumer Services
Software & Technology
Pakistan 🇵🇰
Funding Statistics: Pakistan's startup funding increased 55% to $23.1 million in the first quarter of calendar year 2023 compared to the previous three-month period (October-December 2022). However, in comparison to the same period of the previous year, funding declined by a significant 86% as startups had attracted $172 million in the first quarter of 2022.

Average Investment Size:

Pre-seed funding rounds in Pakistan generally range from $850,000 to $4.5mln
Seed rounds often secure investments in the range of $250,000 to $13 million


Key Investment Sectors:

E-commerce
Fintech
Healthtech
Logistics
Exploring the Local Funding Landscape
Each of these countries has a unique set of VC funds and accelerators that play a crucial role in nurturing and funding startups.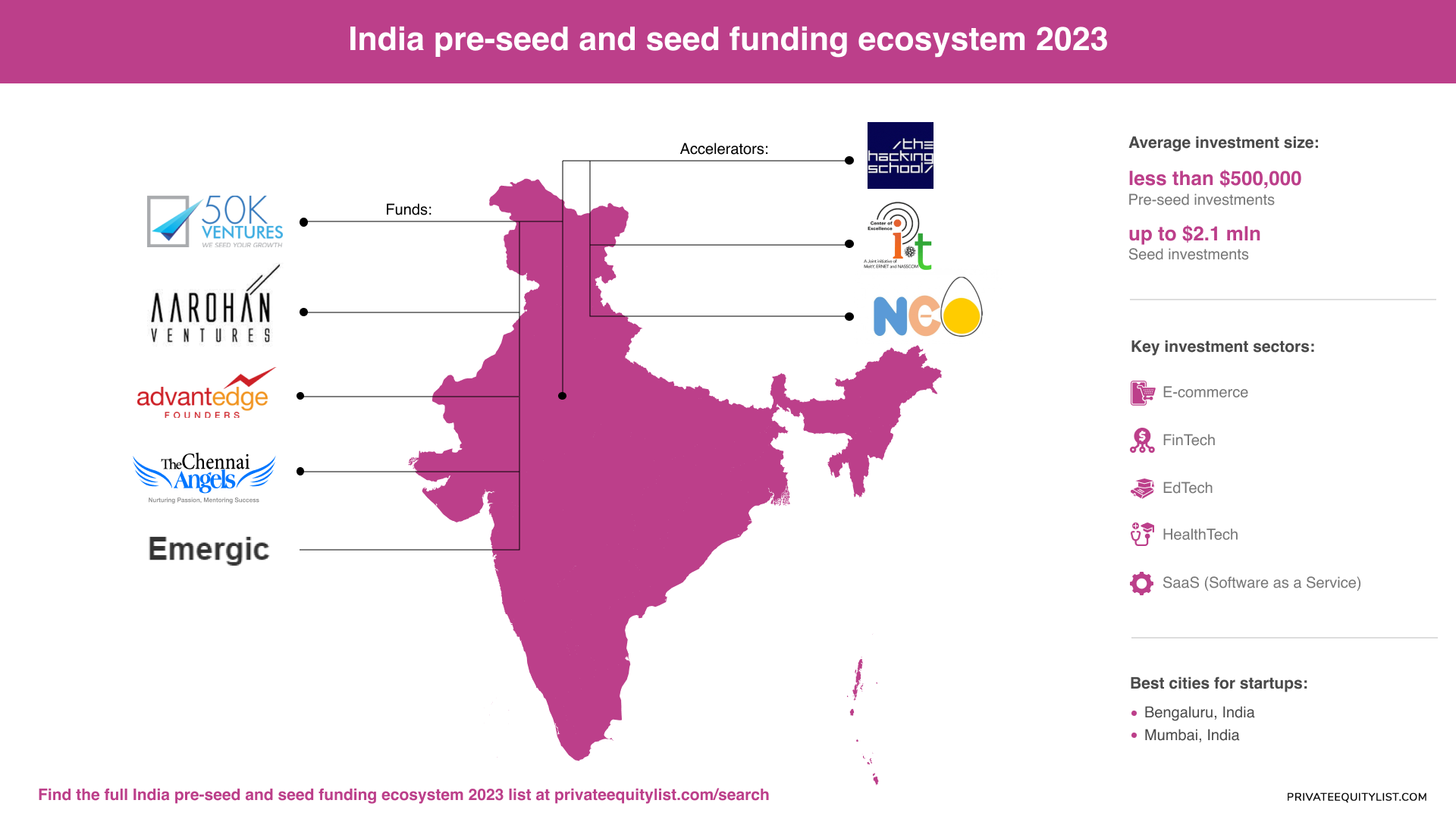 India (116 VC funds / 279 accelerators)
Find more funds in India here.
You can contact one of the Indian accelerators, for example, The Hacking School F'15, A-NEO Cohort 8 and NASSCOM CoE Incubation Program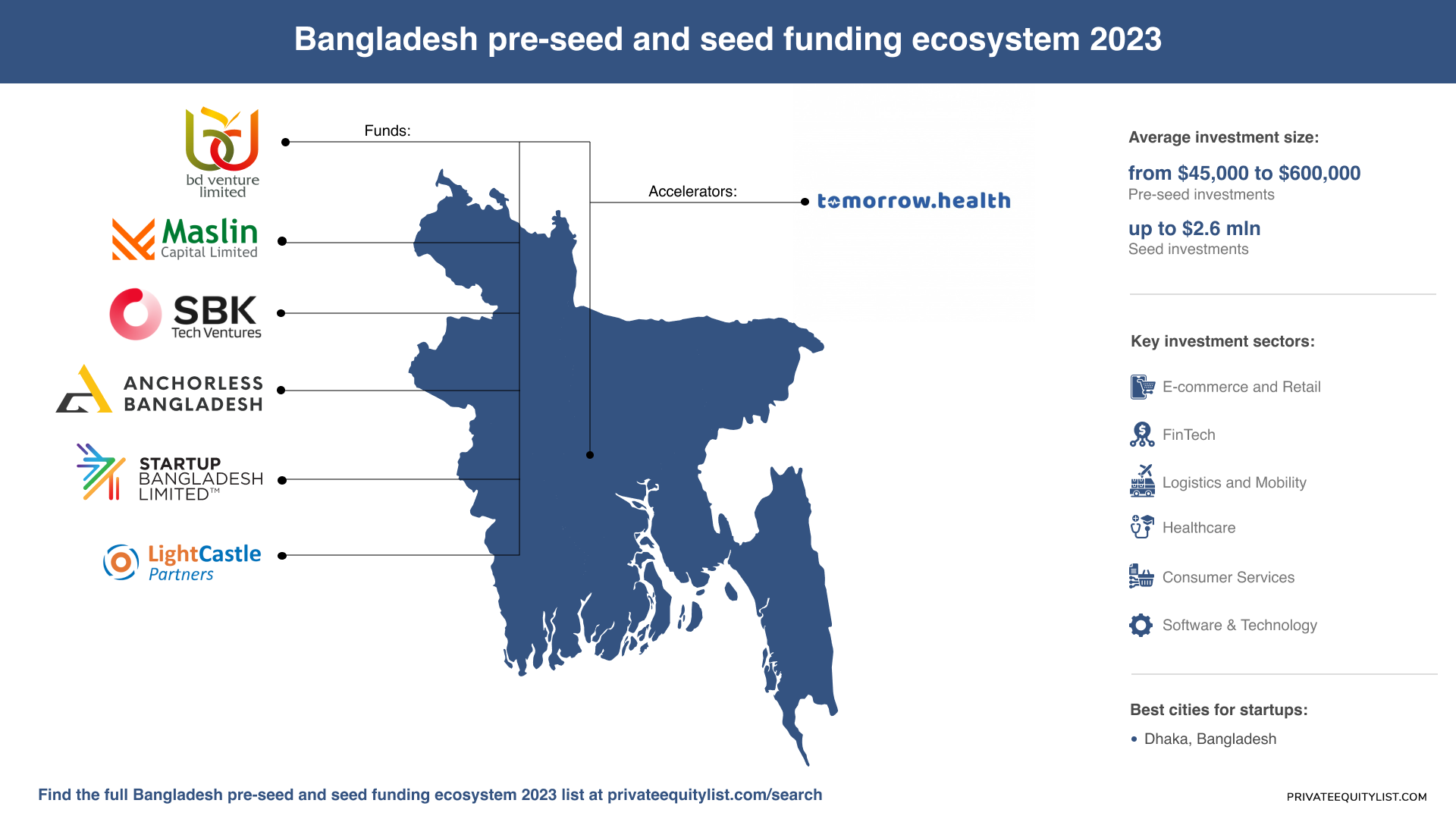 Bangladesh (6 VC funds / 1 accelerator)
More funds are available via the link. Tomorrow Health Academy is an accelerator working in this region.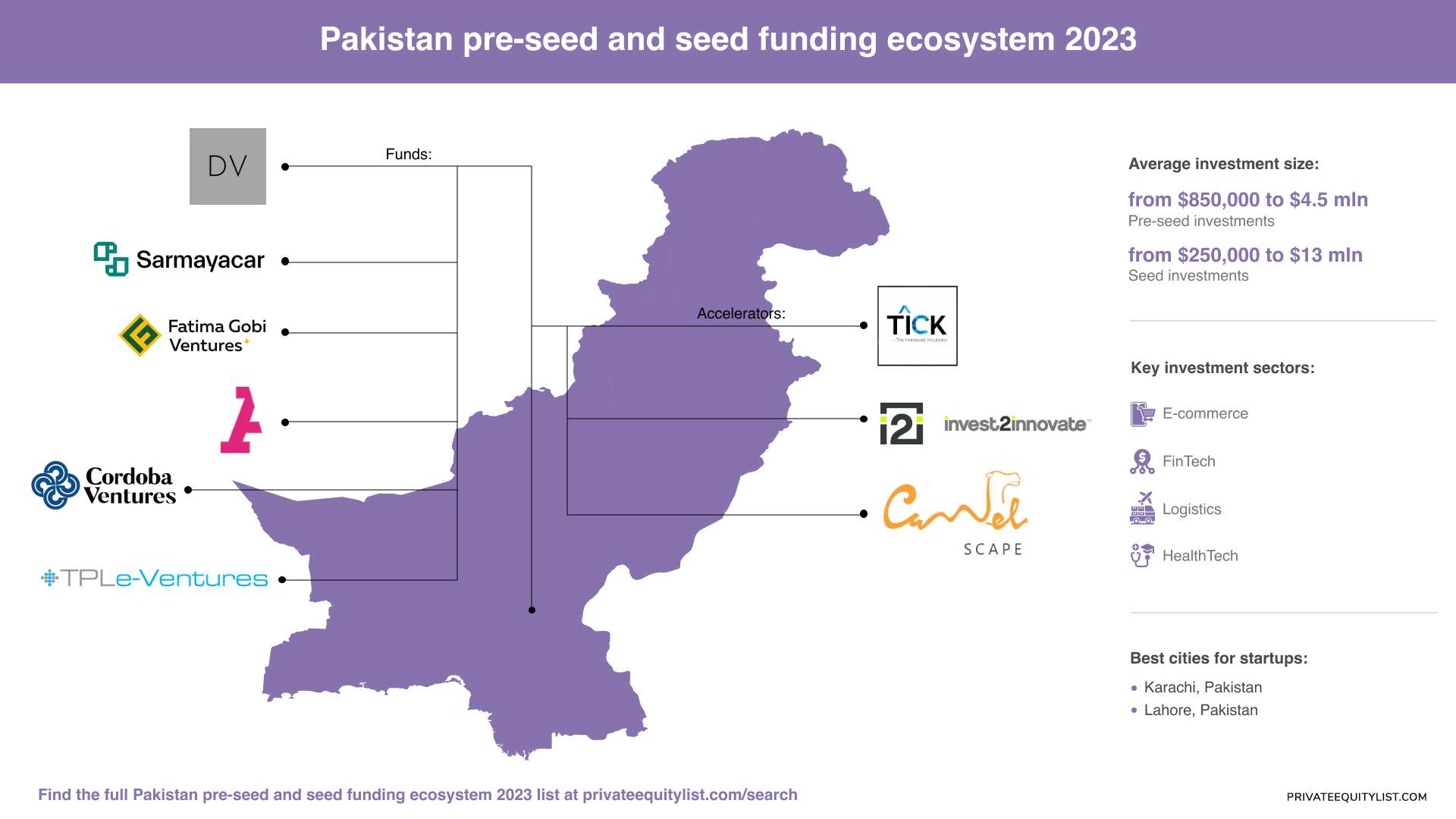 Pakistan (6 VC funds / 14 accelerators)
Find all investors in Pakistan here. Some of the accelerators in the region are: Technology Incubation Center, UET, i2i Accelerator 2019-20 and Camel Scape Event Planners
Thriving Startup Hubs: Best Cities for Startups
Certain cities within these countries have emerged as hotspots for startup activities due to factors like access to talent, infrastructure, and supportive policies.
India 🇮🇳
Bengaluru: Known as the Silicon Valley of India, Bengaluru is home to a diverse range of startups and tech giants, making it a hub for innovation.
Mumbai: India's financial capital is also a startup hub, especially for fintech and media startups.
Bangladesh 🇧🇩
Dhaka: As the capital city, Dhaka is the primary hub for startup activities, offering a growing ecosystem and access to potential customers.
Pakistan 🇵🇰
Karachi: Being the country's financial center, Karachi has a burgeoning startup scene, particularly in fintech and e-commerce.
Lahore: Lahore is another key player in Pakistan's startup ecosystem, with a focus on tech and e-commerce startups.
Emerging Trends in Pre-Seed and Seed Funding
As the startup landscapes continue to evolve, certain trends are shaping the way funding is approached and utilized.
Rise of Impact Startups: Across all three countries, there's a noticeable increase in startups focusing on social and environmental impact, attracting investors with a focus on sustainability.
Women Entrepreneurship: More women-led startups are gaining traction, addressing a broader range of challenges and industries.
Tech-Led Innovation: Technological advancements are driving innovation across sectors, leading to increased investments in tech-driven startups.
Conclusion
The journey from an idea to a successful startup begins with pre-seed and seed funding. India, Bangladesh, and Pakistan each offer unique opportunities and challenges within their startup ecosystems. Whether it's India's thriving tech scene, Bangladesh's nascent but growing ecosystem, or Pakistan's burgeoning startup culture, the future looks promising for entrepreneurs in South Asia. As funding landscapes evolve and innovation continues to drive economies forward, these countries are poised to make their mark on the global startup stage. 🚀