⛰Navigating Pre-Seed and Seed Funding in CIS: A Comprehensive Guide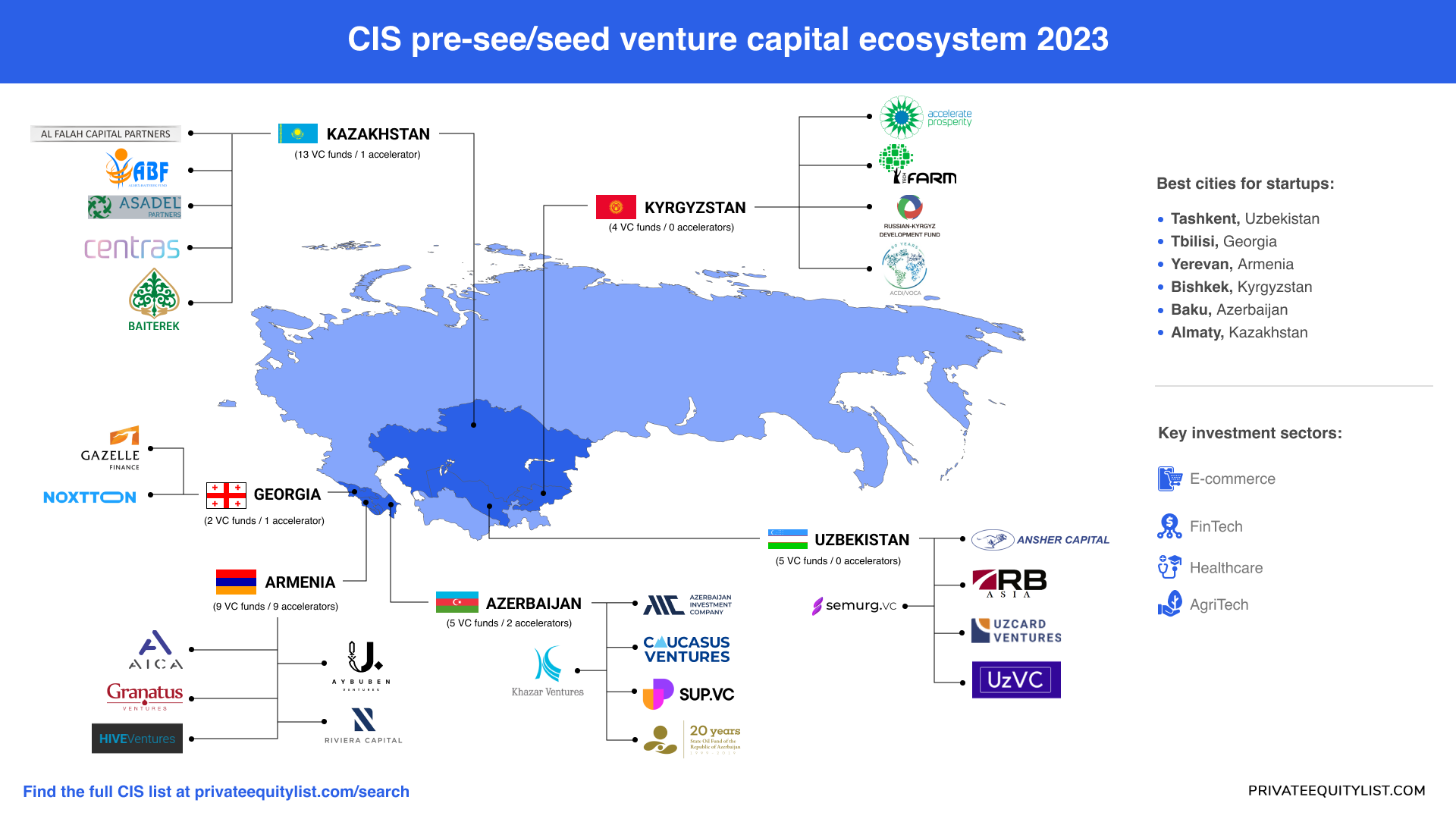 Securing early-stage funding is a critical step for startups across the globe. In the Commonwealth of Independent States (CIS), which includes Uzbekistan, Georgia, Armenia, Kyrgyzstan, Azerbaijan, and Kazakhstan, the startup ecosystem is rapidly evolving. This article will provide you with an in-depth analysis of pre-seed and seed funding in these countries, including funding statistics, investment sizes, key sectors, local VC funds and accelerators.
Funding Statistics and Investment Sizes
Before delving into the specifics of each country, let's start with an overview of pre-seed and seed funding statistics in the CIS region.
Funding Landscape: The CIS region has witnessed significant growth in startup funding over the past few years. While it may not yet rival tech hubs like Silicon Valley, it's attracting attention from investors worldwide.
Investment statistics key takeaways:
According to research conducted by the Eurasian Development Bank (EDB), as of mid-2022, Foreign Direct Investment (FDI) between countries in the Commonwealth of Independent States (CIS) had collectively amounted to a substantial US$44.6 billion.
Kazakhstan holds the top position in terms of attracting mutual Foreign Direct Investment (FDI) within the CIS. As of the first half of 2022, Kazakhstan's share in the total mutual FDI inflow stood at an impressive 24.3%.
Armenian startups got about $1 billion in 26 deals in 2021-2022.
Key Investment Sectors:
The most promising sectors for pre-seed and seed investment in the CIS region include:
Fintech
E-commerce
AgriTech
Healthtech
These sectors are gaining traction due to growing consumer demands and evolving market trends.
Now, let's take a closer look at each of the CIS countries and their specific investment landscapes.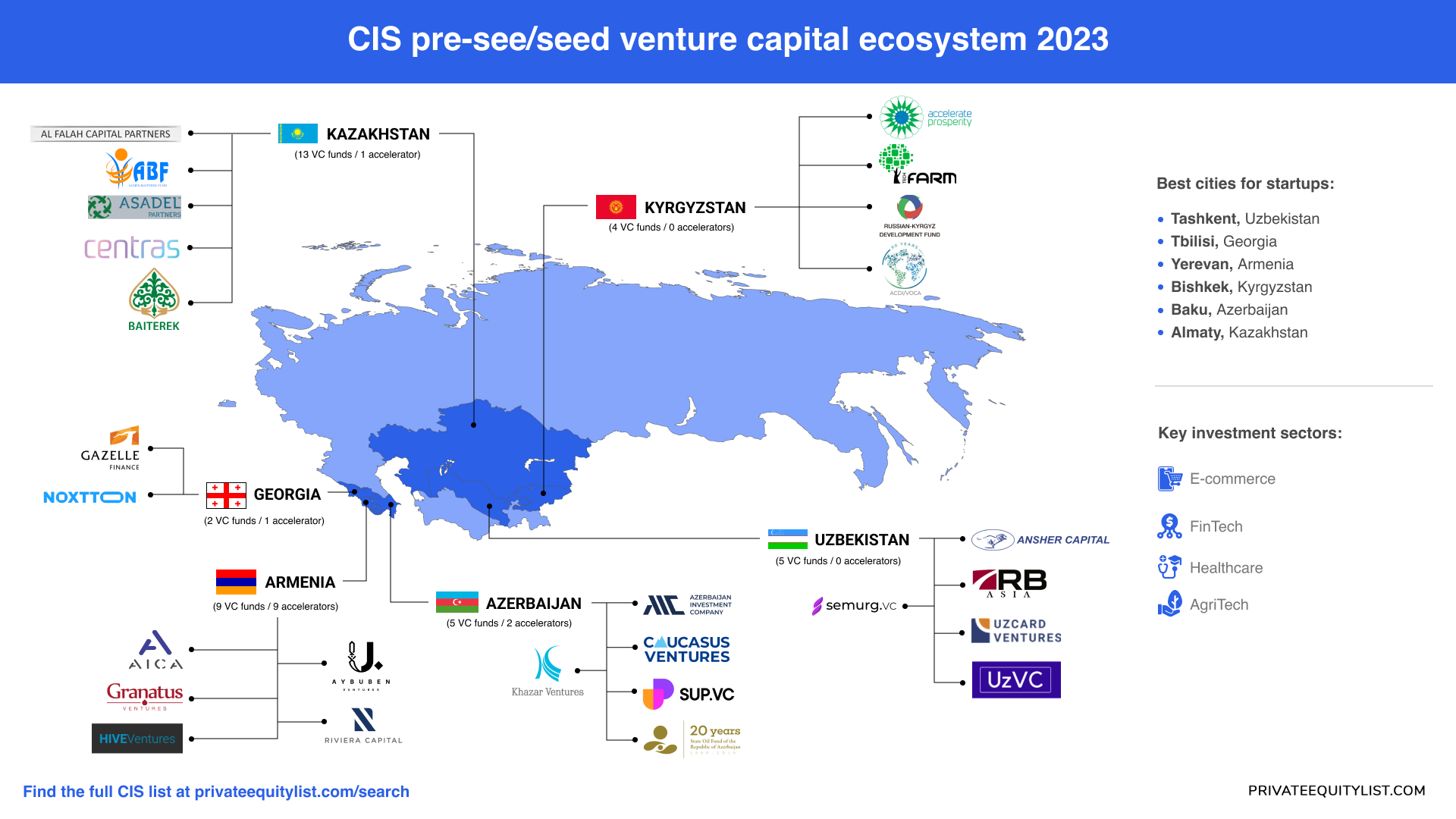 🇺🇿Uzbekistan (5 VC funds / 0 accelerators)
Find more funds here.
🇬🇪🇦🇲Georgia (2 VC funds / 1 accelerator)
Look for more venture capital funds in Georgia here. Tbilisi Business Accelerator Spark is also working here.
🇦🇲Armenia (9 VC funds / 9 accelerators)
More funds in Armenia are available here. You can apply to local accelerators, for example, Traction Program Batch 3, NATION IN ACTION NGO or Triple S Application Form.
🇰🇬Kyrgyzstan (4 VC funds / 0 accelerators)
Look for more investors in this region via the link.
🇦🇿Azerbaijan (5 VC funds / 2 accelerators)
Find more investors here. Your application is been waiting in such accelerators as Pi campus and Hightech Park.
🇰🇿Kazakhstan (13 VC funds / 1 accelerator)
More funds in Kazakhstan are available via the link. Astana Hub accelerator is working here.
Key Trends
As the CIS region continues to evolve as a startup destination, several trends have emerged:
Government Support: Many CIS countries are actively promoting entrepreneurship by providing incentives, grants, and favorable regulatory environments for startups.
Cross-Border Collaboration: Startups in these countries increasingly seek partnerships and investment opportunities beyond their borders, fostering international collaborations.
Focus on Local Markets: While international expansion is a goal, startups are often focusing on catering to local demands and solving regional challenges.
Tech Talent: The availability of tech talent is improving, with a growing number of skilled professionals and engineers in the region.
Diverse Sectors: The startup ecosystem in the CIS is diversifying, with innovations emerging across various sectors, from fintech to agrotech.
The best cities for startups:
Tashkent, Uzbekistan. Uzbekistan's capital, Tashkent, is a rising star in the CIS startup landscape. The government has implemented reforms to encourage entrepreneurship, and the city's strategic location along the Silk Road provides unique trade opportunities. Tashkent offers co-working spaces, access to accelerators, and a growing tech-savvy workforce.
Tbilisi, Georgia. Tbilisi, Georgia's capital, is known for its business-friendly environment and low tax rates. It's a hub for fintech startups and boasts a vibrant tech community. The city's cultural richness and affordable living costs attract entrepreneurs from various backgrounds.
Yerevan, Armenia. Yerevan is Armenia's startup nucleus, known for its strong focus on tech and IT. It's home to innovative companies and hosts various tech events and conferences. The city provides support through incubators and access to a pool of skilled engineers and developers.
Bishkek, Kyrgyzstan. Bishkek is gradually becoming a hub for Central Asian startups. The city is characterized by a low cost of living, making it attractive for bootstrapped entrepreneurs. Initiatives like the Techstars Kyrgyzstan program are fostering the local startup ecosystem.
Baku, Azerbaijan. Baku, Azerbaijan's capital, is a dynamic city with a growing startup culture. It benefits from the government's efforts to diversify the economy and promote innovation. Baku offers access to funding, incubation programs, and a strategic location for expanding into regional markets.
Almaty, Kazakhstan. Almaty is Kazakhstan's financial and economic hub, making it an ideal location for startups. The city boasts a robust ecosystem with numerous co-working spaces, tech parks, and access to funding from local and international sources. It's a gateway to the vast Central Asian market.
In conclusion, the CIS region presents a promising landscape for startups seeking pre-seed and seed funding. As the ecosystem matures and more local and international investors get involved, the potential for innovation and growth in these countries is immense. Whether you're a local entrepreneur or an international investor, keeping an eye on these evolving markets can lead to exciting opportunities and collaborations.