Navigating Pre-Seed and Seed Funding: A Nordic Startup Odyssey❄️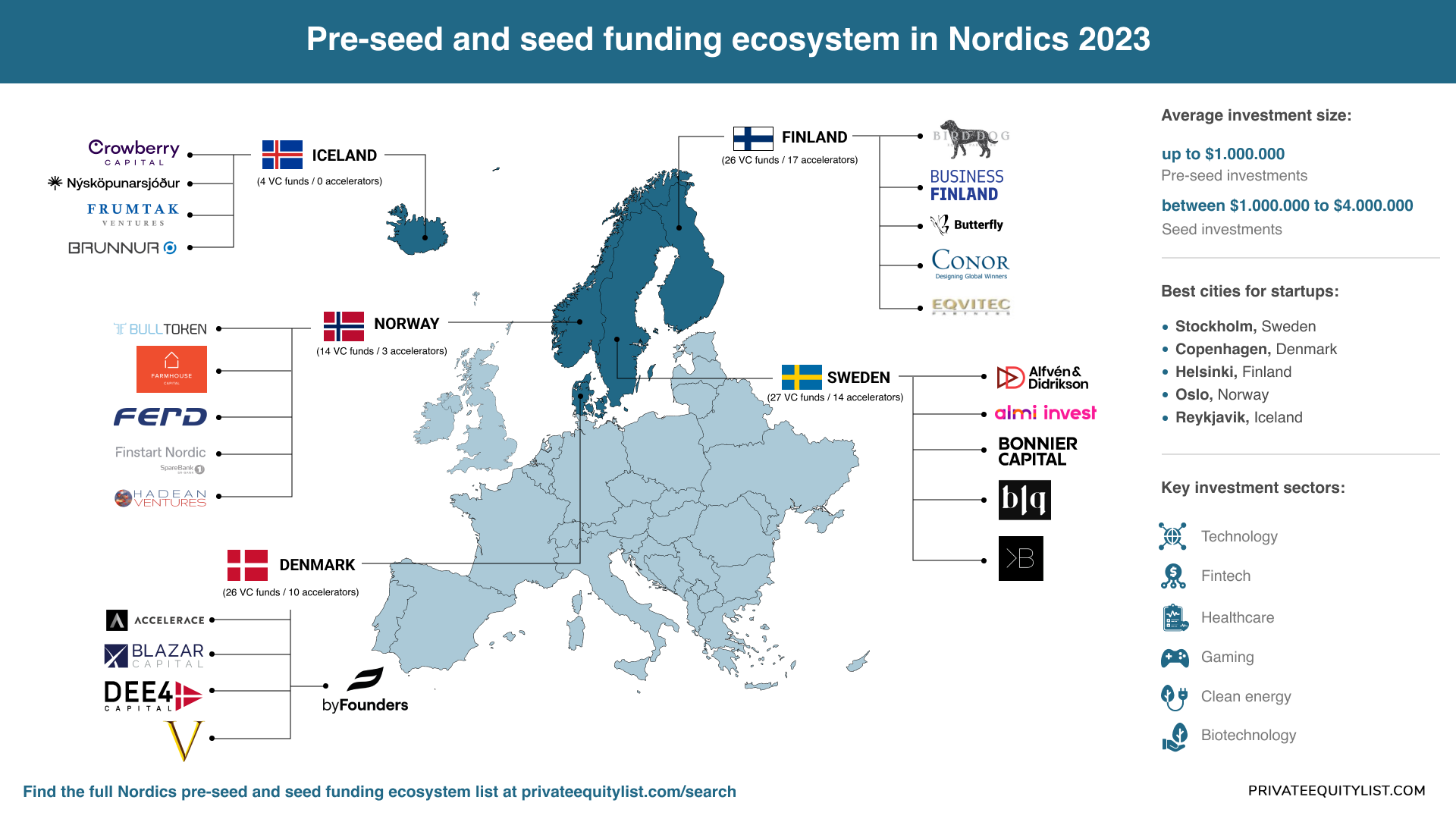 The Nordic region, comprising Sweden, Denmark, Finland, Norway, and Iceland, has emerged as a hotbed for startups and innovation in recent years. With a rich talent pool, robust infrastructure, and a supportive entrepreneurial ecosystem, these countries have seen a surge in pre-seed and seed funding activities. In this blog post, we'll delve into the funding statistics, average investment sizes, key investment sectors, and the startup landscape in each of these Nordic nations. Let's uncover the secrets to startup success in this vibrant region.
💡
The analysis is made by Private Equity List team, find the investors you need on https://privateequitylist.com/search
Funding Statistics and Investment Sectors
Before diving into individual countries, let's take a look at some general statistics regarding pre-seed and seed funding in the Nordics.
In 2022, Nordic startups secured a total of $11.7 billion in funding. Although this figure represents a 36% decrease from the record-breaking levels seen in 2021, it is noteworthy that funding in the Nordics surpassed 2020 levels by more than 50%. This resurgence suggests that the region's startup ecosystem has largely regained its pre-pandemic momentum.
The average pre-seed round is up to $1mln
The average seed round ranges from $1mln to $4mln
Raja Skogland , Scale up Advisor, Serial entrepreneur & Investor in 70+ companies sees the following tendencies: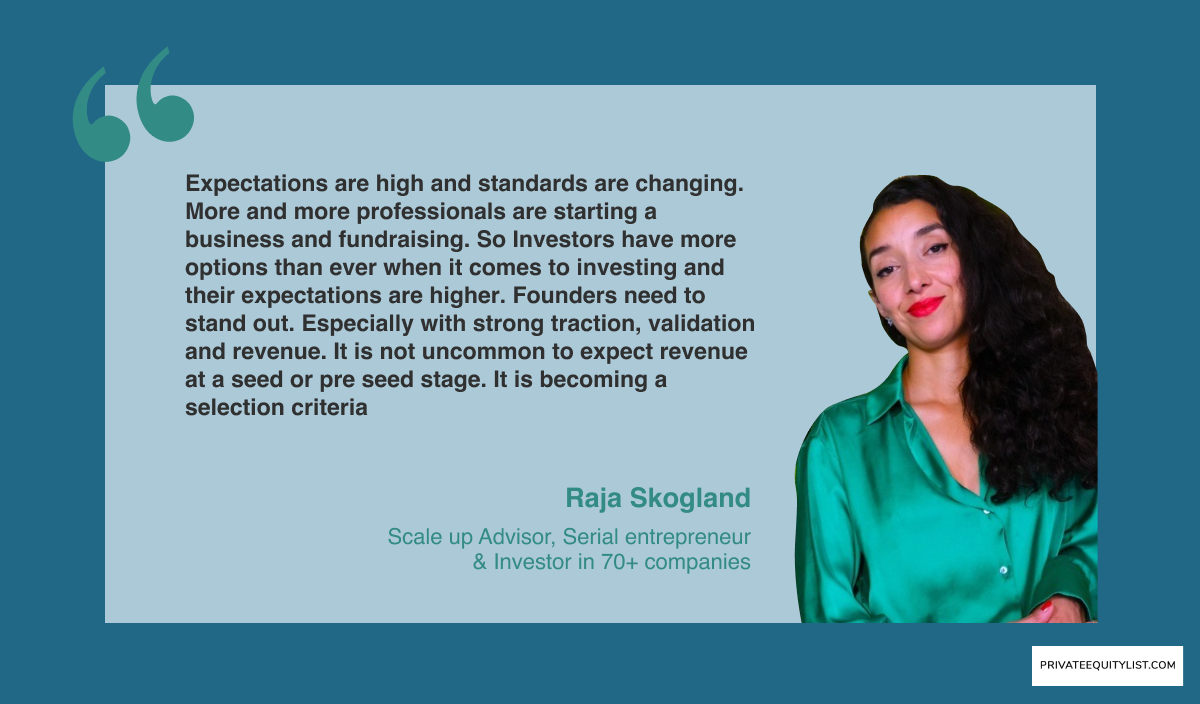 The Nordics have a diverse startup ecosystem, with key sectors including:
Technology
Fintech
Healthcare
Gaming
Clean energy
Biotechnology
Now, let's explore each Nordic country individually.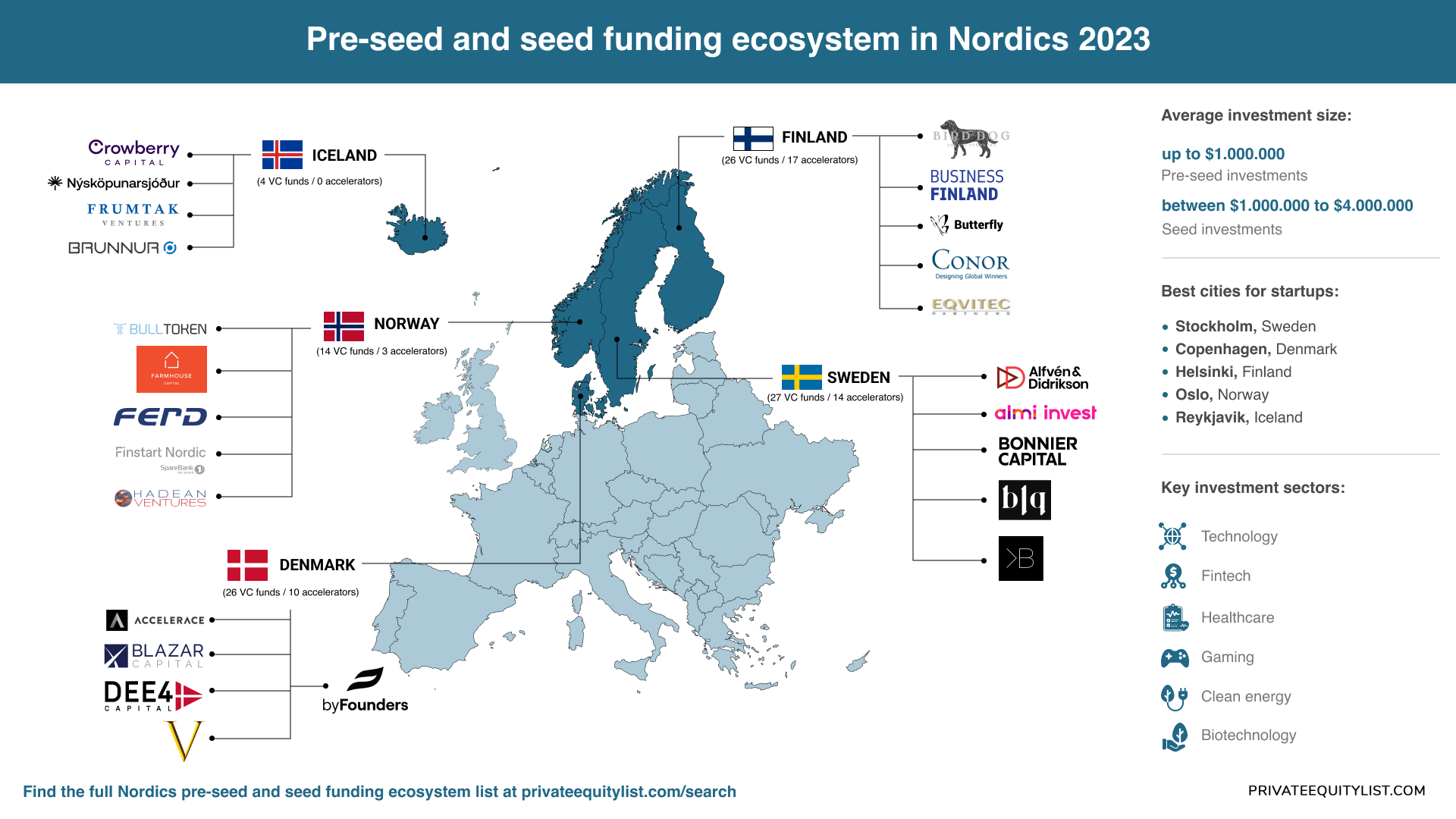 🇸🇪Sweden (27 VC funds / 14 accelerators)
Sweden, often referred to as the "Startup Nation," has a thriving entrepreneurial ecosystem and is home to numerous unicorn companies. Funds that are working here include:
Find all the funds via the link.
Watt an Idea - Skelleftea Kraft, Create X and THINK are accelerators that operate in the region.
Best City for Startups: Stockholm is often considered the best city for startups in Sweden. Its vibrant ecosystem, access to talent, and strong support network make it an ideal location for launching and scaling a startup.
🇩🇰Denmark (26 VC funds / 10 accelerators)
Denmark boasts a well-connected startup ecosystem and is known for its high quality of life. Local funds are:
For the full list click the link. Ideasbyyou, CBN Play & Learn 6 and SCALEit are accelerators working in the country.
Best City for Startups: Copenhagen takes the top spot for startups in Denmark. It offers a dynamic entrepreneurial environment, a strong talent pool, and a strategic location for global expansion.
🇫🇮Finland (26 VC funds / 17 accelerators)
Finland has gained recognition for its robust startup ecosystem, producing several successful companies. Here's a glimpse of Finland's startup landscape:
Find the full list here. helsinki ventures, HUB13 and Kiuas are local accelerators.
Best City for Startups: Helsinki, the capital of Finland, is a startup hub known for its collaborative atmosphere and access to a skilled workforce. It's the go-to destination for entrepreneurs in Finland.
🇳🇴Norway (14 VC funds / 3 accelerators)
Norway's startup scene has been gaining momentum in recent years, driven by innovation and government support. Local funds are:
The full list of VC funds in Norway is available via the link. Angel Challenge, TheFactory Accelerator and X2 Lab - A Startup Factory are working here.
Best City for Startups: Oslo is the prime choice for startups in Norway. Its strategic location, supportive ecosystem, and access to investors make it a leading startup hub.
🇮🇸Iceland (4 VC funds / 0 accelerators)
Despite its small population, Iceland has made significant strides in the startup arena. Funds in Iceland are here:
Look for more via the link.
Best City for Startups: Reykjavik, the capital of Iceland, is the focal point for startups in the country. Its unique blend of natural beauty and a growing entrepreneurial ecosystem makes it an attractive destination for founders.
Key Trends
As we wrap up our exploration of the Nordic startup scene, let's take a moment to highlight some key trends shaping the region:
Sustainability: Sustainability-focused startups are on the rise, driven by the Nordic countries' commitment to green initiatives and clean energy solutions.
Remote Work: The COVID-19 pandemic accelerated the adoption of remote work, making it easier for startups to tap into global talent pools.
Fintech Dominance: Fintech startups are gaining traction across the Nordics, with innovative solutions in payments, banking, and cryptocurrency.
Deep Tech: Deep tech startups, particularly in areas like AI, biotechnology, and quantum computing, are attracting substantial investments.
Healthcare Innovation: The healthcare sector is witnessing innovation, with startups focusing on digital health, telemedicine, and medical devices.
The Nordics have firmly established themselves as a fertile ground for startups, offering a combination of investment opportunities, supportive ecosystems, and a skilled workforce. Each country in the region has its unique strengths, making it a great place to launch and grow a startup. As trends evolve and technology continues to advance, the Nordic startup landscape will undoubtedly remain dynamic and promising for years to come.