Navigating M&A Consultants in Europe: A Comprehensive Guide for Companies and Startups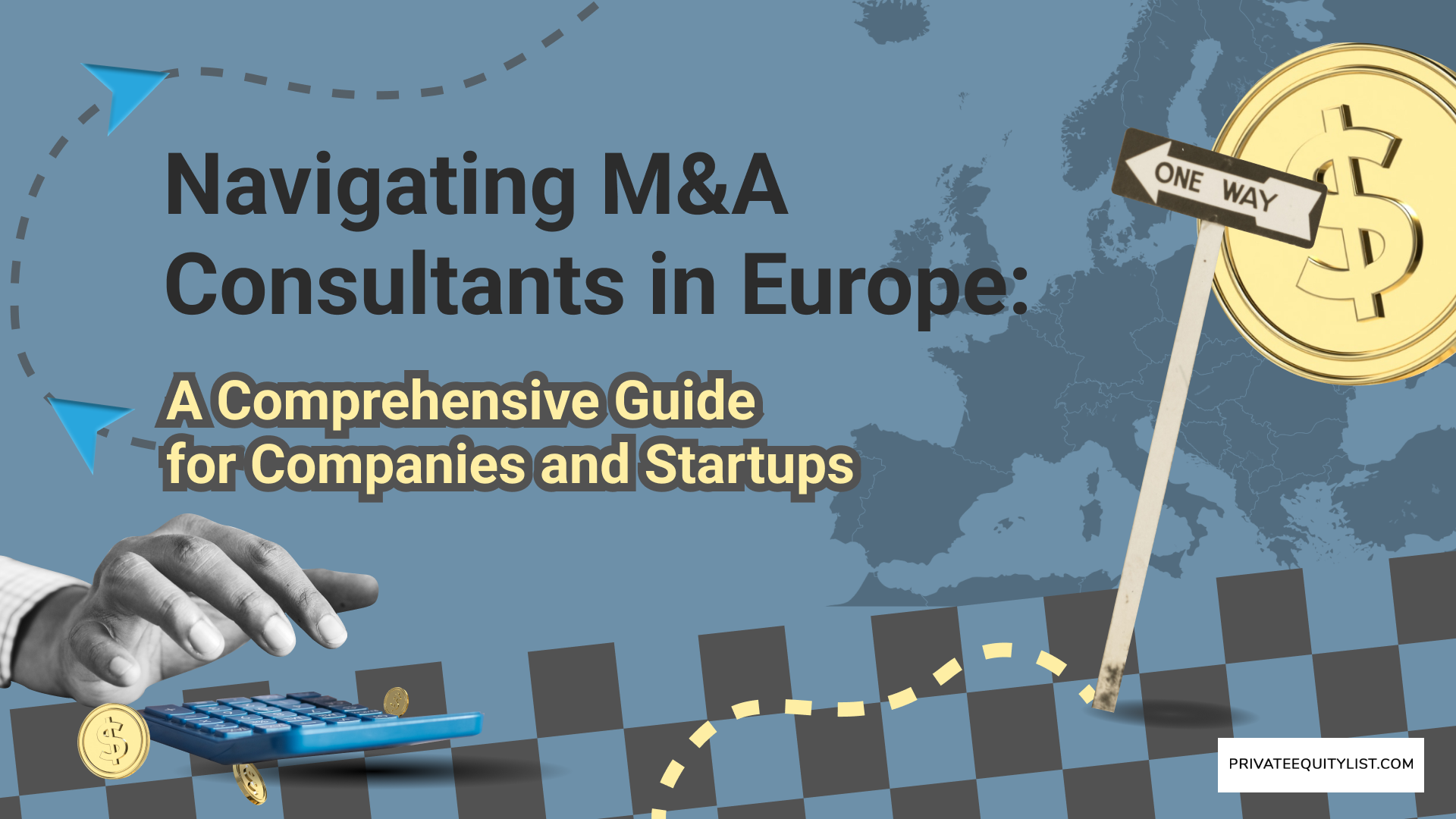 Mergers and Acquisitions (M&A) consultants and investment bankers play a pivotal role in the complex world of corporate transactions. Their expertise extends beyond mere financial transactions; they act as strategic advisors, guiding companies through the intricate buying, selling, merging, or restructuring process.
These professionals bring a wealth of industry knowledge, market insights, and financial acumen to the table, enabling businesses to make well-informed decisions that align with their growth objectives. M&A consultants and investment bankers analyse market trends, competitive landscapes, and financial data to provide tailored recommendations that optimise value creation and mitigate risks.
M&A Consultants in Europe
We've found about 240 consulting firms in 13 European countries. They work in many different sectors, let's take a look at the most popular of them:
Technology: The technology sector experiences high levels of M&A activity as companies seek to acquire innovative startups, expand their product portfolios, and enhance their digital capabilities.
Healthcare and Life Sciences: M&A consultants play a significant role in healthcare and life sciences, guiding companies through mergers, acquisitions, and partnerships to advance medical research, improve patient care, and capitalize on pharmaceutical innovations.
Financial Services: This sector sees M&A activity as financial institutions aim to expand their services, gain market share, or enhance their technological infrastructure.
Consumer Goods and Retail: M&A consultants assist in consolidations, brand acquisitions, and e-commerce integration in response to changing consumer preferences and digital transformation.
Energy and Utilities: In a rapidly changing energy landscape, consultants support companies in M&A transactions related to renewable energy, utilities, and infrastructure development.
Services that M&A Consultants provide
M&A consultants and investment bankers offer a comprehensive range of services to facilitate successful transactions and guide companies through complex corporate activities. Below we'll list the key services they provide.
Strategic Advisory Services:

Developing M&A strategies aligned with business goals.
Identifying potential targets or merger partners.
Evaluating market trends and competitive landscapes.

Due Diligence:

Conducting comprehensive assessments of target companies.
Analyzing financial performance, risks, and opportunities.
Evaluating legal, operational, and regulatory aspects.

Valuation Analysis:

Determining the value of target companies or assets.
Using various valuation methods and financial models.
Providing insights on the potential deal value and pricing strategies.

Deal Structuring:

Advising on transaction structures for optimal outcomes.
Balancing financial, tax, and operational considerations.
Crafting terms that align with both buyer and seller interests.

Negotiation Support:

Assisting in negotiations with parties involved in the transaction.
Providing insights into pricing, terms, and conditions.
Helping clients secure favorable deal terms.

Transaction Documentation:

Drafting and reviewing transaction agreements and contracts.
Ensuring legal documents accurately reflect deal terms.
Coordinating with legal experts for compliance and accuracy.

Post-Transaction Integration:

Assisting in the integration of acquired companies.
Identifying synergy opportunities for operational efficiency.
Supporting seamless transition and value realization.
M&A consultants primarily focus on mergers and acquisitions, which involve the buying, selling, or merging of companies. While their core expertise lies in facilitating these types of transactions, their services generally may sometimes extend to raising venture capital (VC) funding.
VC funding typically involves startups or early-stage companies seeking investment from venture capital firms to fuel their growth. That said, there might be some overlap or collaboration between M&A consultants and VC funding in such cases as Series B+ funding, exit strategies, strategic partnerships and investor networks.
How to choose M&A advisors / investment bankers?
The success of a transaction depends a lot on your choice of advisors, here are the main steps you need to do to choose them:
1. Define Your Needs: Identify the purpose of your transaction (sell, acquire, merge) and its scope. Determine your timeline, desired outcomes, and any specific expertise you need from advisors.
2. Research and Shortlist: Research reputable advisory firms or bankers. Seek recommendations from trusted sources or professional networks. Create a shortlist of potential advisors based on their experience and alignment with your needs.
3. Assess Experience: Evaluate the shortlisted advisors' track record in similar transactions. Consider their success rates, industries served, and deal sizes. Experience in your specific sector can be a significant advantage.
4. Interview and Compatibility: Conduct interviews with a few top candidates. Gauge their understanding of your goals, strategies, and challenges. Assess how well you communicate and whether you have a good rapport.
5. Check References and Reputation: Contact references provided by the advisors. Inquire about their experiences, professionalism, responsiveness, and the overall quality of their services. Research their reputation within the industry.
6. Fee Structure and Proposal: Request detailed proposals outlining their approach, services, and fee structure. Compare the value they offer with their fees. Ensure transparency in their pricing and contractual terms.
Self-service vs consultants: pros and cons of the approach
Deciding between a self-service approach and hiring M&A consultants involves evaluating your organization's resources, expertise, and goals. Here are the pros and cons of each approach.
Self-Service Approach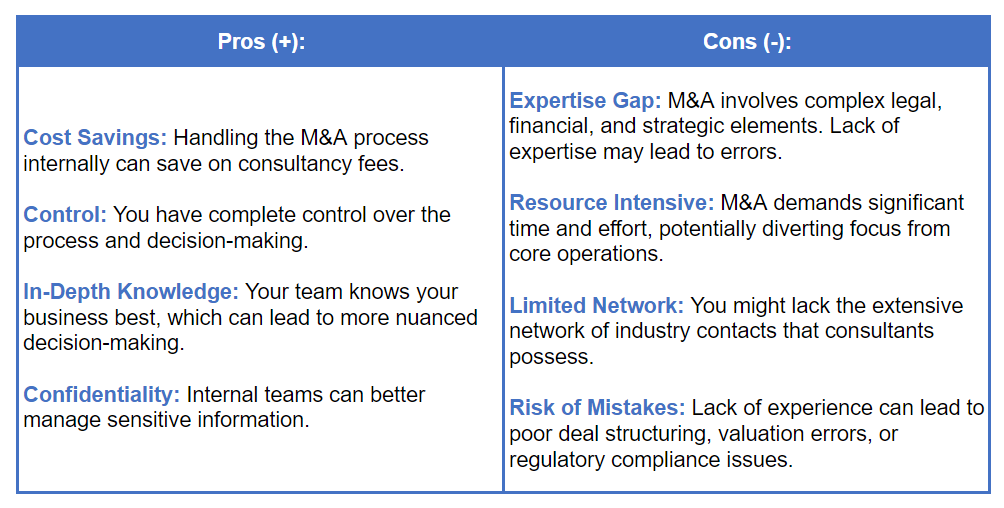 M&A Consultants Approach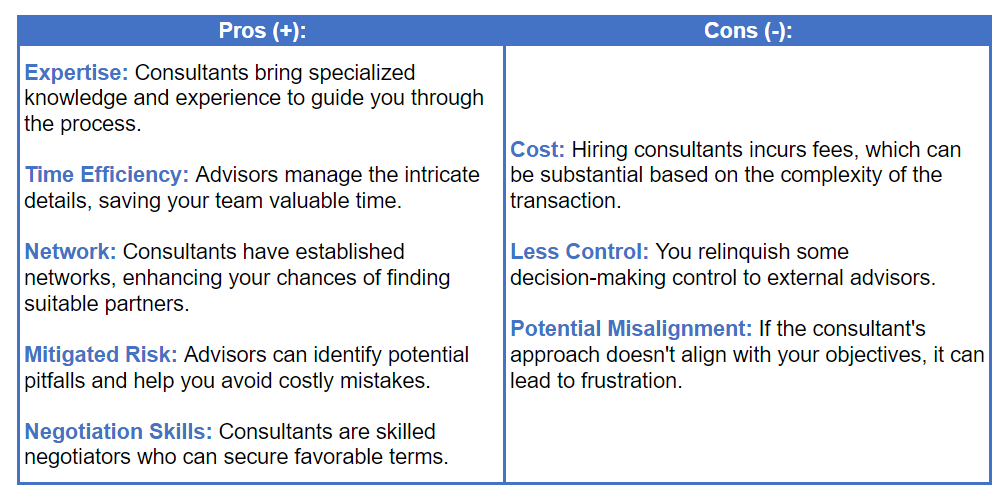 Choosing the Right Approach:
Self-Service: This approach is suitable if you have the internal expertise, resources, and time to dedicate to the M&A process. It's often best for larger organizations with experienced teams who understand the intricacies of mergers and acquisitions.
Consultants: Hiring advisors is beneficial if you lack the necessary expertise or if the deal is particularly complex. Consultants provide guidance, connections, and a structured process that can increase your chances of a successful outcome, making it a wise choice for smaller businesses or those new to M&A.
In many cases, a hybrid approach might be effective. You could utilize consultants for specific aspects, such as due diligence or valuation while managing other components in-house. Ultimately, the decision hinges on your organization's capabilities, the complexity of the transaction, and the desired outcomes.
M&A consulting firms in Europe
Here are the lists of M&A consulting firms in several European countries.
Austria
Vienna Capital Partners (VCP)
Raiffeisen Centrobank AG
Czech Republic
CORPIN a.s.
Patria Corporate Finance, a.s.
France
Cambon Partners
Natixis Partners
Acetis Finance
Adviso Partners
CM-CIC Conseil
Germany
Goetzpartners HOLDING GmbH & Co.
Carlsquare GmbH
Quarton International AG
Delphi Advisors GmbH
ACXIT Capital Holding GmbH
Hungary
Heal Partners Ltd.
Ireland
Focus Corporate Finance Ltd. (Focus Capital Partners)
IBI Corporate Finance
Italy
Fineurop Soditic S.p.A.
Vitale & Co. S.p.A.
Spada Partners
K Finance
Ethica Corporate Finance
Netherlands
Nielen Schuman B.V.
Keystone Advisers
Emendo Capital B.V.
Aperghis & Co.
Marktlink Mergers & Acquisitions
Norway
Steinvender AS
Alpha Corporate Finance AS
Fearnley Securities AS
Fondsfinans ASA
InFima AS
Portugal
Espirito Santo Investment Bank
Sweden
Nordea Markets
Access Partners
Anecta AB
HDR Partners
SIMBIOS AB
Switzerland
Translink Corporate Finance
Corestar Partners GmbH
Privilege Partners LLC
Rockcliffe Partners
Wineus AG
United Kingdom
Dow Schofield Watts Corporate Finance Ltd.
Spectrum Corporate Finance (CF)
HMT LLP
Sentio Partners LLP
Forward Corporate Finance
Spain
Natixis Partners España
AZ Capital
IMAP (International Mergers and Acquisitions Partnership)
Socios Financieros
Arcano Asesores Financieros, S.L.
For a full list of M&A consultants in Europe go here.
---
If you are raising capital, find PE/VC investors in any region and industry on privateequitylist.com