E-Commerce private equity and venture capital (PE & VC) Funds market map with focus on small/mid cap funds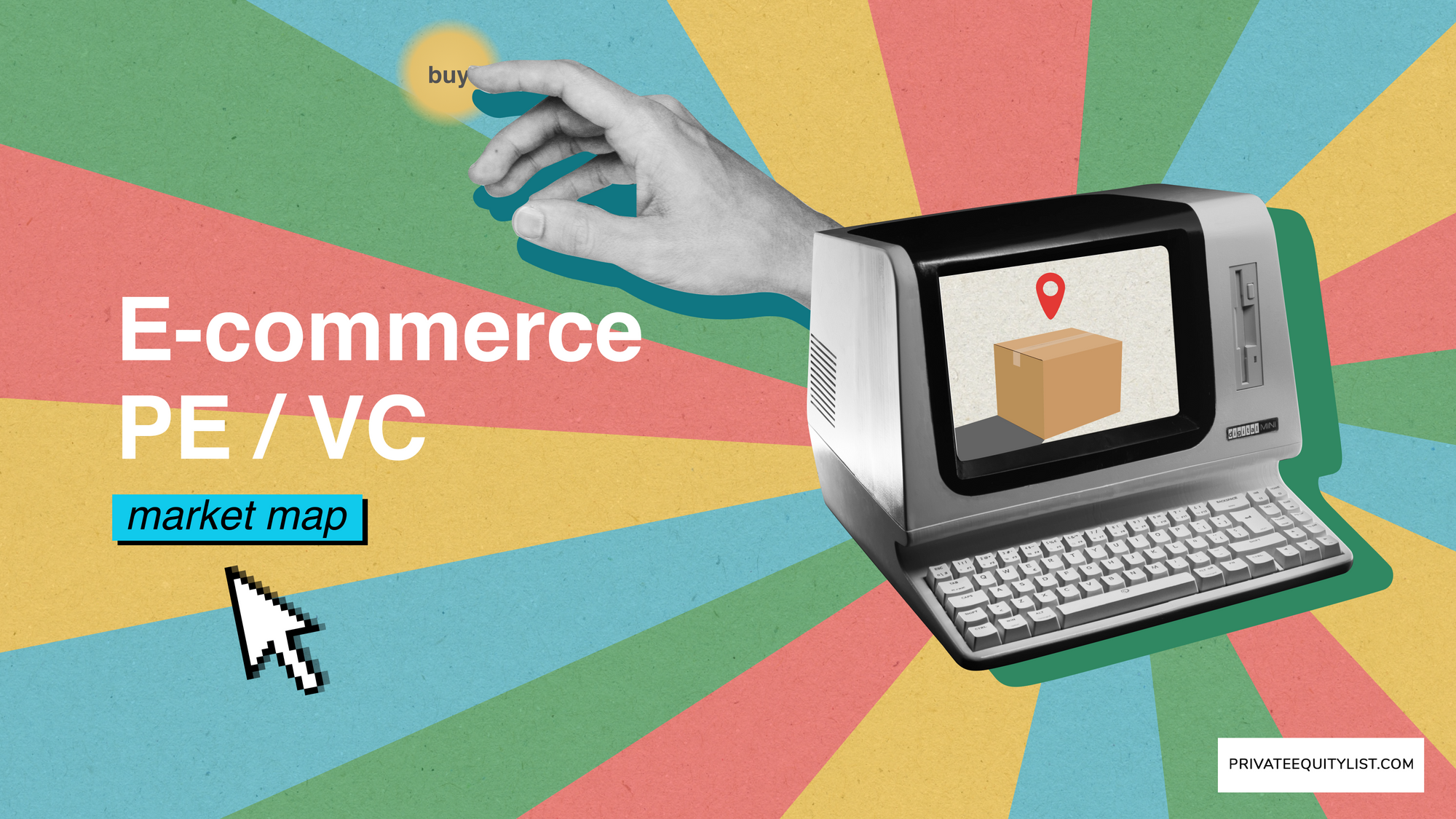 We compiled an extensive E-Commerce private equity (PE) and venture capital (VC) market map that shows key E-Commerce investors and investment funds. We hope this is useful for your startup fundraising. Find below the list of investors from the market map and links to their websites.
Thanks for reading us! Get 50% off your first month of Pro subscription - use PRO50 for Pro Tariff promocode at Pricing page. For more information on all PE/VC investment funds (their investment criteria, funds sizes, region preferences and etc.) go to https://privateequitylist.com/search
E-Commerce market overview (market map is below it):

In the dynamic world of E-commerce, private equity and venture capital funds play a vital role in fueling the growth of startups. These funds provide financial backing and support to promising ventures, enabling them to thrive and achieve their full potential. In this blog post, we will delve into the exciting realm of E-commerce PE/VC funds, uncovering the key market trends prevalent in various regions across the globe. From valuations to startup accelerators, Series A to Series B investments, we will explore it all. Let's get started!
North America:
Valuation frenzy: E-commerce startups in North America have been witnessing sky-high valuations as investors vie to secure their share in the rapidly growing market.
Thriving startup ecosystem: The region boasts a robust ecosystem of accelerators and incubators that nurture E-commerce startups, providing mentorship, resources, and early-stage funding.
Series A investments: VC funds in North America are actively investing in Series A rounds, recognizing the potential of innovative E-commerce ventures and their ability to disrupt traditional retail models.
Series B funding surge: Established E-commerce startups in North America are experiencing a surge in Series B funding, allowing them to scale their operations and expand their market reach.
Europe:
Rise of social commerce: European E-commerce startups are leveraging the power of social media platforms to drive sales and engage with their target audience, revolutionizing the concept of social commerce.
Cross-border expansion: With the European Union providing a unified market, E-commerce ventures are increasingly focused on expanding their operations across borders, capitalizing on the vast customer base available.
Growing interest in sustainability: European consumers are placing greater emphasis on sustainability, prompting E-commerce startups to adopt eco-friendly practices and showcase ethically sourced products.
VC funds backing Series A: European investors are actively participating in Series A funding rounds, identifying promising startups and supporting their growth trajectory.
Asia:
Mobile-first approach: E-commerce in Asia is predominantly driven by mobile devices, with startups tailoring their strategies to cater to the growing population of smartphone users.
Rapid adoption of digital wallets: The region's E-commerce landscape is witnessing a surge in digital wallet usage, with startups integrating popular payment platforms to streamline transactions and enhance customer convenience.
Accelerating in emerging markets: VC funds are increasingly eyeing emerging markets in Asia, recognizing the untapped potential of nascent E-commerce ecosystems and seeking early-stage investment opportunities.
Series B investments on the rise: Established Asian E-commerce startups are securing significant Series B investments, paving the way for market expansion and technological innovation.

In Conclusion, E-commerce PE/VC funds are instrumental in driving the growth and innovation within the global E-commerce landscape. While North America experiences valuation frenzies and Europe focuses on sustainability and cross-border expansion, Asia takes a mobile-first approach and explores emerging markets. By understanding these key market trends, entrepreneurs and investors can navigate the E-commerce landscape effectively, capitalizing on the opportunities that each region offers. As the E-commerce industry continues to evolve, staying abreast of these trends is crucial for success.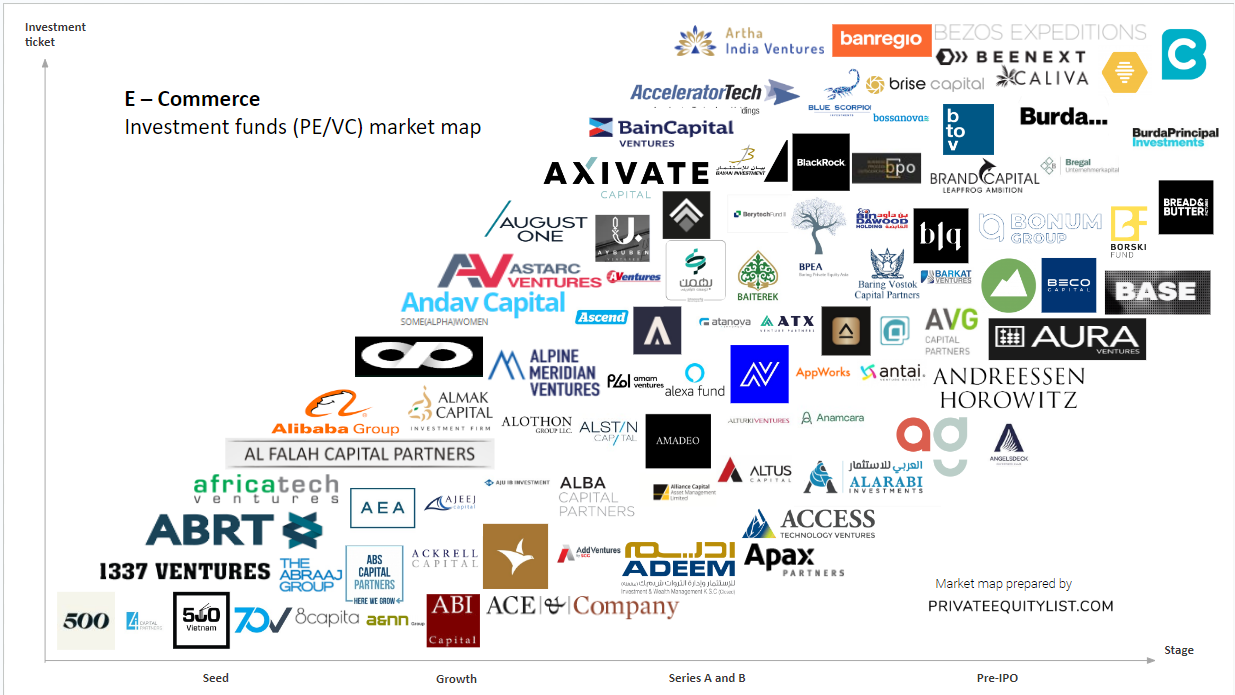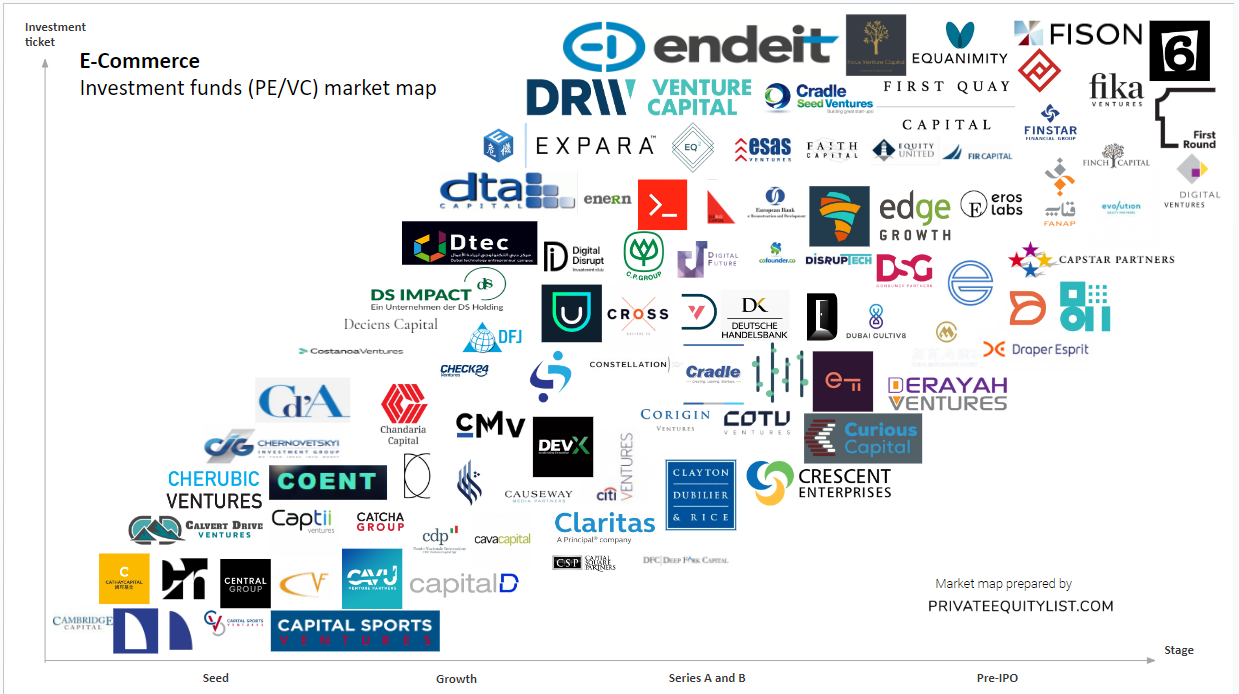 The funds present on the market maps are:
For more information on E-Commerce investment funds (their investment criteria, funds sizes, region preferences and etc.) go to PE/VC E-Commerce funds database on privateequitylist.com
If you are raising capital, we would love to hear about you and help you find the right investors! If you want to be featured on our website as a startup looking for investments or if you want to add a PE/VC to this list, please email at privateequitylist@gmail.com
We hope our platform will help you find the right investors for your startups!
Regards,
Private Equity List team