India private equity and venture capital (PE & VC) Funds market map with focus on small/mid cap funds
We compiled an extensive India private equity (PE) and venture capital (VC) market map that shows key India investors and investment funds. We hope this is useful for your startup fundraising. Find below the list of investors from the market map and links to their websites.
Thanks for reading us! Get 50% off your first month of Pro subscription - use PRO50 for Pro Tariff promocode at Pricing page. For more information on all PE/VC investment funds (their investment criteria, funds sizes, region preferences and etc.) go to https://privateequitylist.com/search

India market overview (market map is below it):
In recent years, India has emerged as a thriving hub for startups and a hotbed for venture capital and private equity investments. With a plethora of promising opportunities, investors are flocking to this vast and diverse market. In this blog post, we'll delve into the exciting world of India's PE/VC funds and highlight key market trends in each region. From valuation to startup growth stages like Series A and Series B, and the vital role of accelerators, let's unravel the secrets to success in the Indian startup ecosystem.
Mumbai - The Financial Capital:
Mumbai, home to India's bustling financial district, boasts a vibrant startup scene.
Valuations in Mumbai are among the highest in the country, making it an attractive destination for investors.
Series A investments in Mumbai-based startups have witnessed tremendous growth, reflecting the city's strong entrepreneurial spirit.
Prominent accelerators and incubators in Mumbai provide mentorship and resources to nurture early-stage startups.
Bengaluru - The Silicon Valley of India:
Bengaluru, often referred to as India's Silicon Valley, has a thriving ecosystem fueled by tech innovation.
Startup valuations in Bengaluru are skyrocketing, reflecting the city's robust tech infrastructure and talent pool.
Series B investments in Bengaluru-based startups have witnessed remarkable growth, indicating the city's ability to nurture companies beyond the initial stages.
Accelerators in Bengaluru play a crucial role in providing startups with mentorship, networking opportunities, and access to funding.
Delhi-NCR - The Startup Capital:
The Delhi-NCR region encompasses Delhi, Gurugram, and Noida, collectively forming the startup capital of India.
Startups in Delhi-NCR have garnered significant attention from investors due to their diverse range of industries, including e-commerce, fintech, and edtech.
The region has seen a surge in Series A funding, indicating investor confidence in the growth potential of Delhi-NCR startups.
Accelerators in Delhi-NCR act as catalysts for startup success, offering structured programs to accelerate growth and expand networks.
Hyderabad - The Emerging Tech Hub:
Hyderabad has emerged as a thriving destination for tech startups, particularly in areas like biotech, healthtech, and AI.
Valuations in Hyderabad are on the rise, showcasing the city's technological prowess and innovation.
Series B investments in Hyderabad-based startups are witnessing steady growth, reflecting investor confidence in the city's ecosystem.
Accelerators in Hyderabad provide startups with crucial support, mentorship, and access to industry networks.
In conclusion, as India continues to embrace the startup revolution, PE/VC funds have become instrumental in fueling innovation and driving economic growth. Mumbai, Bengaluru, Delhi-NCR, and Hyderabad stand out as key regions where startup ecosystems are flourishing, attracting investments at various growth stages. Valuations, Series A and Series B funding, and the role of accelerators play pivotal roles in shaping India's vibrant startup landscape. By keeping a pulse on these market trends, investors can navigate the Indian market successfully while entrepreneurs can leverage the opportunities presented by these dynamic regions.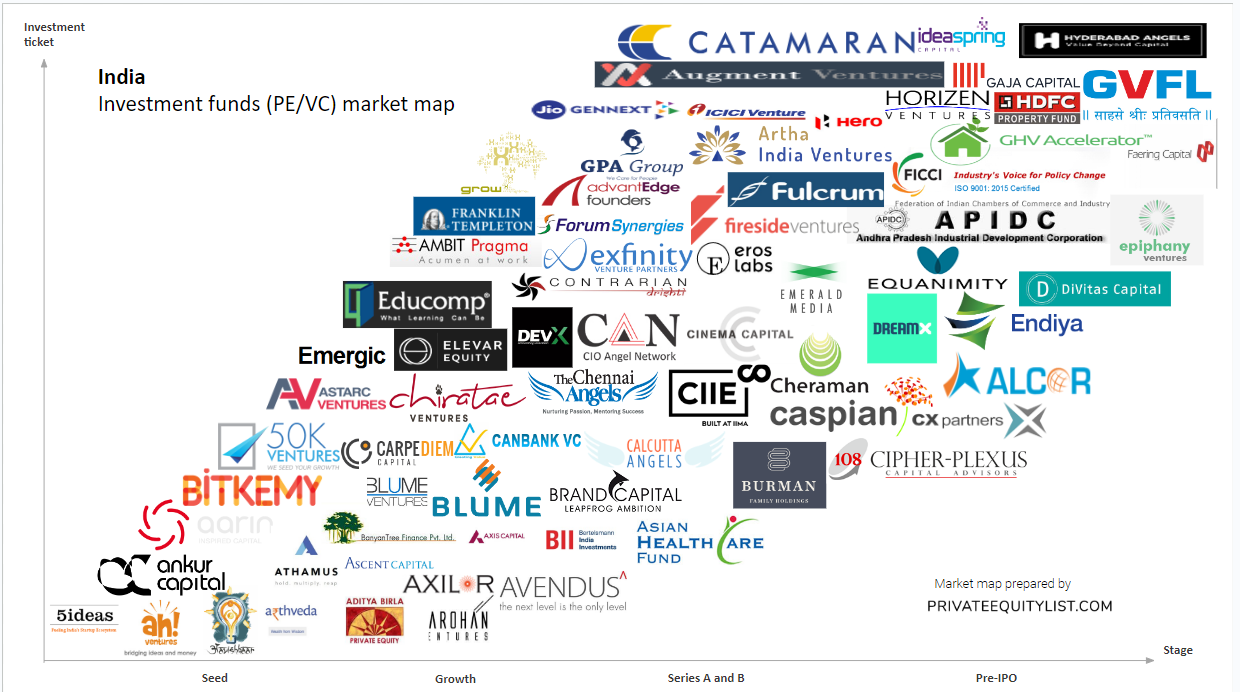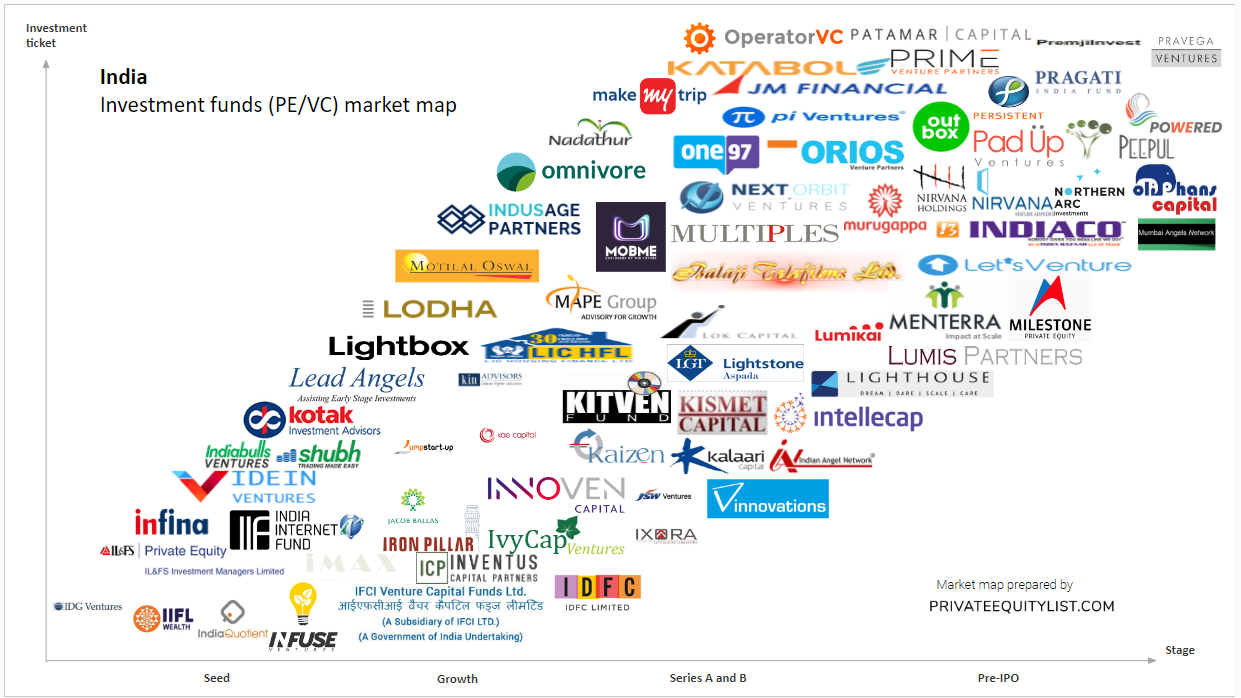 The funds present on the market maps are:
For more information on India investment funds (their investment criteria, funds sizes, region preferences and etc.) go to PE/VC India funds database on privateequitylist.com
If you are raising capital, we would love to hear about you and help you find the right investors! If you want to be featured on our website as a startup looking for investments or if you want to add a PE/VC to this list, please email at privateequitylist@gmail.com
We hope our platform will help you find the right investors for your startups!
Regards,
Private Equity List team