FoodTech (Food Technology) private equity and venture capital (PE & VC) Funds market map with focus on small/mid cap funds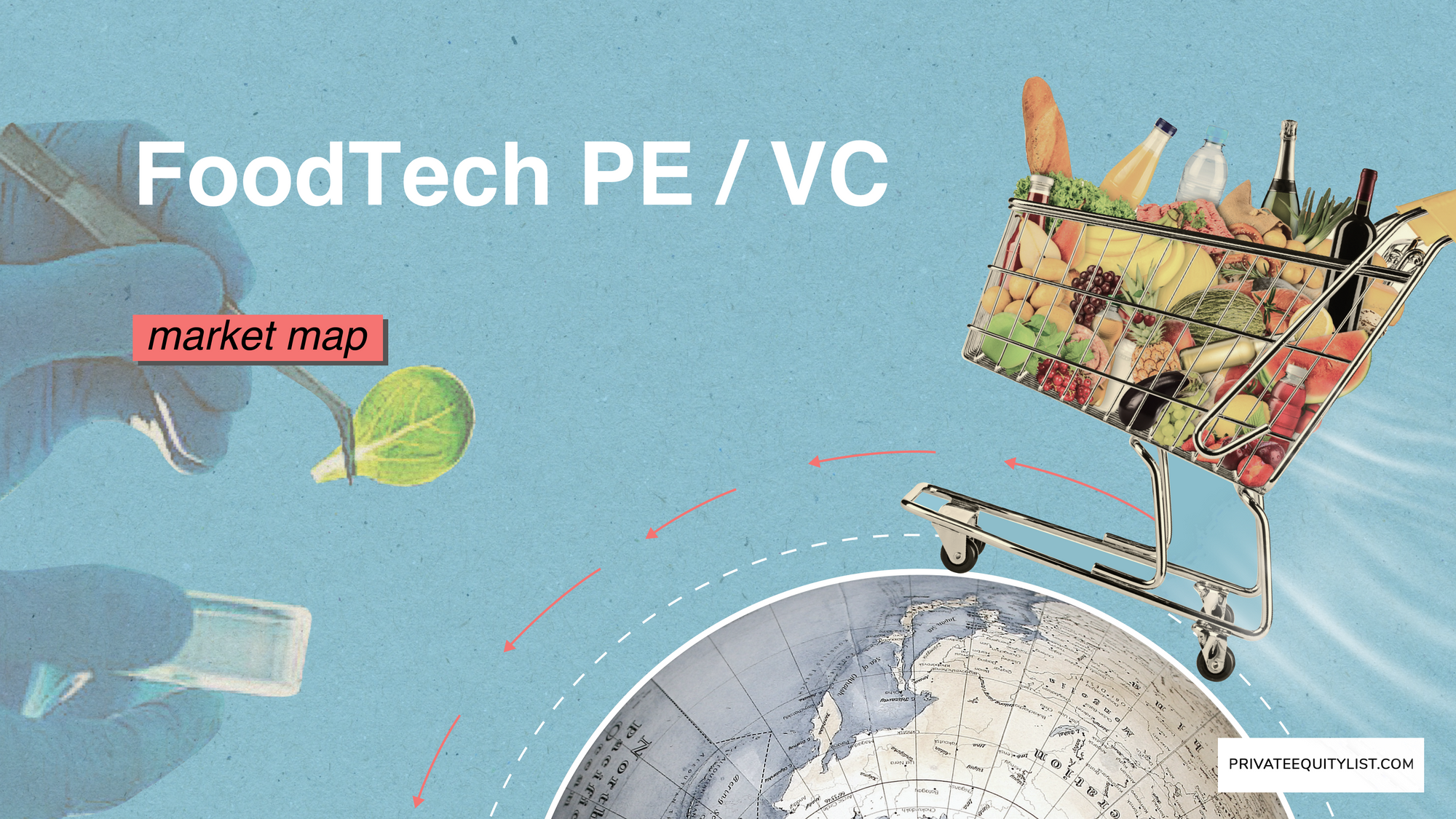 We compiled an extensive FoodTech private equity (PE) and venture capital (VC) market map that shows key FoodTech investors and investment funds. We hope this is useful for your startup fundraising. Find below the list of investors from the market map and links to their websites.
Thanks for reading us! Get 50% off your first month of Pro subscription - use PRO50 for Pro Tariff promocode at Pricing page. For more information on all PE/VC investment funds (their investment criteria, funds sizes, region preferences and etc.) go to https://privateequitylist.com/search
FoodTech market overview (market map is below it):
Food technology is an ever-growing industry, with startups and established companies alike looking to innovate and disrupt the way we produce and consume food. This has led to a surge in investment from venture capital firms and private equity funds, who are eager to back the next big thing in food technology. In this post, we'll take a look at some of the key trends in food technology investment across different regions.
North America:
Valuations for food tech startups have been steadily increasing, with many companies commanding high price tags even at the Series A stage.
Accelerators and incubators are playing an increasingly important role in the food tech ecosystem, providing startups with mentorship, resources, and funding.
Plant-based and alternative protein companies have been a hot area of investment, with firms like Beyond Meat and Impossible Foods leading the way.
Europe:
Food waste reduction and sustainability are key areas of focus for food tech startups and investors in Europe, with companies like Too Good To Go and Winnow Solutions gaining traction.
The rise of direct-to-consumer meal kit companies like HelloFresh and Blue Apron has also attracted significant investment.
Series B funding rounds are becoming more common in Europe, indicating a maturing food tech industry.
Asia:
China is a major player in the food tech space, with companies like Meituan Dianping and Ele.me dominating the food delivery market.
Investment in food safety and traceability technology is on the rise in Asia, as consumers become more concerned about the origin and quality of their food.
The use of artificial intelligence and automation in food production and processing is also gaining traction in Asia.
Overall, the food technology industry is a dynamic and rapidly evolving space, with plenty of opportunities for startups and investors alike. Whether it's plant-based proteins, meal delivery, or food safety technology, there's no shortage of exciting developments to keep an eye on. As the industry continues to grow, we can expect to see more and more investment flowing into the space, with Series A and B rounds becoming increasingly common.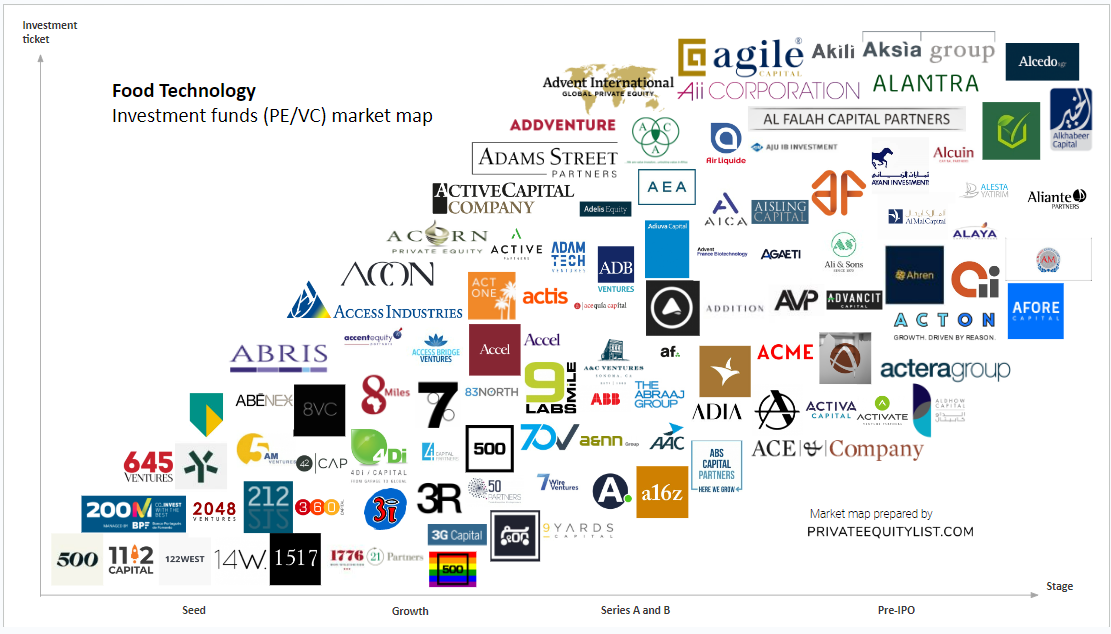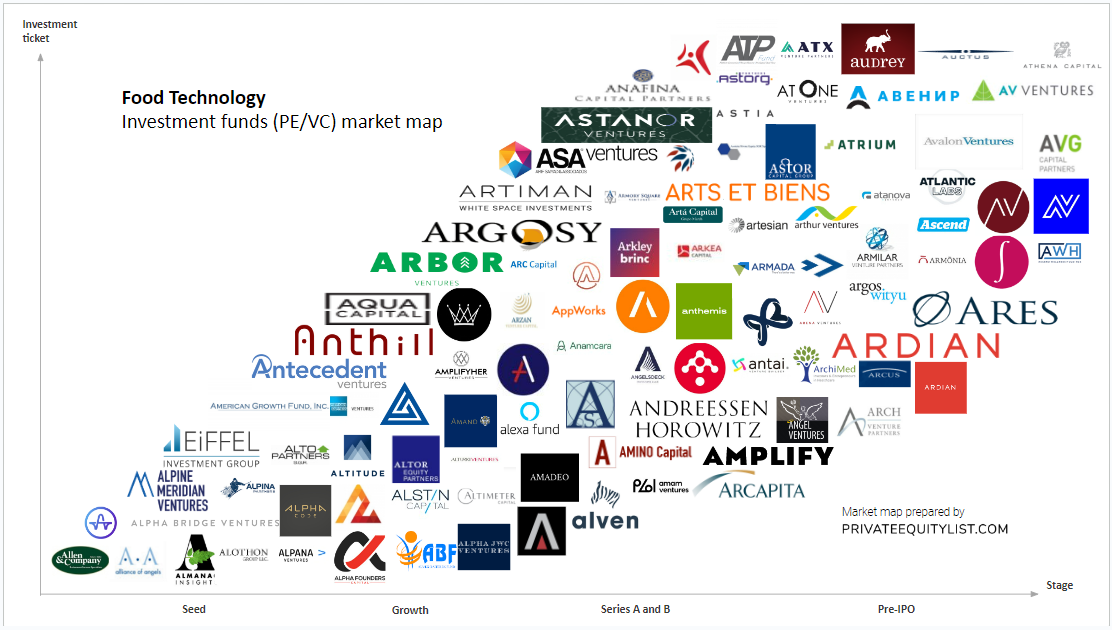 The funds present on the market maps are:
For more information on FoodTech investment funds (their investment criteria, funds sizes, region preferences and etc.) go to PE/VC FoodTech funds database on privateequitylist.com
If you are raising capital, we would love to hear about you and help you find the right investors! If you want to be featured on our website as a startup looking for investments or if you want to add a PE/VC to this list, please email at privateequitylist@gmail.com
We hope our platform will help you find the right investors for your startups!
Regards,
Private Equity List team