Emerging Market Insights for Startups: Exploring M&A and Investment Banking in LATAM, Asia, and Africa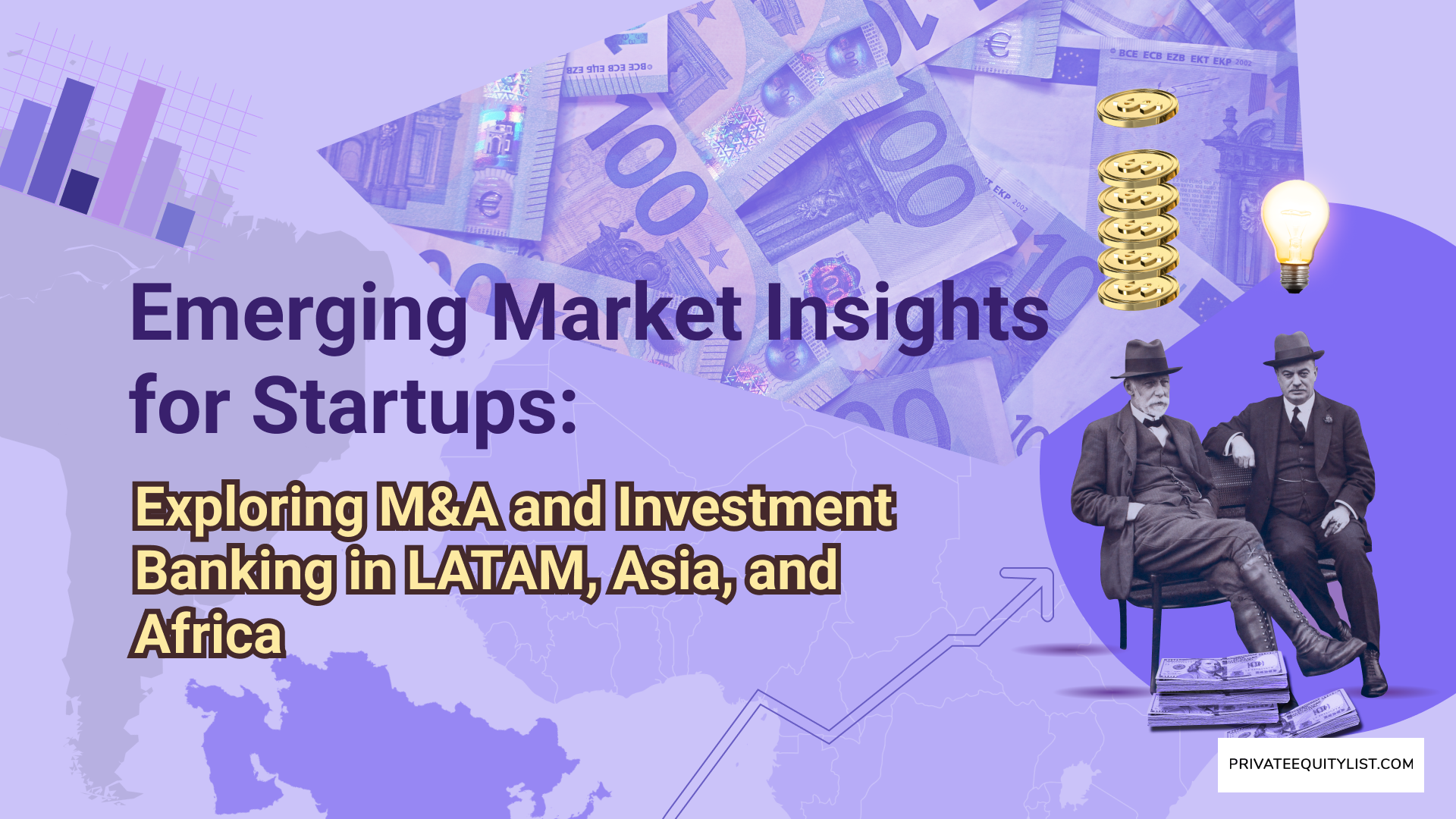 The global business landscape has witnessed a seismic shift in recent years, with emerging markets in Latin America (LATAM), Africa, and Asia taking center stage in the world of mergers and acquisitions (M&A). Once considered the domain of developed economies, M&A activities are now flourishing in these regions, attracting both seasoned investors and startups looking for growth opportunities. In this comprehensive guide, we delve into the burgeoning M&A scene in LATAM, Africa, and Asia, shedding light on why these regions have become hotspots for investment. We'll also explore the M&A ecosystems in each of these areas, highlighting key trends, industries, and the investment banking advisory firms that play pivotal roles in facilitating successful transactions.
The Growing Importance of M&A Activities in Emerging Markets
Mergers and acquisitions are not new concepts in the world of business. However, their significance has grown exponentially in recent years, particularly in emerging markets. Several factors contribute to this trend:
Globalization: The interconnectedness of economies has made cross-border M&A transactions increasingly attractive. Emerging markets offer untapped growth potential, driving companies to expand their reach beyond their home countries.
Economic Growth: LATAM, Africa, and Asia have consistently outperformed developed economies in terms of economic growth. This growth potential presents lucrative opportunities for M&A investors.
Demographic Dividends: Large and youthful populations in these regions translate into a burgeoning consumer base, making them attractive markets for consumer-focused businesses.
Resource Richness: Africa and parts of Asia are rich in natural resources, making them appealing to companies in industries such as mining, energy, and agriculture.
Government Policies: Many governments in these regions have adopted investor-friendly policies, offering tax incentives and reducing bureaucratic barriers to attract foreign capital.
Why LATAM, Africa, and Asia are Attractive for M&A Activities
Latin America (LATAM)
LATAM, comprising countries in Central and South America, is a region of immense diversity and potential. Here's why it's a magnet for M&A activities:
Robust Economic Growth: LATAM boasts several rapidly growing economies, including Brazil, Mexico, and Colombia, which present compelling investment opportunities.
Natural Resources: Rich in oil, minerals, and agriculture, LATAM is a treasure trove for companies involved in resource extraction and agriculture-related industries.
Financial Services Boom: The financial services sector in LATAM is experiencing a revolution, with fintech startups and traditional banks vying for market share.
Africa
Africa, often referred to as the "last frontier" for business, is catching the eye of investors for these reasons:
Emerging Middle Class: A growing middle class is driving demand for consumer goods, creating a ripe environment for M&A deals in retail and consumer products.
Resource Wealth: Africa is a key player in the global energy and mining sectors, offering lucrative prospects for companies in these industries.
Telecom and Technology: The telecom and technology sectors are booming in Africa, attracting significant investment in infrastructure and startups.
Asia
Asia, home to some of the world's largest and fastest-growing economies, presents a myriad of opportunities:
Manufacturing Hub: Asia is a global manufacturing powerhouse, making it an attractive destination for M&A activities in industries like automotive and electronics.
Innovation and Technology: The region is a hotbed for technological innovation, with startups in countries like India, China, and Singapore garnering global attention.
Infrastructure Development: Asian governments are heavily investing in infrastructure projects, including transportation, energy, and telecommunications.
The M&A Ecosystem in Latam, Africa and Asia
Latin America (LATAM), M&A Trends:
LATAM has seen a surge in cross-border M&A deals, particularly with North American and European companies looking to expand their presence in the region.
Family-owned businesses are a prominent feature of LATAM's corporate landscape, often being targets for M&A activity.
Key Industries and Sectors Driving M&A in LATAM:
Energy: With abundant oil reserves in countries like Venezuela and Brazil, the energy sector attracts significant M&A attention.
Technology: The tech startup scene in Latin America is booming, especially in countries like Argentina and Mexico.
Banking and Finance: The consolidation of financial institutions is prevalent, driven by increased competition and regulatory changes.
List of M&A Firms in LATAM:
Argentina
Columbus Merchant Banking SA
Brazil
BTG Pactual Investment Bank
BR Partners Banco de Investimento SA
Banco Bradesco BBI SA
Belotti & Associates
Euro Latina Finance
Chile
LarrainVial SA
Mexico
Alfaro, Dávila & Ríos
VACE Partners
For the complete list go here.
Africa, M&A Trends:
Chinese firms have been active in acquiring African assets, particularly in infrastructure and resources.
Intra-African M&A is growing as regional integration efforts gain momentum.
Key Industries and Sectors Driving M&A in Africa:
Mining: Africa is home to vast mineral resources, attracting M&A deals in mining and exploration.
Telecoms: The rapid expansion of mobile and internet services drives M&A activity in the telecommunications sector.
Agriculture: Companies investing in agriculture benefit from Africa's fertile land and growing food demand.
List of M&A Firms in Africa:
Nigeria
BGL Capital
Greenwich Trust Ltd.
Afrinvest Ltd.
FBN Capital Ltd.
FCMB Capital Markets Ltd.
South Africa
Novitas Capital Advisors (Pty) Ltd.
Melcofin & Co. Ltd.
AMB Capital Ltd.
Africa Rising Capital
Musa Capital Advisors, Ltd.
For the complete list go here.
M&A Trends in Asia:
Intra-Asian deals are on the rise, reflecting the region's growing interconnectedness.
Technology-driven M&A, particularly in e-commerce and fintech, is a dominant trend.
Key Industries and Sectors Driving M&A in Asia:
E-commerce: The battle for dominance in the Asian e-commerce market fuels M&A activities.
Renewable Energy: As countries in Asia focus on sustainability, renewable energy projects attract investment.
Healthcare: Aging populations drive M&A in healthcare and pharmaceuticals.
List of M&A Firms in Asia:
China
China International Capital Corporation Limited (CICC)
DRP Capital Ltd.
ALC Advisors, Inc.
CEC Capital Group
China Bridge Capital
India
Avendus Capital Pvt. Ltd.
JM Financial Ltd.
MAPE Advisory Group Pvt. Ltd.
NRS Advisors
Axis Capital Ltd. - Investment Banking
Japan
Nomura Holdings, Inc.
Mitsubishi UFJ Morgan Stanley Securities Co.,Ltd.
Reimei Global Advisors, Inc.
Capital Partners Securities Co., Ltd.
Frontier Management, Inc.
Malaysia
Affin Hwang Investment Bank Berhad
Alliance Investment Bank Berhad
Arch Advisory Ltd.
CIMB Group
HwangDBS Investment Bank
Singapore
Daiwa Capital Markets Singapore Ltd.
Mount Nathan Advisors Pte Ltd.
Rippledot Capital Advisers Pte. Ltd.
South Korea
Samsung Securities Co., Ltd.
Turkey
Pragma Corporate Finance
3 Seas Capital Partners
For the complete list go here.