🏢A Global Guide to Corporate Venture Capital Firms: US, Asia, and Europe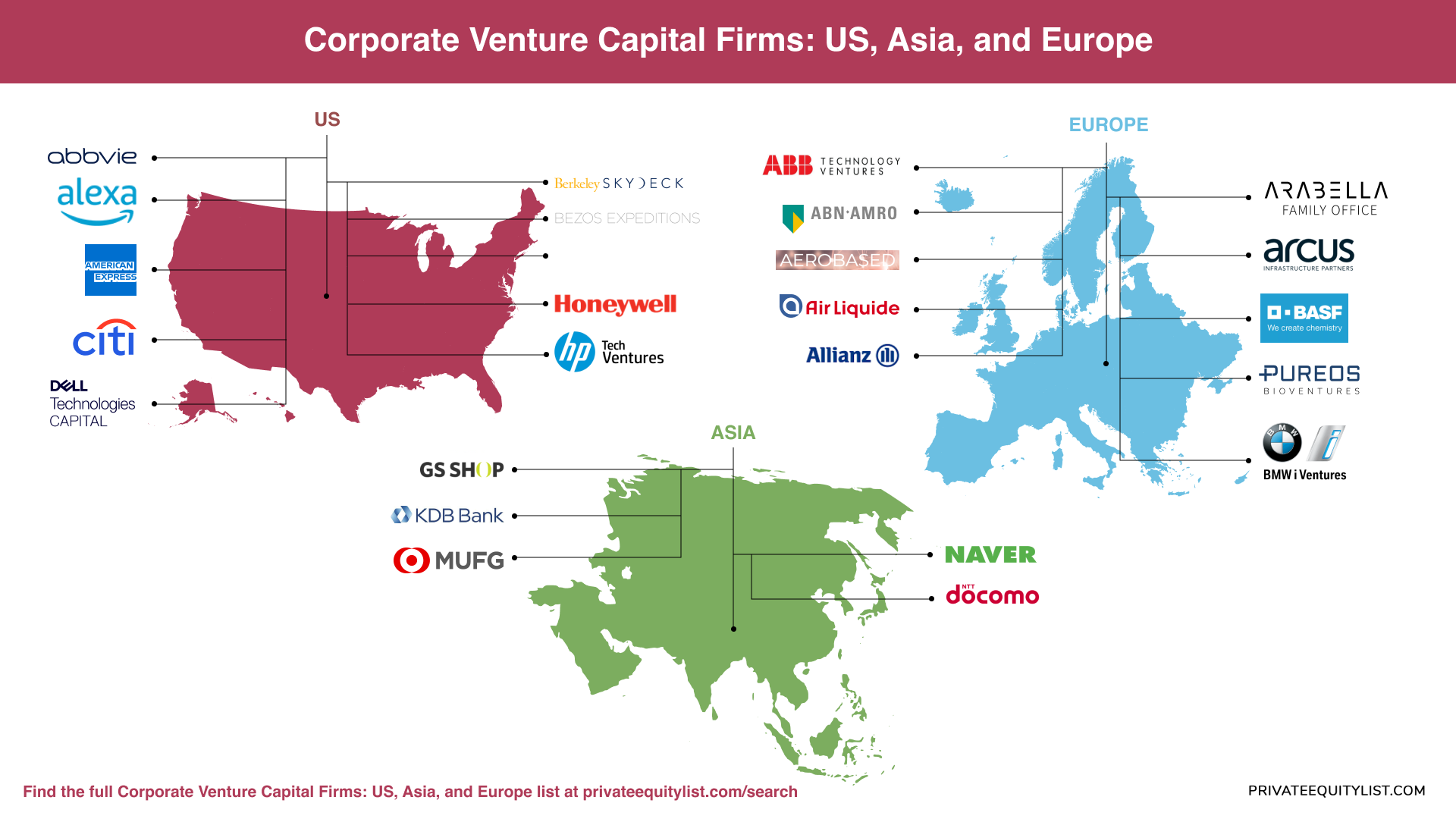 In today's dynamic business landscape, innovation is key to staying competitive. One significant player in the innovation ecosystem is Corporate Venture Capital (CVC) firms. CVCs are investment arms of established corporations that invest in startups and early-stage companies, often with strategic goals beyond financial returns. In this comprehensive blog post, we'll explore the world of CVCs across three major regions: the United States, Asia, and Europe. We'll delve into their unique characteristics, trends, notable players, and the impact they have on the startup ecosystems.
Corporate Venture Capital in the United States
The United States has long been a powerhouse in the world of venture capital and innovation. CVC firms in the US are no exception. Here's an overview of the CVC landscape in the US.
Historical Significance:
The US boasts a rich history of CVCs, dating back to the mid-20th century when companies like General Electric and IBM established their venture arms.
Major Players:
Google Ventures (GV): GV, formerly known as Google Ventures, is one of the most prominent CVC firms globally. It has invested in companies like Uber, Slack, and Nest.
Intel Capital: Intel's venture arm focuses on technology investments and has been involved with companies such as Dropbox and Cloudera.
Salesforce Ventures: Salesforce's CVC arm supports cloud-based startups and has invested in Zoom, Twilio, and DocuSign.
Trends:
AI and Machine Learning: Many US CVCs are actively investing in AI and machine learning startups, reflecting the country's technological prowess.
Healthcare: With the COVID-19 pandemic, healthcare-focused CVCs are gaining prominence in the US.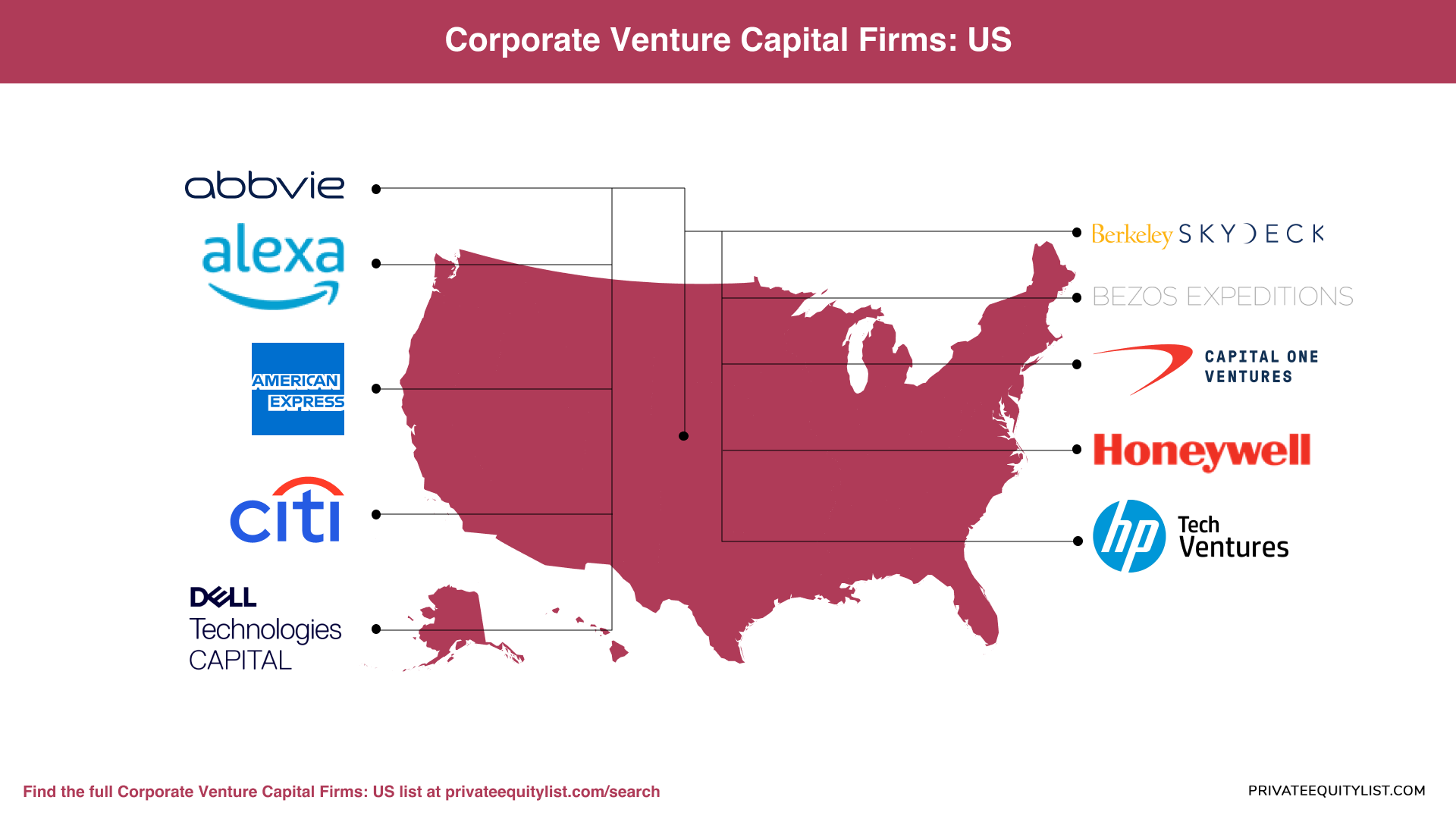 Corporate VC firms in the US
Search for more corporate VC funds in the US here.
US-based CVCs play a significant role in driving innovation, with their deep pockets and access to cutting-edge technologies. They contribute to the thriving startup ecosystem on the West and East Coasts.
Corporate Venture Capital in Asia
Asia has emerged as a vibrant hub for startups and CVC activity. Here's a glimpse of what's happening in the Asian CVC landscape:
Historical Significance:
While Asia's CVC scene may not have the same historical roots as the US, it has grown rapidly in recent years, fueled by the region's economic growth and technological advancements.
Major Players:
SoftBank Vision Fund: Although headquartered in Japan, SoftBank's Vision Fund is a global heavyweight, investing in tech giants like Uber and WeWork.
Tencent Investment: Tencent's CVC arm has been actively investing in gaming, fintech, and AI startups across Asia and beyond.
Alibaba Entrepreneurs Fund: Focused on nurturing startups, this fund supports early-stage companies in Hong Kong and Southeast Asia.
Trends:
E-commerce and Fintech: Asia's booming e-commerce and fintech sectors attract significant CVC investments.
Cross-Border Collaborations: Asian CVCs often seek partnerships and investments in the US and Europe to expand their global reach.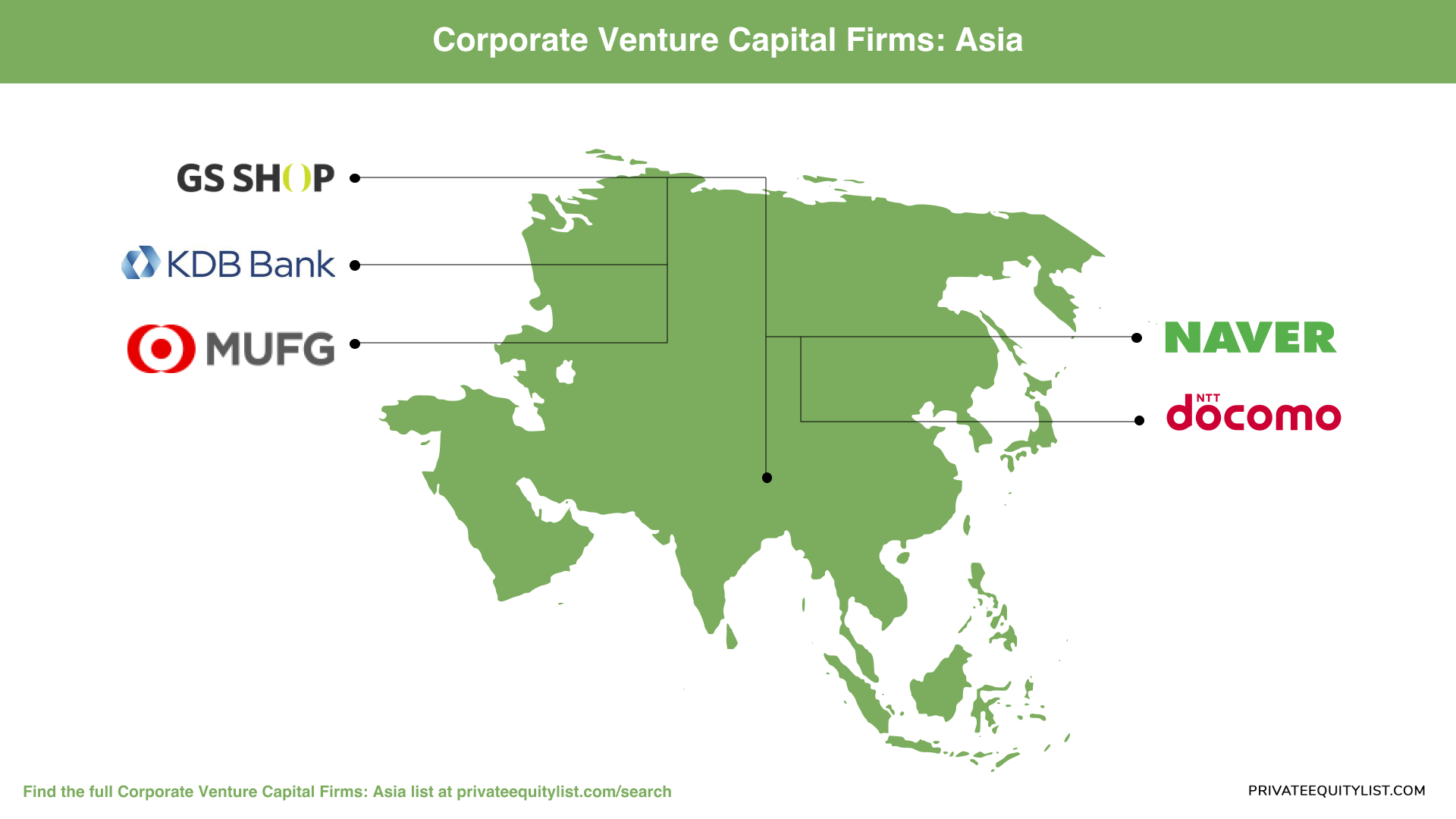 Corporate VC firms in Asia:
Look for more corporate venture capital funds in Asia here.
Asian CVCs are instrumental in driving technological innovation and economic growth in the region. They bridge the gap between startups and established corporations, fostering collaboration.
Corporate Venture Capital in Europe
Europe may not always be in the spotlight, but it has a thriving CVC ecosystem of its own. Here's what you need to know:
Historical Significance:
Europe's CVC landscape has been growing steadily, with companies like BMW and Siemens establishing their venture arms.
Major Players:
BMW i Ventures: Focused on mobility and transportation, BMW's venture arm invests in companies like ChargePoint and Graphcore.
Siemens Next47: Siemens' innovation unit supports startups working on disruptive technologies such as AI, blockchain, and IoT.
EQT Ventures: A European-based venture firm with a diverse portfolio, including companies like Wolt and Natural Cycles.
Trends:
Sustainability: European CVCs are increasingly investing in startups focused on sustainability and renewable energy.
Proximity to Research Hubs: Europe's proximity to renowned research institutions fuels investments in cutting-edge technology startups.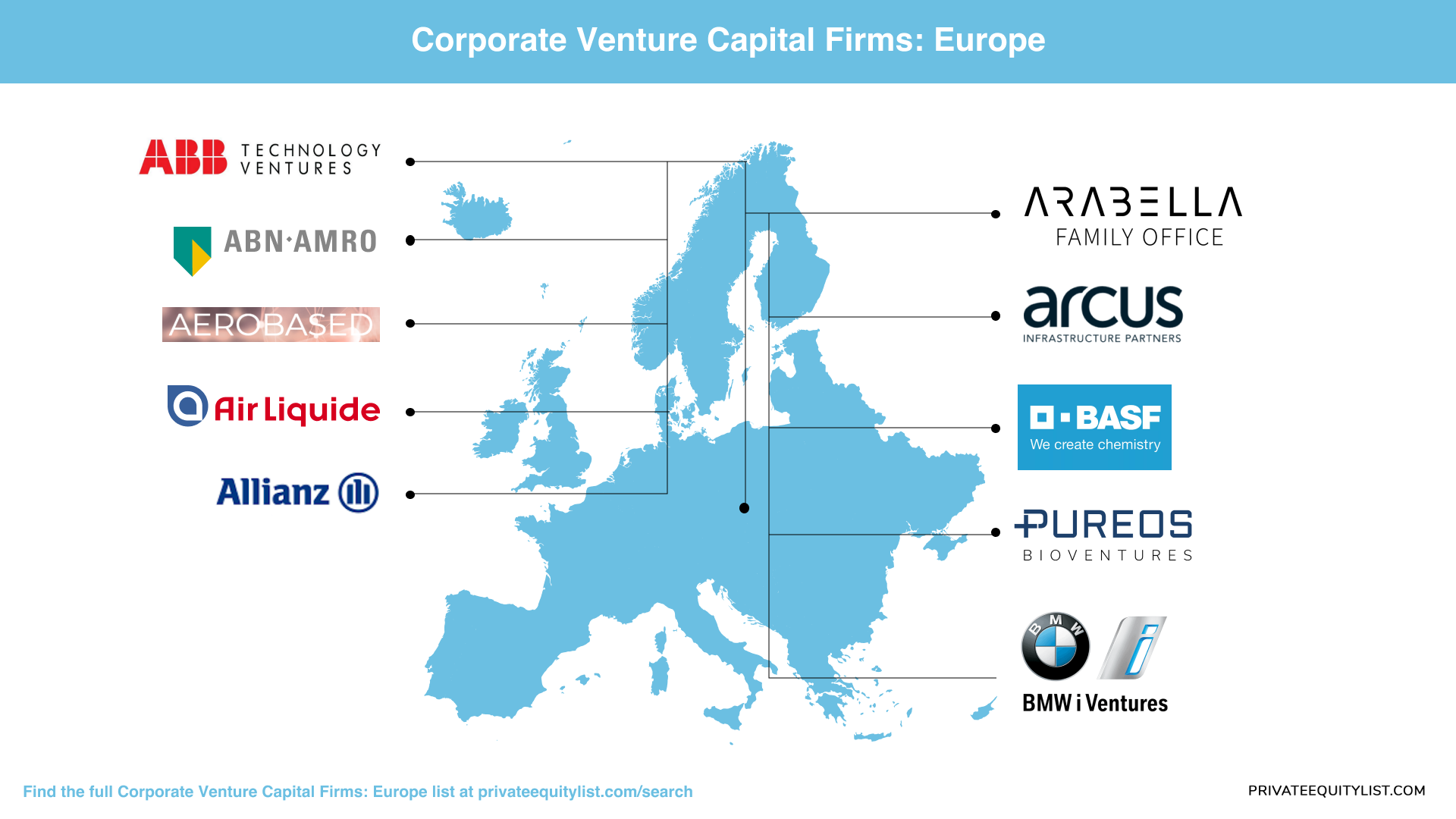 Corporate VC firms in Europe:
Air Liquide Venture Capital (ALIAD)
Arcus Infrastructure Partners LLP
You can find more funds in Europe via the link.
European CVCs contribute to the continent's innovation ecosystem by providing startups with not only capital but also access to a global network and market insights.
In the fast-paced world of innovation, Corporate Venture Capital firms are vital bridges between startups and established corporations. Whether in the US, Asia, or Europe, CVCs play an essential role in driving technological advancements and economic growth.
While the United States remains a CVC powerhouse with its long history and influential players, Asia is catching up rapidly, thanks to its economic growth and technological prowess. Europe, on the other hand, may not always grab the headlines, but it has a thriving CVC ecosystem that fosters innovation.
As startups and entrepreneurs seek funding and strategic partnerships, understanding the unique characteristics and trends of CVC firms in these regions can be invaluable. By keeping an eye on these evolving landscapes, innovators can tap into the resources and expertise offered by CVCs to turn their ideas into reality, regardless of where they are in the world.